Calling guitarists, bassists, drummers, vocalists & aspiring producers! BIMM Manchester Summer School returns with special guests...
News: 11th July 2017 by Louise Dodgson under Music Training & Careers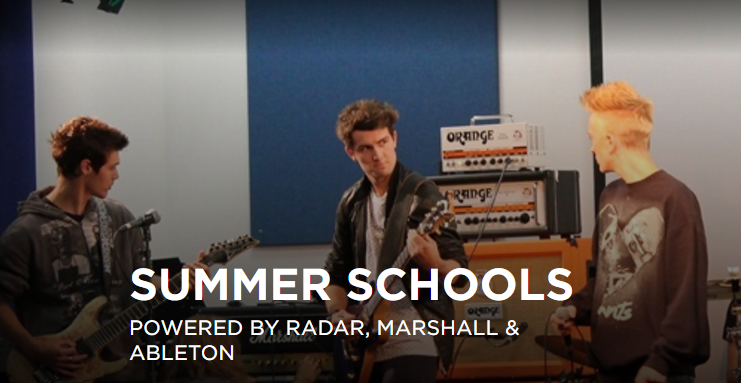 The BIMM Manchester Summer School returns during the holidays in July and August, giving aspiring young North West musicians the opportunity to commit to an intensely productive week of learning and practice in their chosen instrument. It's a fantastic way to spend part of the summer break for any guitarists, singers, bassists or drummers who want to develop their skills, build their confidence, or simply to just have fun!
The BIMM Summer Schools take place at Bank Chambers in Manchester City Centre. Each one is a five-day week course and consists of dedicated tuition for each chosen instrument, a live performance workshop on stage every afternoon to hone performance skills, along with a different special guest each day.

As BIMM Manchester's College Principal Steve Cobain says, "The Summer Schools are a snapshot of what BIMM is all about and those taking part will enjoy every minute. This year we have Mike Joyce from iconic Manchester band The Smiths teaching drums. This is a must for any aspiring drummer "
There are 2 different performance courses: the Music Performance Summer School powered by Radar for those who love indie and pop music; and the Music Performance Summer School by Marshall for all the rock and metal heads out there.
During Summer School week, the mornings are given over to technique and rehearsals, while in the afternoons the different instrumental groups come together and form practice bands to flesh out the songs they have learned. The sessions build the musicians' skillset and confidence by selecting the more complex material. By Friday, students are ready to perform their live finale for invited friends and family.
It's a successful formula that's been given extra dimensions with the help of quality sponsorships from Music Radar, Marshall Amps and Ableton, and from the all-important special guests. These guests are a crucial part of the BIMM Summer School appeal. They are all professional musicians who join the classes to guide the students' progress and share tips for performance, confidence, instrumental technique and more. They oversee students' sessions and give valuable skilled input into their final performances.
Previous BIMM Summer School special guests have included bass player supreme Yolanda Charles, Ian Matthews (Kasabian) and Charlie Laffer (Maverick Sabre).

BIMM Manchester Summer School 2017 guests
The Indie/Pop Week: Mike Joyce (The Smiths), Sid & Ez (The Orielles), James Atkin (EMF), Charlotte Hatherley (Ash/Bat For Lashes/KT Tunstall, Birdy).
The Rock/Metal Week: Richard Boucher (Funeral For A Friend), Paul White (The Defiled/Grim Reaper), Arya Goggins (Skindred), Olly Simmons (The Qemists).
The BIMM Summer Schools are open to all musicians who are aged 11+ and who can already play their chosen instrument, but who want to develop it further. BIMM always has a wide age range at its Summer Schools; so no one is ever too old to rock out!

DATES
Mon 24th-Fri 28th July | Music Performance Summer School (Indie/Pop) | Powered by Radar
Mon 31st July-Fri 4th Aug | Music Performance Summer School (Rock/Metal) | Powered by Marshall Amplification

BIMM is also going to be running a week-long Music Production Summer School powered by Ableton, for those looking to develop their software and production skills. For these sessions, students work with tutors and special guests to put together their own track over the course of the week. Special guests have included Elliot May (Basement Jaxx).
Mon 31st July-Fri 4th Aug | Music Production Summer School | Powered by Ableton
Related Links
http://www.bimm.co.uk/summer-school/
---
Tags
BIMM Manchester Summer Schools return with special guest Mike Joyce of The Smiths