Refreshing Sounds competition launches to find UK's best new music
News: 25th February 2015 by Louise Dodgson under Artist Managers, Media, Recording & Production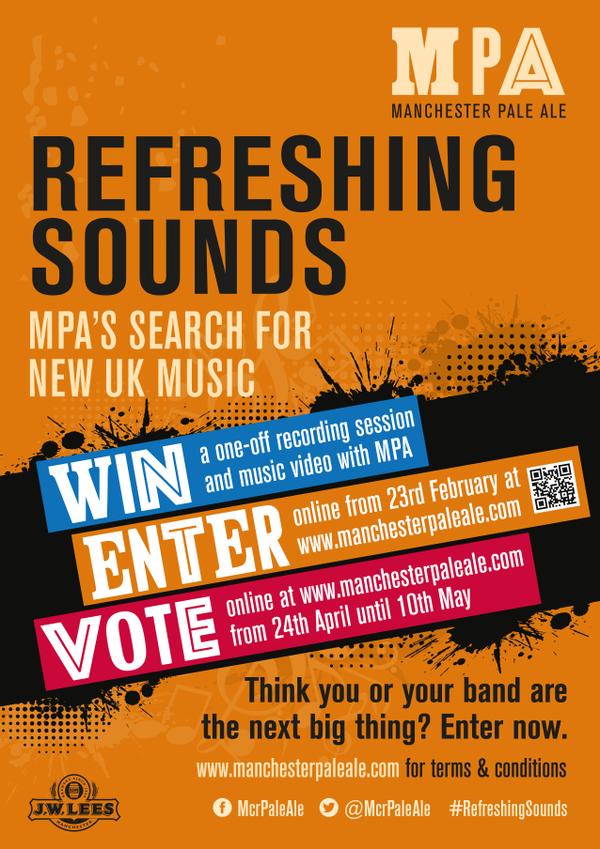 Manchester Pale Ale (MPA), by independent brewery JW Lees, has announced the launch of a nationwide search to find the best new, unsigned music acts. Bands and artists can enter the Refreshing Sounds competition online now to win the chance to record a professionally mastered track which will be played out on XFM, as well as creating a music video and playing a headline gig in front of fans and music lovers alike, all courtesy of MPA.

JW Lees have assembled a panel of influential music industry judges, which includes XFM radio presenter Clint Boon and music producer George Atkins, founder of 80 Hertz Studios. They will be looking to find the very best new acts, whether it be from the world of pop or folk, to rock or hip hop, all acts will be considered.

Managing Director of JW Lees, William Lees-Jones, said: "Manchester is famous for beer and music and we're bringing them together with Refreshing Sounds. Although social media has made it easier for emerging bands to get noticed by a wider audience, it's still difficult to make that first big step into the music business. A competition like Refreshing Sounds is a great opportunity to give one act a really good start and follows on naturally from our successful MPA launch campaign two years ago, which also had music at its heart."

Judge Clint Boon said: "I'm looking forward to seeing the range of talent that enters the MPA competition. It took a few hard years to get The Inspiral Carpets going and we'd have jumped at the chance of a platform like this."

If an act has got that Oasis swagger or thinks they could outwit Kanye West in a rap battle, this competition is for them. Judges will decide on a shortlist of nine acts that will be put to a deciding online public vote.

The winning act will record up to two professionally mastered tracks at state of the art Manchester recording studios, 80 Hertz. They have produced tracks on a number of major and indy releases including Will.i.am, Lilly Allen, Bjork and The Courteeners.

80 Hertz studio founder George Atkins, and his team of highly experienced producers and engineers will work closely with the winning act in the fully equipped studio to produce their tracks. The winner will also;
- record a fully edited behind the scenes music video
- play a headline gig at an iconic secret location
- receive PR support to help launch their career
- have their professionally mastered track available on the MPA website for download, as well as played throughout JW Lees outlets
- have their winning track played out on XFM radio
- be exposed to over 10,000 social media followers

Acts simply need to upload one original track in any musical genre via a SoundCloud link at the link below by 19th April. The shortlist of nine acts, chosen by the expert judges, will be announced on 24th April when they will be put forward for a public vote online. The top 3 most 'liked' acts through the public vote will become the official finalists. The judges will then choose the ultimate winner. The 2 runners up will be invited to play as support acts at the final gig at an iconic secret location in Manchester in front of fans.

If you think you or your band are future Mercury Prize winners, or if you see yourself picking up a Grammy or headlining the Pyramid Stage at Glastonbury, complete the entry form and enter a Soundcloud link to one original track by 19th April to be in with a chance of winning.
Follow @McrPaleAle #refreshingsounds for updates.
Related Links
http://www.manchesterpaleale.com/refreshingsounds
---
Tags
manchester pale ale, refreshing sounds, new music, unsigned bands, unsigned artists, emerging bands, emerging artists