Manchester Midi School launches Rob Gretton Scholarship for music industry hopefuls
News: 8th December 2014 by Louise Dodgson under Artist Managers, Creative & Branding, Finance, Law & Music Business, Live, Media, Music Publishing, Music Training & Careers, Record Labels, Recording & Production, Selling & Distributing Your Music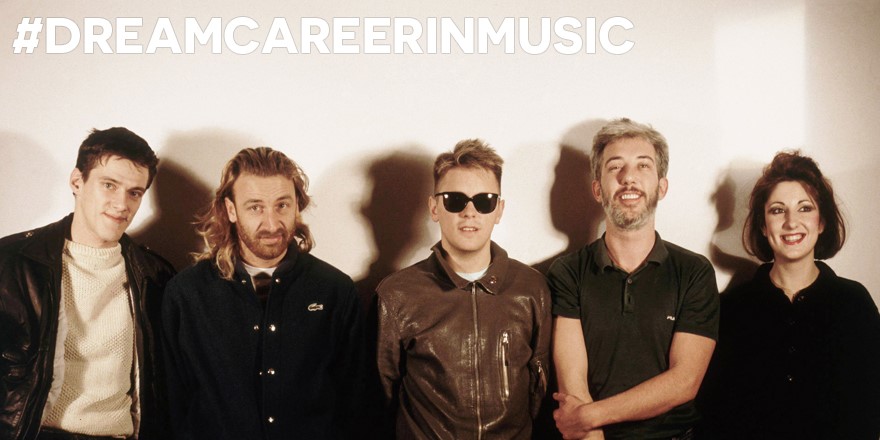 Are you sitting on an idea that would benefit the music industry? Do you want a #dreamcareerinmusic?
In partnership with Rob Gretton's family, The Manchester Midi School has launched the Rob Gretton Scholarship to help develop the skills of those looking to bridge the gap between their musical passions and a successful career in the music industry.
Who is this scholarship for?
Anyone who wants to make a living from music. You could be looking to run a label, get your band signed, or want to develop yourself as a DJ. Perhaps you want to learn how to promote events or manage artists – or maybe even something else entirely.

The Rob Gretton Music Business Scholarship will enable people to study the 12 Week Music Business course at the Manchester Midi School, learning to develop their creative ideas and business skills. A full scholarship will cover all course fees.

About Rob Gretton
Rob Gretton was a prominent figure in Manchester's music scene. He was Tony Wilson's business partner and an instrumental player in setting up Factory Records and the Hacienda, as well as a major catalyst in aiding Joy Division to fame, and later New Order.
Sadly on the 15th May 1999, Rob passed away suddenly from a heart attack. In partnership with Rob's family, the Rob Gretton Scholarship has been created to help the future generations of music industry professionals get a foot hold in the business.

Developing a thriving and sustainable music industry was at the heart of Rob Gretton's work, and with the addition of this very special scholarship will allow his continued positive influence on the music industry of tomorrow.
About the course
The 12 week Music Business course is taught by Head of Music Business Education, Tony Rigg. The course will give you all the tools you need to prepare for self employment, setting up your own company, or working with others and opening up careers in music.
You'll gain essential insight from Tony Rigg, who has been involved in many strands of the music industry including working as Operations Director of the Ministry of Sound. Tony runs a successful music consultancy business alongside his teaching work at MMS.
"The Music Business course is designed for both aspiring music business people and music makers alike, in fact anyone who wants to make money from music. It is ideal for people who want to make the jump from amateur to professional, or for those looking to take existing professional activities to the next level and beyond. Thanks to the Rob Gretton Music Business Scholarship successful applicants will be able to access the program without the price tag normally associated with this effective and unique course."

How to enter
Apply online here.
To apply for the Rob Gretton Scholarship, entrants need to fill out the online application form explaining their business idea in 140 characters (no longer than the length of a tweet!)
In addition, a 400 word detailed explanation of the business idea needs to be submitted as part of the entry. CLOSING DATE IS 1ST JANUARY 2015
Entrants must be 18+ and there is no upper age limit. Entrants must be available to attend the Music Business course, which will take place every quarter, on Saturdays from 3-6pm.
Entries will be considered by Music Business Tutor Tony Rigg, the Manchester Midi School's Directors, and Rob's son Benedict Gretton. Shortlisted entrants will be contacted and invited for interview with Tony Rigg.
The first successful candidates will be announced on the 15th January 2015, which would have been Rob's 62nd birthday. The inaugural scholarship course start date is on 31st January 2015.
Related Links
---
Tags
manchester midi school, rob gretton scholarship, tony rigg, music industry training, music business course, music business education, music career