Discount on AIM's Indie-Con event featuring stellar line-up of speakers
News: 30th September 2014 by Louise Dodgson under Artist Managers, Creative & Branding, Finance, Law & Music Business, Live, Media, Music Publishing, Music Training & Careers, Record Labels, Selling & Distributing Your Music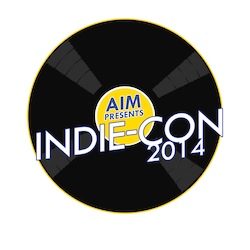 AIM are pleased to announce the return of Indie-Con, the 1-day conference covering all areas of independent label business. Supported by Clear Sound & Vision, Indie-Con returns to London's Glaziers Hall on 18th November. The event will take an in-depth look at all the key areas essential for running a successful independent music business, offering unrivalled networking and learning opportunities.

Right now there's an earlybird discounted rate available but members of The Unsigned Guide can also take advantage of an additional 30% off the ticket price with the code INDIEDEAL.

After an incredibly well-received sell out 2013 event which saw over 350 independent music professionals attend, Indie-Con 2014 will offer a unique programme of sessions aimed at helping independent artists and labels to grow their businesses and get their music heard. Indie-Con is the only conference in the UK to focus specifically on meeting the business needs of independent labels and self-releasing artists.

Indie-Con 2014 sessions will include:
• What Is A Fair Artist Contract in 2014?
• Successful Music Funding (case studies)
• The 5 Most Interesting Things Happening In The Music Market Right Now
• Brits Abroad: Everything You Need to Know About International Showcasing
• Is The Album Format Dead?
• Surviving & Thriving! Indie Label Success Stories
• Record Store Day 2015 – Overview for Labels From ERA
• I'm With The Brand: Brands Supporting Grassroots Talent
• Developing a Successful Live Career for your Artist
• Plus more TBA

An impressive line-up of speakers has already been confirmed to speak at the event, including:

David Emery (Kobalt Label Services) * Nathan Barley Phillips (Basick Records) * Kelly Chappel (Live Nation) Tony Arthy (Worn Out / Vans) * George Ergatoudis (BBC Radio 1) * Joseph Frankland (PRS For Music Foundation) * Tim Ingham (Music Week) * Charlie Phillips (AIM) * Craig Brookes (Cobra Tours) * Darius Van Arman (Secretly Group) * Louisa Rainbird (BskyB) * Alexander Milas Metal Hammer/Team Rock * Kim Bayley (Entertainment Retailers Association) * Nathaniel Cramp (Sonic Cathedral) * Lauren Wilson & Dan Garber (TAPEREC) * Tom Carson (Jagermeister) * Crispin Parry (British Underground) * Christian Rodwell (CR2 Records) * Crispin Parry (British Underground) * Tim Dellow & Toby L (Transgressive Records) * William Shanahan (Disrupt Ltd) * Stuart Green (Manager, Fat White Family)

Many more speakers to be announced in the coming weeks. Open to both AIM members and non-members, Indie-Con will run all day on 18th November 2014, with lunch and refreshments provided to delegates.

Tickets are now available from the AIM website at www.musicindie.com/indiecon2014 - priced at £45+VAT for AIM members, £110+VAT for non-members, including lunch. An exclusive earlybird rate of just £35+VAT for AIM members & Friends of AIM, and £90+VAT for non-members applies until 22nd October 2014. Discounts for students, start-ups and members of affiliated organisations.
Related Links
http://www.musicindie.com/indiecon2014
---
Tags
indie-con, aim, association of independent music, music industry, music business, music seminar, music industry convention, music industry conference