'If It Was My Band...' - New book offers invaluable tips & advice for bands & artists
News: 12th August 2014 by Louise Dodgson under Artist Managers, Music Training & Careers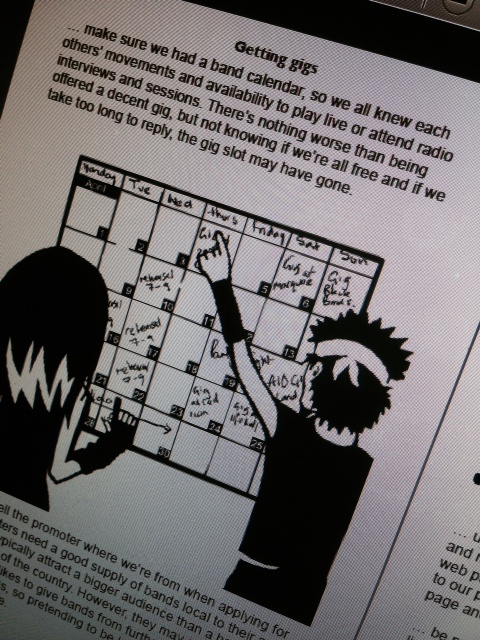 If It Was My Band..., the new book from multi award-winning radio presenter, gig promoter and radio plugger, Emma Scott, with illustrations from Sydonia Aitken-Ballard, was released earlier this month.

Amongst the hundreds of tips to help you increase your chance of success, the book provides ideas of how to make money from your music as well as how to avoid wasting money in your quest for success. Chapters include Starting Out, Getting Gigs, Building a Buzz, How to Manage the Band and Making Music a Full Time Job. There's a handy glossary of industry terms and helpful contacts as well as a "checklist for success" which any musician can go through and tick boxes off as they achieve each new step. Written through the eyes of a band member, each point made in the book comes from a real-life situation that Emma has experienced.
Drawing upon her 25 years in the music industry, Emma shares insider information on the business with the aim of helping bands and musicians all over the world to break into the industry and/or further their music career. Over the years, Emma has interviewed bands at the beginning of their careers and seen them get signed, get big and, in some cases, get dropped again. Working on radio shows at stations like Kerrang! Radio, Power FM, Galaxy and Metro FM, she's interviewed hundreds of artists of all genres, from Foo Fighters to Five Star, Bloc Party to Bad Boys Inc, Marillion to My Chemical Romance.

During her work as a TV and radio presenter, gig promoter, A&R manager at an independent record label and a radio plugger, Emma came into contact with thousands of musicians every year and it became apparent that many of them didn't know how to talk to industry people and help show their music off in the best light, and ultimately make music their full time job.

Find out more about the book & order yourself a copy via the link below...
Related Links
---
Tags
emma scott, music industry, music business, music advice, unsigned bands, unsigned artists, music career