Free recording time, music video & photo shoot up for grabs through Steel City Studio
News: 1st July 2014 by Louise Dodgson under Artist Managers, Media, Recording & Production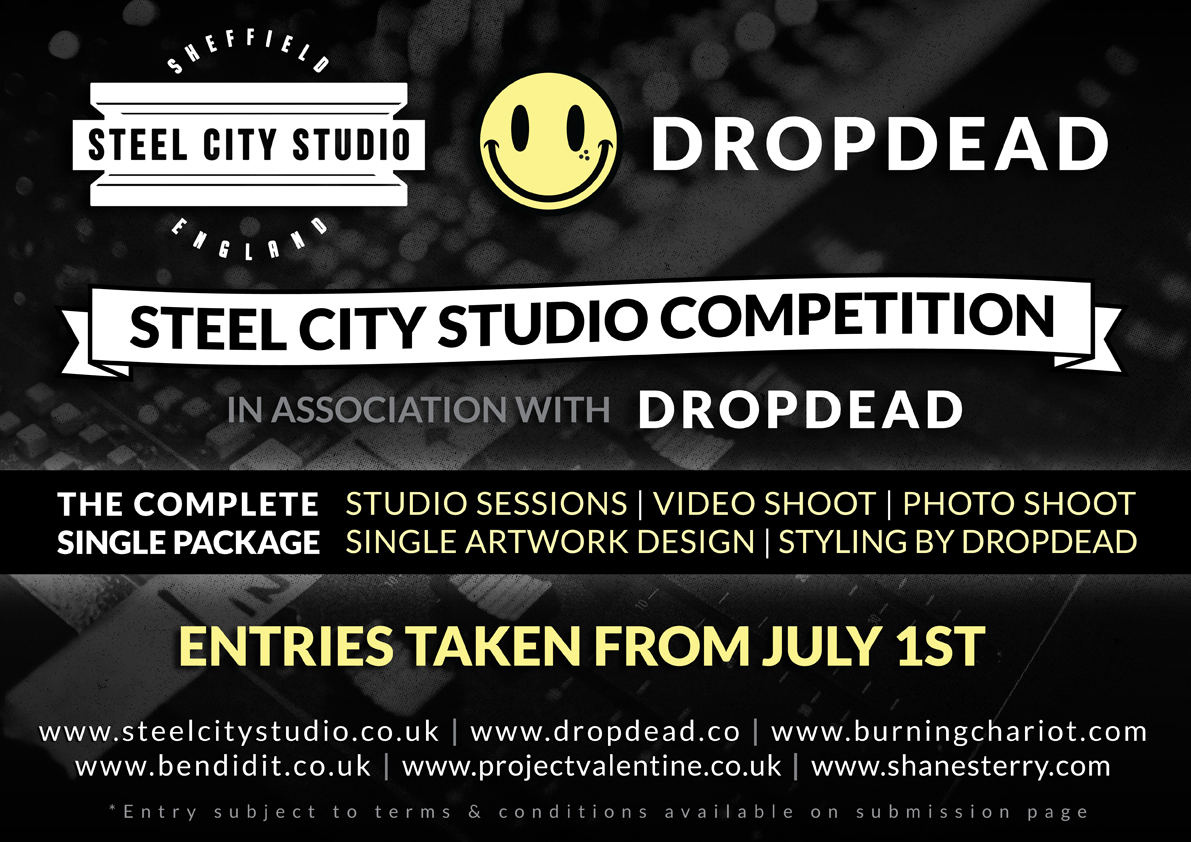 Steel City Studio have announced a competition for unsigned bands offering free recording time, a music video, promotional photo shoot and styling from Drop Dead Clothing for the lucky winners. The competition opens today and runs until midnight on the 14th July.
Based in Sheffield, Steel City Studio is owned by Bring Me The Horizon's award winning Sound Engineer Phil Gornell. With experience of working with the likes of New Found Glory and All Time Low, Gornell is rapidly becoming well known in the UK and overseas for his front of house work as well as his production. Gornell has received commendation from the likes of BBC Radio One's Zane Lowe as part of the 'BBC Radio One Stories: Loud Wars'. Notable praise has also been received from the likes of Kerrang! Magazine, Terrorizer UK Magazine when recording 'Evile' (released for Record Store Day 2013) and he regularly writes articles for Audio Pro International. With sponsorships and recommendation from the likes of Waves Audio, Focusrite and Sennheiser Phil Gornell is rapidly becoming a recognisable name within the world of sound.
Since opening the doors of Steel City Studio in 2012 Gornell and his team of producers have worked with the likes of Bring Me The Horizon on their album 'Sempiternal' (2013) which reached number 3 on the UK album chart and number 11 on the US Billboard. Steel City Studio have also worked with the likes of While She Sleeps and Me Vs Hero.
The winning band will be given studio time at Steel City Studio to record a single which will be accompanied with a music video and promotional shots. Drop Dead Clothing will also be styling the winning band. Entry is open to any artist that can showcase their music, via streaming link or videos.

To enter artists simply need to complete the form on the website below and a panel of industry professionals will select the lucky winner.
Related Links
http://www.steelcitystudio.co.uk/competition
---
Tags
steel city studio, recording studio, recording time, music producer, music video shoot, unsigned bands, unsigned artists