IFPI release Recording Industry in Numbers stats
News: 7th April 2014 by Louise Dodgson under Artist Managers, Record Labels, Recording & Production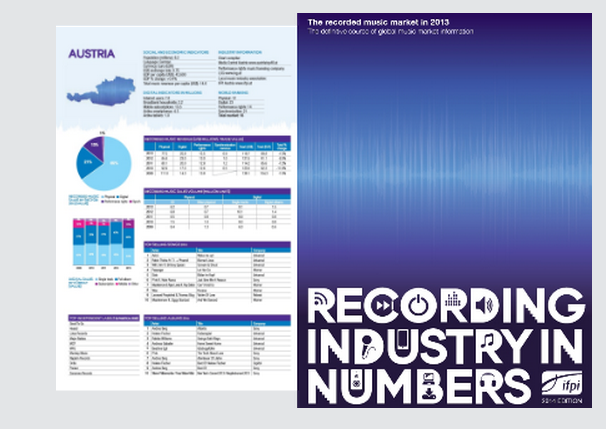 IFPI today publishes its annual Recording Industry in Numbers, providing comprehensive data for 50 territories and in-depth analysis of industry and consumer trends across the global music sector.
The Recording Industry in Numbers (RIN) is the essential guide to the global music business, containing a wealth of definitive data exclusively compiled by IFPI. Key highlights of the 2013 edition include:
Revenue streams. Detailed analysis of the industry's diverse and evolving revenue streams, such as streaming and subscription services complementing existing formats. Global digital revenues in 2013 totalled US$5.9 billion, with subscription streams revenue more than tripling to US$1.1 billion in the last three years.
Market trends. Comprehensive data on global, regional and national music market trends, focusing both on 2013 and recent years. Six of the top ten markets saw growth in 2013, while in eight of the top 20 music markets digital is now the dominant source of revenue.
Emerging markets. Review of key trends in emerging markets, where digital revenues are growing fast alongside the spread of licensed services and the move to mobile. Latin America is the region with the fastest digital growth in recent years, with revenues up 124% between 2010 and 2013. There are strong growth projections in Africa, analysed in the RIN for the first time.
Consumer research. New third party research showing changing consumer behaviour, with data and analysis on how internet users are accessing music from both licensed and unlicensed sources. The RIN features exclusive data from Ipsos MediaCT.
China. An in-depth case study on the prospects for the development of a licensed business in China - a market of huge untapped potential long stunted by piracy, where the landscape is changing.
Global charts. IFPI compiled three definitive global charts including the Top 50 Global Albums Chart and the Top 10 Global Singles Chart of 2013. In 2014 the charts are changing: Top 10 Global Singles Chart now incorporates streaming and for the first time the new Global Recording Artist Chart, topped by One Direction, honours the most popular artists across physical formats, downloads and streaming.
Innovations in digital services. Analysis of the latest developments among the world's 450+ digital services, focusing in particular on the major international services. This year's edition includes commentary from global consultancy Deloitte and leading digital service Spotify.
Multiple platforms and new frontiers. Analysis of the key developments as music goes multi-device and multi-platform, and a look at what's ahead as music players integrate into the cars and homes of the future.
Frances Moore, chief executive of IFPI, says: "IFPI's Recording Industry in Numbers once again provides an unrivalled analysis of the global recorded music industry, examining the latest international trends and providing detailed figures from 50 territories worldwide."
"The broad picture that emerges is of an extremely diverse industry. Most of our major markets have stabilised, digital continues to grow, revenue streams have diversified and we are starting to deliver on the huge potential in emerging markets. Against this, there were sharply declining revenues in Japan, a market which accounts for one-fifth of global revenues and is right at the start of its digital transition. Yet the difficulties in one market, however large, should not divert us from a broader story of digital opportunity."
IFPI's Recording Industry in Numbers is available free to IFPI members via the link below.
Related Links
http://www.completemusicupdate.com/article/more-stats-as-ifpi-releases-annual-numbers-book/
---
Tags
ifpi, international federation of the phonographic industry, recording industry, record labels, record companies, record company, recorded music