Uprising - a platform for local bands & venues to promote live music
News: 28th March 2014 by Louise Dodgson under Artist Managers, Live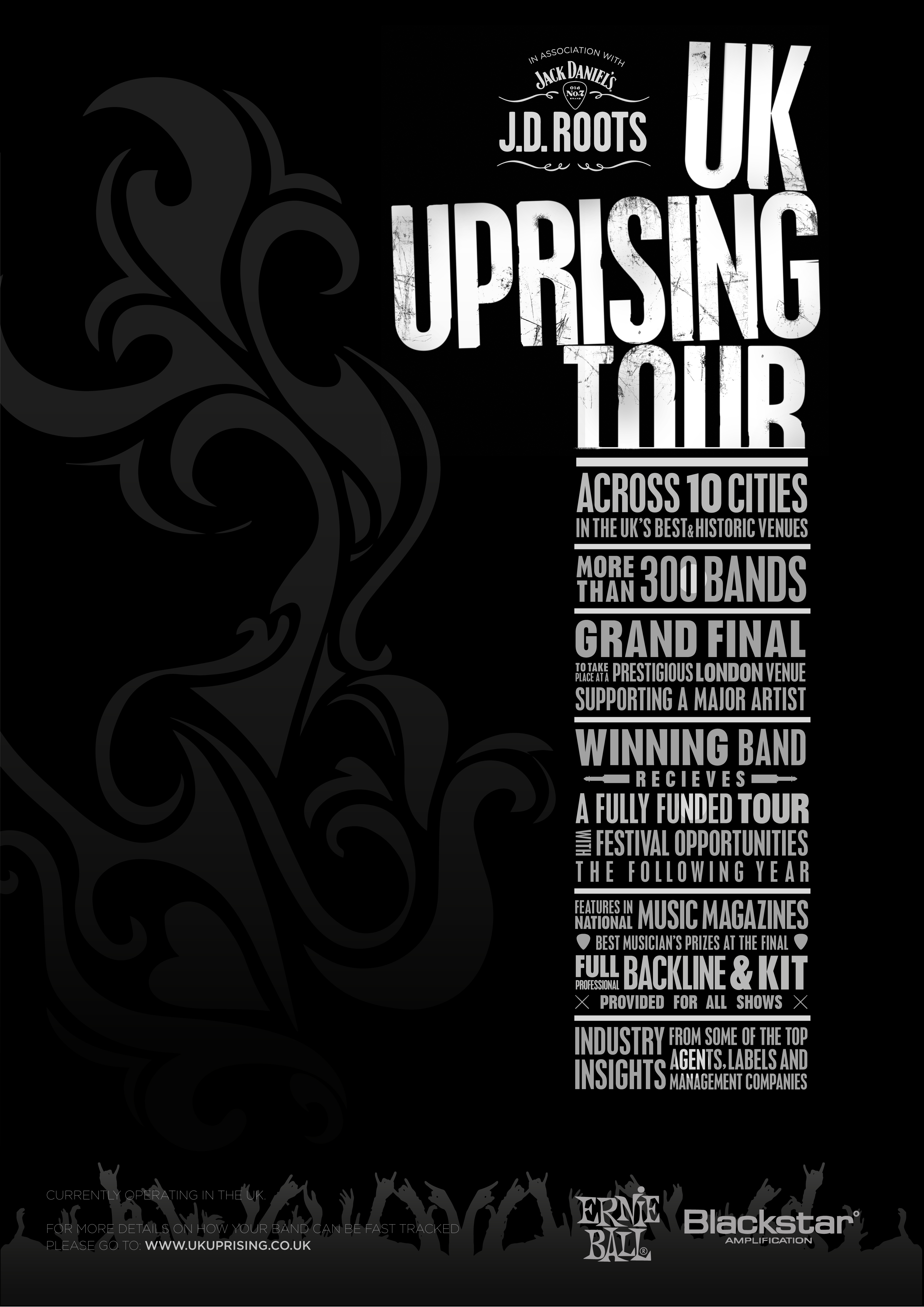 Jack Daniel's® is now in its third year of supporting local music scenes and the people and places that make the UK the most vibrant music culture on earth. The JD Roots Homecoming and brand new shows have brought music fans closer to contemporary icons such as Miles Kane, The Horrors, Maximo Park, The Cribs and Twin Atlantic. A partnership with local promoters also showcased up and coming acts such as Charlie Boyeur and The Voyeurs, Loom, The Family Rain and The Ruen Brothers, amongst others.
JD Roots' partnership with NME in the quest to find Britain's Best Small Venue has shone a light on the vital work of winners Glasgow King Tut's, Tunbridge Wells Forum and Southampton Joiners Arms, alongside a host of nominated venues up and down the country, in maintaining the local music scenes that are the lifeblood of Britain's live music map.
Now Jack Daniel's is proud to announce its support for a new initiative, Uprising, to support local bands and grassroots venues organised by Glenn Lovell of Southampton's Joiners Arms, the current recipient of the Britain's Best Small Venue award. Across the UK, local bands will be offered the opportunity to play across multiple nights in front of music fans for a chance to progress to a regional final and then to a national final in London. Sponsorships from Blackstar Amplification and Natal Drums will provide an entire backline in each venue allowing bands to plug in and play and chosen bands will receive donations of equipment from the sponsors. 'Uprising' is an opportunity for local bands and local music fans to demonstrate their support for their music scene and the bands and venues that underpin the music culture of their town, wherever that might be.
"Jack Daniel's is proud to be involved in Uprising as it offers a platform to the legends of tomorrow as well as further highlighting the importance of small venues across the UK by giving those artists a stage on which to perfect their craft. There's nothing quite like listening to live music and anything we can do to make some noise around that is okay by us." Michael Boaler, Jack Daniels
Glenn Lovell said: "Following winning the NME's Jack Daniel's best small venue award, I sat down with the JD team to discuss the idea of putting together a national event competition to discover some of the best underground bands the UK has to offer, whilst sticking with the Jack Daniel's ethos of putting on shows in some of the best grassroots venues across the country. Jack is a staple rock 'n' roll brand and I can't think of a more perfect brand to be associated with for this event. Bring on the first show!"
Related Links
http://www.jdroots.co.uk/age_gate
---
Tags
jack daniels uprising, southampton joiners, unsigned bands, unsigned artists, live music, jd roots