Announcing the Marshall Ultimate Band Contest sponsored by LickLibrary.com
News: 30th September 2010 by Louise Dodgson under Live, Music Training & Careers, Recording & Production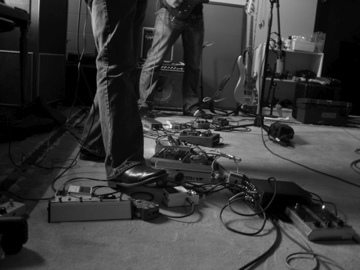 The Marshall Ultimate Band Contest has just launched sponsored by Lick Library and Smokehead Whisky offering the most amazing, money can't buy, prizes to the winning band.

The winners will have the honour of getting a full endorsement from Marshall Amps for both the guitarist/s and bass player to take their place alongside some of the greatest names in the business including Slash and Jimi Hendrix! Not only will they have full Marshall artist support and loan of gear for a year but they will also win a fantastic bands worth of Marshall amps including a bass stack and Guitar stack.

The winners will also win a session at Europe's largest independent recording studio complex, Metropolis, where they can demo up to four tracks via the studios 'unsigned mastering' service. The list of famous artists to record at Metropolis it truly staggering, with everyone from Sting to Robbie Williams using their services.

Further prizes include a selection of best selling DVDs from Lick Library, one of the worlds leading suppliers of guitar tuition, plus Smokehead Whisky will help you celebrate your winnings in style with their Islay Single Malt Scotch Whisky. This is not just about winning cool prizes as the prestige and publicity surrounding the contest is more than worth its weight in gold.

To enter the competition, you need to record your own video of original music, fill out the entry form on the Marshall UBC website and then Upload your YouTube URL together with your details. Entry is free and judging in the first round is open to the public with ultimately five top bands being selected to battle it out in front of the judges at the Marshall Theatre.

Check out the competition and cast your votes at the website below. You can follow the competitions progress and find out about other cool prizes on the website.

Related Links
http://marshall.licklibrary.com/voter-registration
---
Tags
marshall ultimate band contest, lick library, unsigned band competition, battle of the bands