Lockdown inspiration: Ideas to connect with your fanbase
Blog by Stef Loukes under Artist Managers, Creative & Branding, Finance, Law & Music Business, Live, Media, Music Publishing, Music Training & Careers, Record Labels, Recording & Production, Selling & Distributing Your Music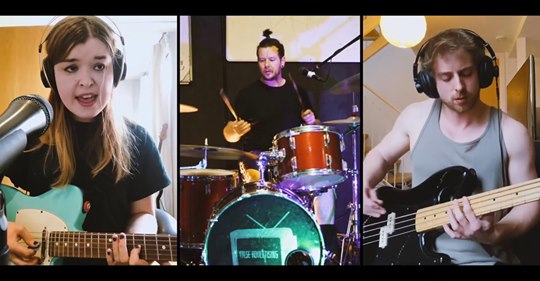 Running out of ideas to keep your fans engaged during lockdown? Here's a few bands and artists who may inspire you with some wacky ways they've been connecting with their fanbase.

Whether signed to a major label, or completely DIY, these strange circumstances have knocked down all boundaries and budget requirements. As long as you have an interesting idea, and the imagination and drive to bring it to life, it's an open playing field.


Firstly, here's a great way to reach out to your fans, and all for a good cause. Music Venue Trust have launched their #saveourvenues campaign, so why not get involved with putting on an 'at-home' gig to raise money for a local gig venue.


Ever fancied yourself on Masterchef? Fickle Friends have been sharing videos of them whipping up some of their fave recipes.


Lissie has been asking fans to send in social distancing vids to compile together and create a video for one of her songs.


False Advertising took a tour of the internet, partying and playing on different social media platforms, featuring both solo acoustic sets and full band gigs.


Even Belle & Sebastian have decided to transform their lockdown into a creative process, by creating an audio-visual project 'Protecting The Hive' which sees them compose backing music, as they read out fans' experiences during lockdown.


SK Shlomo is launching beatboxing classes on YouTube. Each episode will see him joined by a celebrity guest. Expect to see Bastille, KT Tunstall, Bill Bailey, Basement Jaxx, Jason Mraz and BBC Radio 1's Dr Radha over the coming weeks.


Jarvis Cocker has been hosting a Saturday night 'Domestic Disco' across Instagram Live every week, followed by reading a soothing bedtime story every Sunday evening. Lovely!


The Lottery Winners have been hosting their own TV channel over on Facebook Live, including a weeknight Quarantine Quiz, and 'Sounds of Isolation'; where each band member shares what they've been listening to at home.


Mr Ben & The Bens have been broadcasting their own Saturday morning show 'Beans On Toast' to kick off the weekend.


Post Malone raised some eyebrows with his surprisingly adept live stream of Nirvana covers, featuring Travis Barker on the drums. A sentence I never expected to type.


The Charlatans' Tim Burgess has been hosting daily listening parties on Twitter, picking an album to listen to in real-time, with a live commentary from one of the artists involved via the #timstwitterlisteningparties hashtag.


It's sad to see so many festivals being cancelled and postponed but some festivals have been using the wonders of the internet to broadcast some great music. Here's Harry from Stay Lunar with a live bedroom set for Swindon Shuffle.


The lockdown has even given rise to some new festivals. Lockdown Festival smashed its £500 target by raising £4,240 for NHS Charities Together in April. Watch a stellar set from Gary John Taylor here.


Housemates Jono Oakes and Adam Hardman took the Glastonbury cancellation particularly hard and decided to remake the Pyramid stage out of Lego.

---
Tags
Tips on how bands and artists can engage with fans during lockdown