The independent musician's guide to digital distribution
Blog by CD Baby under Selling & Distributing Your Music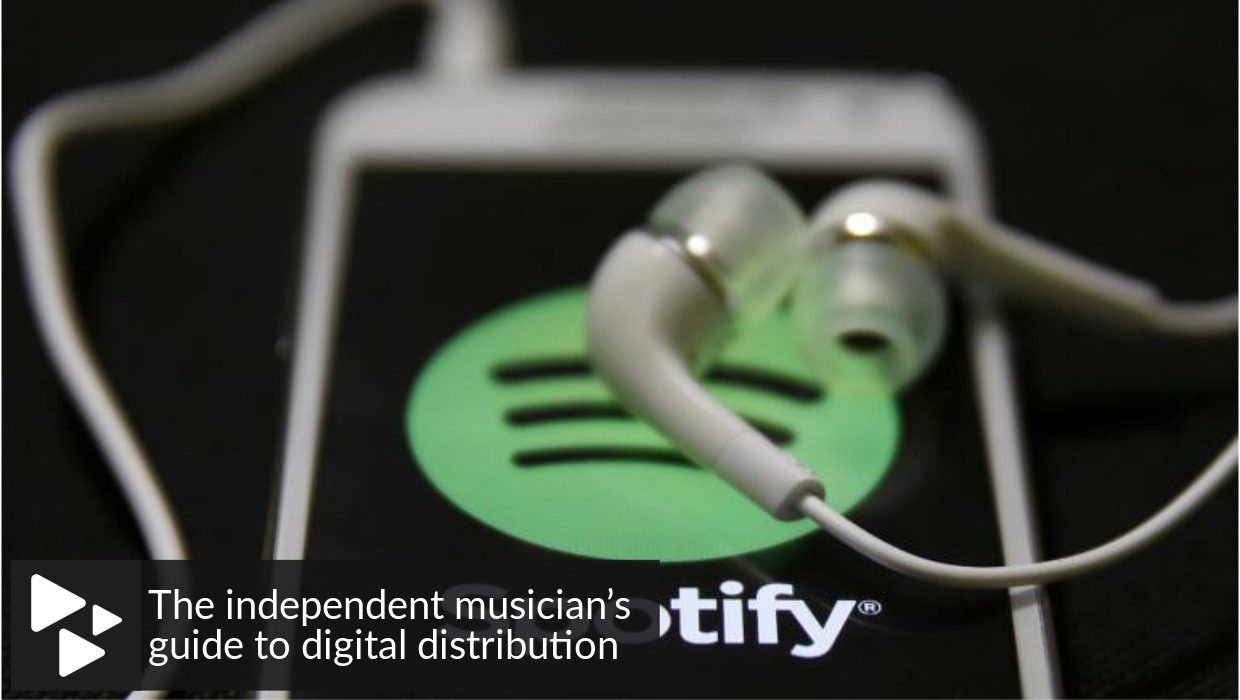 This blog is contributed by CD Baby, an artist-focused company who can help you sell, license and monetise your music.

Digital distribution is more than just sending music to Apple Music and Spotify.


You're an artist and you've recorded a song you want people to hear. You've already done the difficult part of working out arrangements and laying everything to tape or hard drive. Now it's time to release your music via a music distribution service.

You could upload your music yourself to Soundcloud, YouTube, or Bandcamp and call it good — but that's not quite music distribution; those are standalone websites that host your music.

These days, the smartest way to get your work out to the whole world is via digital music distribution. This is an important step in your music career and there's a lot to understand, but if you can learn to shred on a guitar or make meticulous beats, studying up on the ins and outs of digital music distribution is a piece of cake. And we're here to break it down for you.

What is digital distribution?
Digital distribution is how you get your music onto platforms like Spotify and Apple Music. It is the process of managing and transferring your work in digital form to platforms that make the music more widely available.

There are two ways consumers access music from digital platforms:
Downloads: This is the original way people accessed digital music files. A download is a copy of the original file that the host platform creates for the consumer. The listener then saves that file on their device of choice (desktop, iPad, etc.) where they'll use a media player to play back the audio file.

Streaming: This is the second, newer, way people access digital files. A digital music stream also creates a copy of the file, but unlike a download the listener does not get to keep the reproduced file; they can only listen to the audio by accessing it on their platform of choice.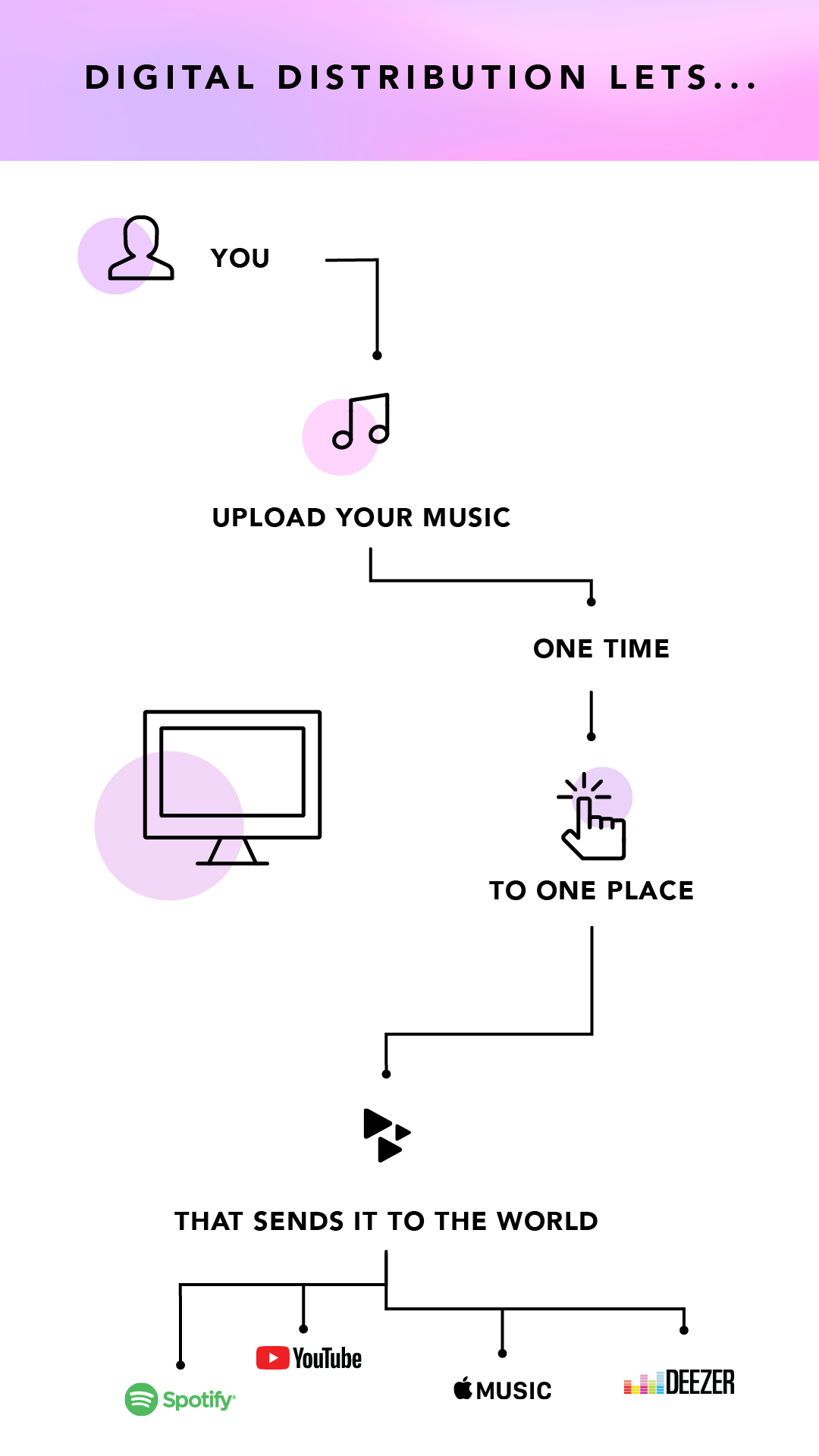 Why should I do digital distribution?
Digital audio's ease of use is what makes it so appealing to modern listeners, and why digital distribution is such a powerful solution for artists today. Unlike physical formats like CDs and vinyl, digital files don't take up any more space than the hard drive on which they are stored. The more compressed formats like MP3 are small enough files that users can fit hundreds of songs onto a portable device, or thousands on a moderately sized hard drive.

Easier still is streaming, which doesn't take up any digital real estate. The only requirement for streaming is an account the listener must create with their platform of choice to access the files, and a monthly subscription fee for the platforms that charge. Once that's done, the user can listen to their heart's content.

Put simply: Digital distribution now allows you to get your music out to listeners all over the world, quickly, and with almost no barriers except the play button.

Okay, but why can't I distribute my music myself?
Another way to ask this is, "Why can't an unsigned artist get their songs onto Spotify and Apple Music directly?"

To put it simply, you as the artist are not their customer. Your fans are their customers. These companies don't want to take on the substantial service and development burden of dealing directly with millions of musicians, as evidenced by Spotify's quickly-abandoned experiment with direct uploads.

At CD Baby we create the systems, artist tools, communication channels, and informational resources you need so you can upload your music ONCE and make it available worldwide in a successful way. I mean, Imagine having to create separate accounts and upload your music and artwork files for each and every digital music platform yourself. Imagine the accounting headaches. Imagine the emails.

A distributor serves as a buffer between the creator of the music and the outlets that make that music available. But more importantly for you, you as the artist are saved a ton of time and work.

What platforms does CD Baby distribute to?
CD Baby distributes to every major download and streaming platform. Each year sees the launch of new digital music platforms, and each year CD Baby agrees to new partnerships with the ones it determines are beneficial to artists.

We all know the major streaming and download platforms, but there are dozens of smaller digital services, many of which are popular in specific territories. CD Baby sends your music to those services and any new ones that we sign agreements with, at no extra charge to you. Those partners include:

* Spotify
* Apple Music/iTunes
* Amazon
* Google Play
* YouTube Music
* Tidal
* And 150+ more

The complete list of our partners is here.

What should I distribute first, a single or album?
Chances are, if you're a new artist you likely only have a song or two ready to go. We firmly recommend you start with a single instead of waiting to record an album's worth of material. A single gets your music distributed so you can establish a presence on the download and streaming services.

Why you should release a single first.

How do I promote my music ahead of the release?
You have a few options to promote your music once it's been delivered to digital music platforms with a future release date:

* Submit your music to Spotify for playlist consideration

* Make sure your followers hear your new stuff in Release Radar

* Enable a pre-add on Apple Music

* Run a pre-save campaign on Spotify

* Offer pre-sales via iTunes and Amazon (this is only offered for albums with iTunes)

What about metadata?
It's vital all of the metadata accompanying your music is in order. This means checking that you entered the album title, track titles, artist names, genres, songwriters, and publisher information correctly.

CD Baby can check this and also assigns ISRCs for your song(s) if none are provided. ISRC stands for International Standard Recording Code. It's the unique code generated for each song that the digital platforms use to track streams. This ensures that plays are tracked properly, and royalties are accurately reported.

Why metadata is important for your music.

How do I get paid from digital distribution?
When your music is sold or streamed on a distributor's partner platforms, they report that revenue. Generally, it takes those services about a month or two from the time the song or album was downloaded or streamed to report the revenue (although with CD Baby you can view daily trending reports within your CD Baby dashboard for Spotify, Apple Music, and iTunes). CD Baby has been paying weekly for 21 years.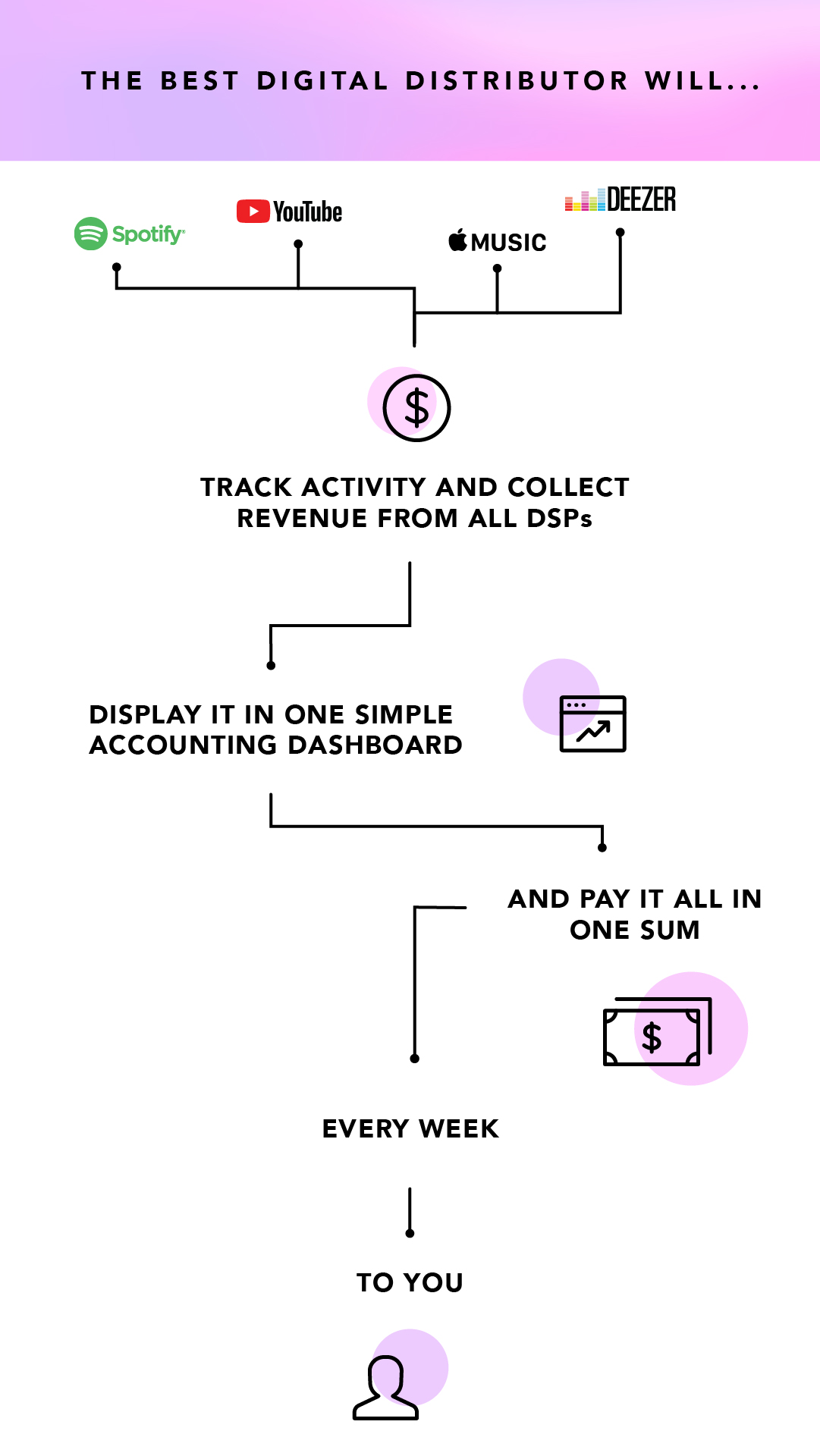 Should I still do physical distribution for my music?

While it seems like the entire music industry is moving away from physical media towards exclusively digital content, many artists do still offer physical product for their music. Many people don't have CD players anymore, but that doesn't mean that everyone has forsaken physical. It's a great low-margin merch item, and a great memento for your biggest fans.

We recommend either making a small batch of CDs (or vinyl!) just in case, or waiting for your music to get out there a bit more and gauging demand. If, after a few months, you're seeing requests from fans who want to own a CD or LP of your album, you can always opt in for CD Baby's physical distribution program later. The door to physical media isn't shut forever when you submit for digital distribution, and there's no extra cost to start distributing vinyl or CDs through CD Baby.


---
Tags
Guide to digital distribution from CD Baby