How to write a brilliant music biog
Blog by Jamie Hamilton under Artist Managers, Creative & Branding, Live, Media, Record Labels, Selling & Distributing Your Music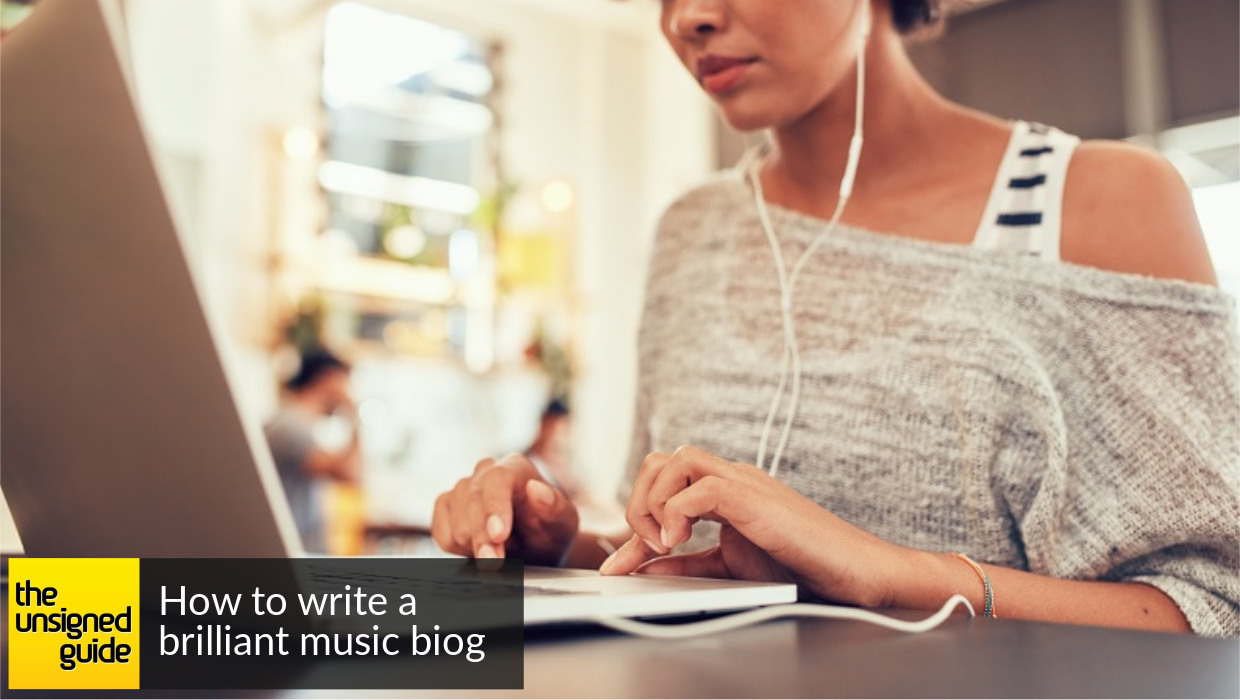 When it comes to writing a biography, a lot of bands and artists use a similar template. I'm sure we've all read a biog that bears at least a passing resemblance to the below:

"BANDNAME are a four-piece based in TOWN/CITY formed in INSERT YEAR. Fusing GENRE A and GENRE B, they have shared a stage with the likes of BAND A, BAND B and BAND C..."

Admittedly, it is extremely difficult to write about yourself - so it makes sense that a lot of artists choose to stick to such a well worn formula. But when there are thousands upon thousands of acts competing for attention in the music industry, a unique biography or press release can really make you stand out from the crowd.

This is where Lisa Durrant comes in. She has written countless biographies and press releases for an impressively long list of artists including The Orielles, Pins, Trudy & The Romance, Working Men's Club, Charles Bradley, Nadia Reid, Toro Y Moi, Jim Noir. She was on hand at this year's Off The Record to share her expertise in her 'A Musician's Guide To Writing Brilliant Biographies' seminar. I was there, furiously scribbling notes to humbly deliver to you lot. Here are the most pointed pointers to point you in the right direction.

Finding Your Story
The first thing to remind yourself as you sit down to write any promotional materials for your band is, "It is not a biography or a press release - it is a story." If you want somebody to listen to your music, you need to pull them into your world - and this is where your story comes in. To get yourself started in this way of thinking, ask yourself who the characters are and what your world looks like.

Focus on the things that make you different or interesting. Straight up facts can be a useful tool but they're not always essential, so only include them if they work within the flow of the narrative. For example, it would be much more interesting to talk about the meaning behind a lyric than to point out something that is immediately obvious to the listener (e.g. "It is an acoustic track"). Where did the inspiration come from? How did you discover that influence? Anybody can be influenced by The Beatles, but to mention that your earliest musical memory is dancing to '8 Days A Week' in your grandparent's living room is a more unique angle.

Framing The Conversation
The words that accompany your music start the whole conversation, so you'll want to get off on the right foot. You're doing this on your terms, so you can frame the conversation any way that you like. Are you a 'band' or a 'creative collective'? Are you a 'songwriter' or a 'sonic alchemist'? Opening strongly is especially important when it comes to writing a biography, so start with the most interesting thing about yourself. What is your unique selling point? Once this is firmly established, you should have intrigued the reader enough to expand further without losing their attention.

Another handy tack can be to use quotations for hard to word concepts, or perhaps a humorous aside that wouldn't otherwise fit with the tone of the overall content. You may have noticed that direct quotes are often read out when introducing tracks on radio stations. Usually, these are quotes pulled directly from the artist's press release.

How Long Is Too Long?
Lisa recommends keeping things pretty snappy in terms of the word count; 800 words is the absolute maximum for a detailed biography and a press release should be even shorter. You should also keep a trimmed down biography for use in situations where a concise description is required. If you're struggling to shave some length off your writings, be ruthless. Remember, you don't have to mention absolutely everything. If there is a gig or project that you are keen to plug in a press release, you could always hold it back for a follow up email. This also gives you an excuse to get in touch further down the line if you don't hear back.

When you feel like you've finished, take a step back from the words for a little while, preferably overnight. Return with fresh eyes and make sure that the story flows nicely, whilst staying on the lookout for slip-ups and repetition. You'll also want somebody else to look over it. Think about who your typical target audience will be and get somebody similar to proofread your work. Get them to pay special attention to spelling and grammar. Ask them for honest feedback. Is clear and readable? Does it drive the point home? Most importantly, is it interesting?

What Now?
So, you've nailed all of the above and tested it on a friend who agrees that it is rockin'. Having worked as a publicist in the past, Lisa also has plenty of wisdom to impart when it comes to sending material to press.

You'll want to give yourself plenty of time; especially when it comes to sending a press release to printed publications. Lisa recommends contacting as far in advance as 3 months for a monthly publication, or 1 month ahead of time for a weekly publication. To be sure, you can phone ahead and ask for the copy deadlines to establish the optimal delivery date and submission guidelines.

Do your research on each contact and make the approaches personal without going over the top. Include your biography and/or press release in the body of your email to make it extra visible, whilst making it clear that you haven't just sent out a blanket mailout. Following up is fine, just don't over-hassle. You'll get a lot of non-replies and rejections but keep at it. This is only the first chapter - the rest of the story is waiting to be written.

---
Tags
Advice for bands and musicians on how to write a brilliant biog