BBC Music Introducing Live: Getting Your Live Sound Right
Blog by Jamie Hamilton under Live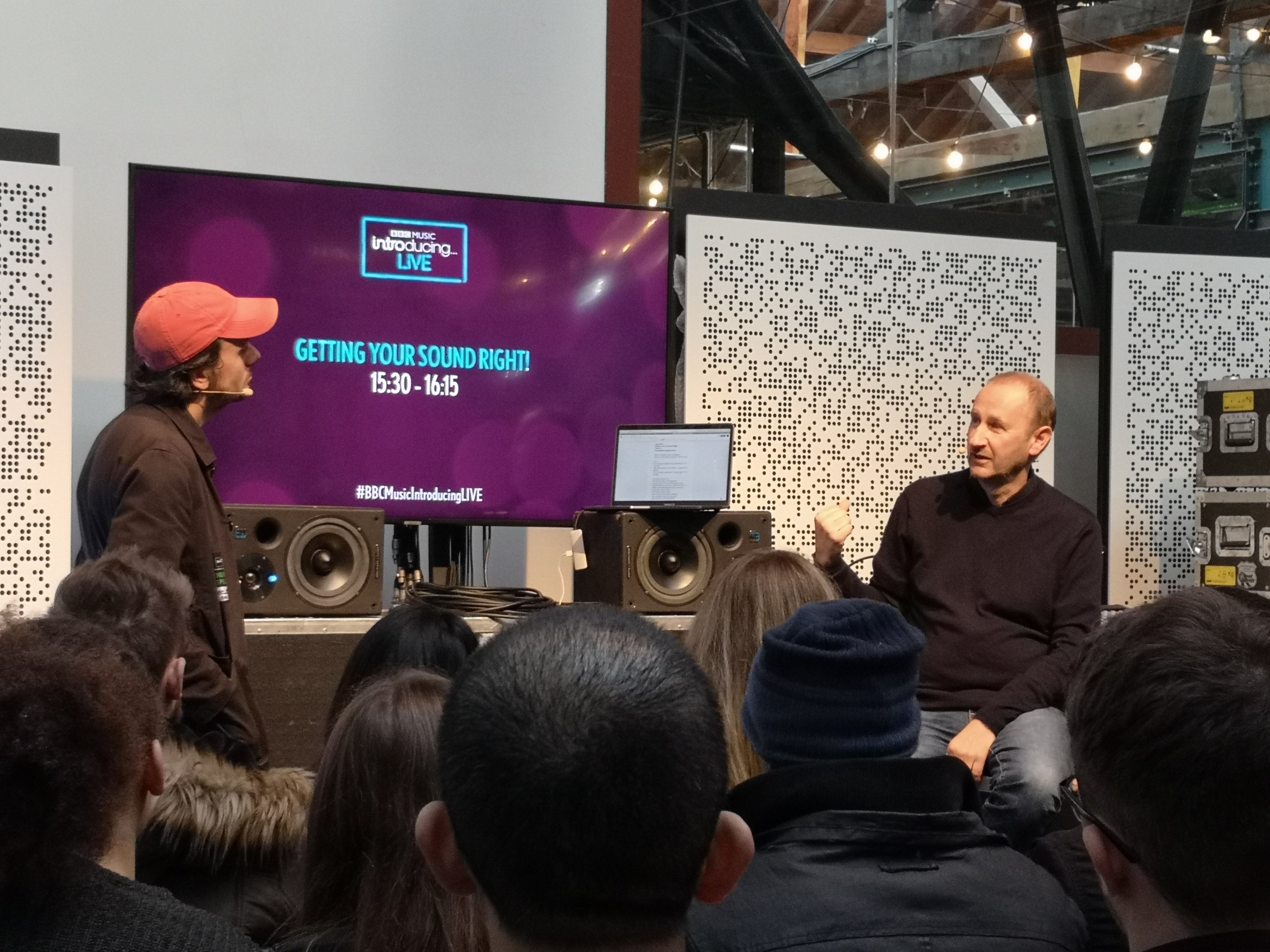 Jon Burton is a live sound engineer with bags of experience. After leaving school, he initially made an attempt to work as a trainee engineer for the BBC but fell short due to a lack of A-level Physics. Not letting this put him off, he continued to engineer bands using his own small PA system until eventually finding work with a sound company in his area. This role provided Jon with the years of experience required to help him to get his own touring jobs. He hasn't looked back since, working for a number of artists including Biffy Clyro, Pendulum and Bombay Bicycle Club, and most notably, 15 years as The Prodigy's front of house engineer. He has also worked as a studio and monitoring engineer, engineered for TV and radio and delivered lectures and masterclasses across the world, currently teaching at The University of Derby.

So when I saw Jon in the line-up for this year's BBC Music Introducing Live, his talk on live sound was at the top of my list. Hosted by BBC Music Introducing's Sam Bonham, budding engineers, producers and musicians piled into the conference's 'Studio Excellence' room to pick Jon's considerable brain.

What Does A Live Sound Engineer Do?

First, we cleared up something that I've always been quietly confused about: what differentiates a front of house (FOH) engineer from other types of sound engineer? In short, a FOH engineer works solely on the sound that is heard by the audience. Larger gigs will also have a foldback or monitor engineer to mix the sound that the performers hear on stage.

A FOH engineer's main job is to reinforce the quieter instruments such as vocals and acoustic guitar against the noisier ones: drums, electric guitars etc. The most important element for an engineer to get right is the main instrument, most often the singer. Any musician or live engineer will know that the most frequent sound-related complaint (especially in small venues) is, "I couldn't hear the singer clearly." I don't think there has been a pub or club-sized gig in history where somebody has said, "It sounds good, but the drums just aren't loud enough."

Making The Most Of The Soundcheck

Obviously, not all bands have their own engineer, but most gigs will at least provide the opportunity for some form of soundcheck. A soundcheck is your only real opportunity to iron out any problems or to discuss them with whoever's behind the sound desk, so Jon was keen to stress the need to make the most of this time.

Jon isn't a fan of using too much EQ, preferring to preserve the natural sound of the band where possible. Instead, he says it is better to be clever with microphone placements. A soundcheck gives time to play around with microphone positions and levels; sometimes an unexpected placement will work best.

Another good tip is to keep the vocal microphone as far away from the loudest instruments as possible. It might be the norm to place the drummer directly behind the singer but if the space allows, it can pay off to move the kit to the side. This way, less bleed from the drummer will end up in the vocal channel.

In terms of levels, the drums and guitars won't require much additional amplification in small venues. It is a beginner's instinct to crank up the volume of everything when something isn't working but this is to be avoided. In Jon's words, "Loud is easy, loud isn't interesting." It is more impactful to add in dynamics by pulling back the volume of certain elements, before bringing them back in at key moments. When touring with The Prodigy, Jon would add extra sub bass into the mix gradually at deliberate points in the show. The crowd's reaction to this gave an immediate indication of just how effective this can be.

.

If time allows, get the in-house engineer or a friend to walk around the room during the soundcheck. Certain parts of the room might sound completely different than the desk or the stage.

What Can A Band Do To Help The Engineer?

If you're regularly working with different engineers when on the road, it is useful to hear an insider opinion on how you can make the sound guy or girl's job a little easier. Top of Jon's list of advice for this is simply to be nice. Show up on time, have a good attitude and talk to the sound engineer. Being approachable and opening up strong channels of communication can make a big difference. Provide the sound technician(s) with generic notes on your set (e.g. loud song with quiet 3rd verse, slow ballad, last song - turn it up), they'll want to make you sound at your best and will be grateful for any guidance. Also, if you're using effects pedals, make sure that you know which is your loudest sound and quietest sound and make the engineer aware of them. This might sound trivial but it actually makes managing the levels much easier during the show.

If you know that you're going to be playing a gig without an in-house engineer, take a friend with you who is familiar with your sound and whose opinion you trust. This will at least provide you with a mobile pair of ears and an extra pair of hands during the soundcheck, as well as somebody to make any minor adjustments at the mixing desk during the show.

Getting your live sound right can be the difference between an average show and a great show, which is why experienced sound technicians are so highly sought after. Where there's an issue, an experienced engineer usually knows exactly where to look. It can also really help for a sound engineer to be familiar with an artist's sound. Emerging artists don't always have access to such luxuries but with practice and the right approach, it is possible to make significant improvements to your live sound. Taking on board some tips from a man who has just about seen it all provides a great starting point.