The Unsigned Guide Spotlight: September
Blog by Louise Dodgson under Artist Managers, Creative & Branding, Finance, Law & Music Business, Live, Media, Music Publishing, Music Training & Careers, Record Labels, Recording & Production, Selling & Distributing Your Music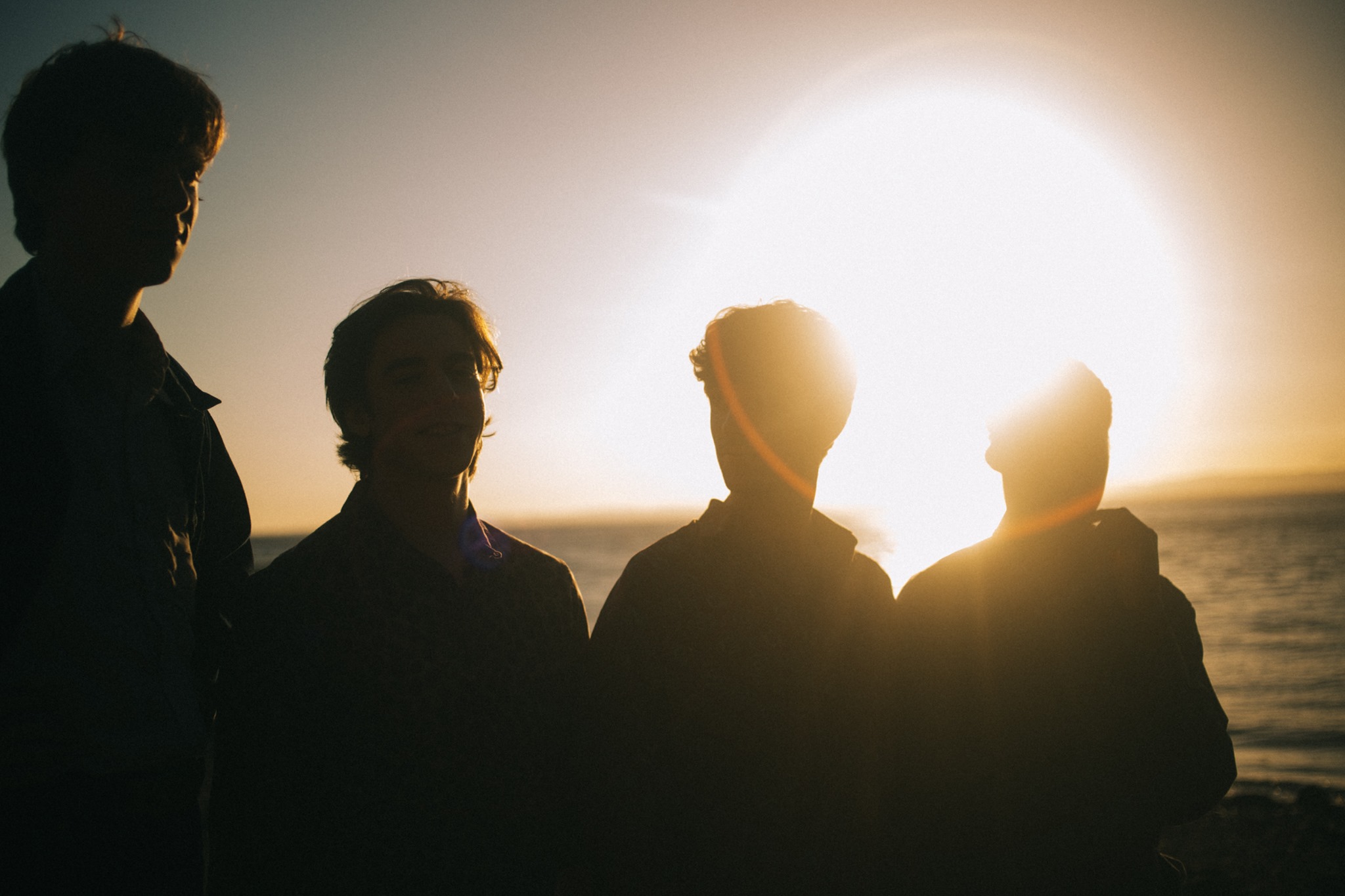 FEZ – 'Repetition'
As 2018 turned into 2019, the four members of FEZ made a bold decision – to quit their jobs and throw everything they had at making the best record they could, channelling their collective energy into their music full time. It's a commitment that has bonded and driven the band; "It was a pretty special moment when we all took the leap of faith. You could see how important the band was in each of our lives and how much we believed in the music we were making." Upon listening to 'Repetition', we at The Unsigned Guide feel they've absolutely made the right call.

Although FEZ's music fits under the psychedelic moniker, their sound is expansive, complex and progressive. And after devoting everything they had to the project in such a major way, it stands to reason that the result would be incredibly immersive; not only did the band decide not to juggle work alongside their creative endeavours, but they also eradicated the chance of any outside distraction by transporting themselves from London to an isolated cabin in the Lake District to write and record.

Rollo Ellison of the band sheds light on the lyrical story behind 'Repetition': "'Repetition' is a song about 'nihilism'. The idea is about taking comfort in the insignificance of our lives. We all put vast amounts of pressure on ourselves to achieve our goals and by achieving them, think that we will give our lives meaning. We do this because society tells us that worth comes from out-achieving others in status and wealth. By embracing the fact that no matter how much we achieve, in the scale of human history, our lives won't really have any significance, we can begin remove this pressure and hopefully live a happier life. Of course, in the end it's all bollocks isn't it? No matter how hard we try we're all slaves to societal pressures."

He certainly has a point, and we can't think of a better antidote to the pressures of life than engulfing yourself in the sounds of FEZ.

Facebook Website





MOAN – 'Mumble Rappers'
Sheffield hip-hop act MOAN aim to bring a refreshing change from the paint-by-numbers sounds of the commercial rap that often rides high in the charts. And their track 'Mumble Rappers' is dedicated to that very topic as they explains: "Mumble Rappers was actually the second song we ever wrote together while I was living in Sean's spare room and I guess it just came out as we were sick of hearing badly pronounced rappers getting lots of props, hardly able to string a sentence together. So it was just a bit of fun and personal outlet."

With tight delivery, a killer beat, razor sharp verses and a video with a sense of humour (who doesn't want to dress up in a sumo suit given the opportunity?!), 'Mumble Rappers' showcases the first-rate talent that makes the thriving UK hip-hop scene so exciting.

And the talents of Oxymoron, Sean Dee and producer Ben Woodward are not just on our radar – in the past 12 months they have supported KRS One, had an abundance of love and airplay from BBC Introducing Sheffield, and have hit the festival circuit with performances at Northern Green Gathering and Clarence Park Festival; bringing their hip-hop charms to a new crowd; "It's always a buzz to drop some boom-bap at a none hip-hop event!"

We should be treated to more entertaining music videos from MOAN soon, and possibly some solo material as this prolific three-piece continue to create and slay.

Facebook Twitter Instagram Bandcamp Spotify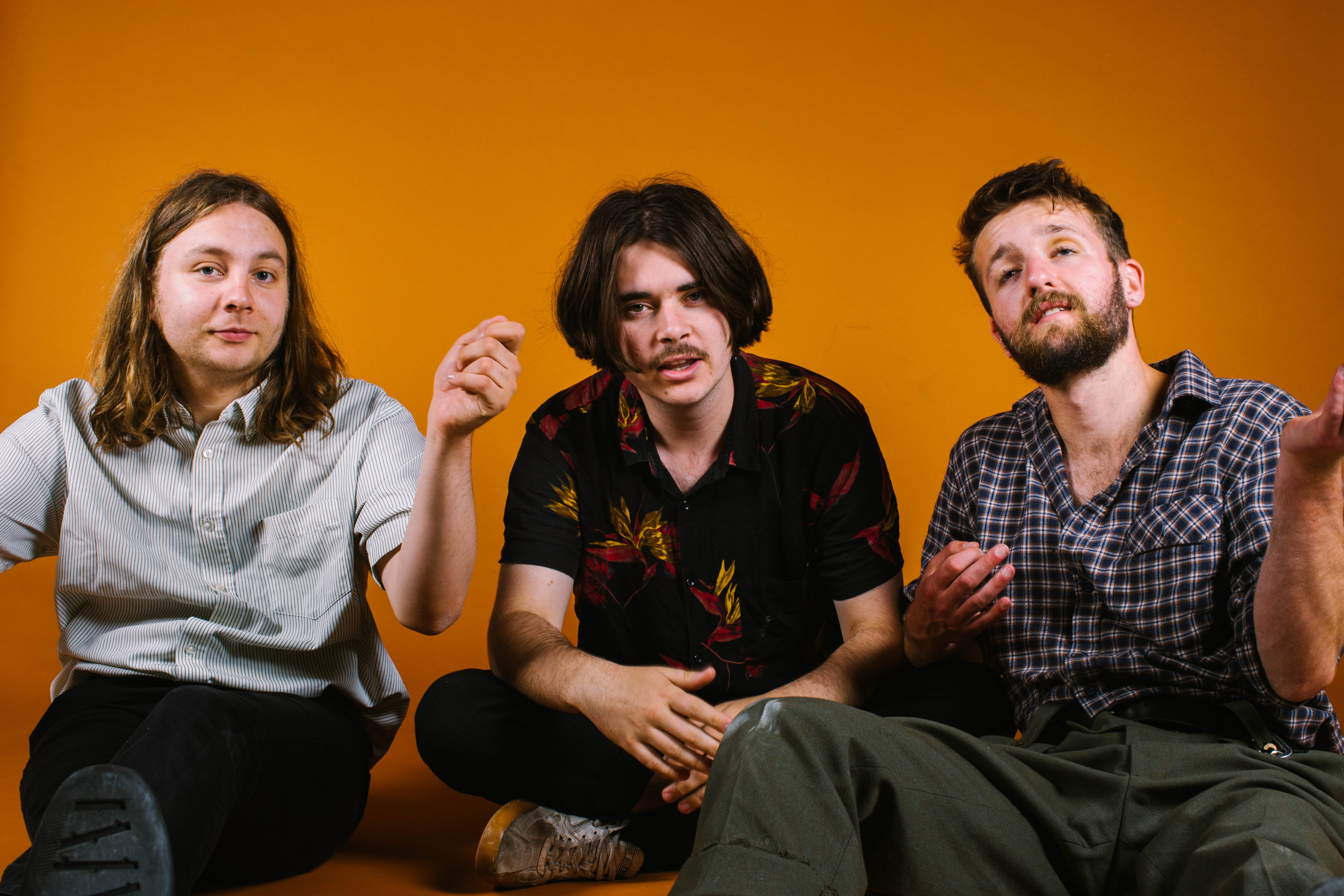 Photo credit: Emily Marcovecchio

School Disco – 'Caught In Space'
School Disco describe themselves as an "intergalactic mix of garage rock, psychedelic rock, noise rock and punk." If all the bands that we cover start to provide such accurate summations of their works, I may well be out of a job. This distinctive flavour has seen them supporting the likes of Wolf Alice and Frankie & The Witch Fingers, and now their debut album is on the way.

The lead single from the album, 'Caught In Space', is an unapologetic cacophony of outer space noise. Sprouting from a guitar riff brought into the rehearsal space by guitarist/vocalist, Rory, sharing vocal duties with drummer Laur and bassist Troy took the song in an unexpected direction.

Rory explains this process: "The other guys in the band approach things differently to me, and I'm always pleasantly surprised with where they take it and the content of the lyrics... In 'Caught In Space' you have a song that is both about climate change denial but also has this massively surreal Sci-Fi content too! I think Laur really smashed it with this one."

With all of this raucous Sci-Fi comes an unpredictable excitement to the band's performance. As the track draws to its ear splitting close, the chaos of it all is increasingly irresistible.

School Disco's self-titled full length is out 27th September on vinyl and in all the digital places. They have an appearance at Green Door Store's 234 Fest in Brighton to look forward to in the meantime, before heading over to Paris to play alongside Japanese garage rock legends, Guitar Wolf.

Bandcamp Facebook Twitter YouTube Spotify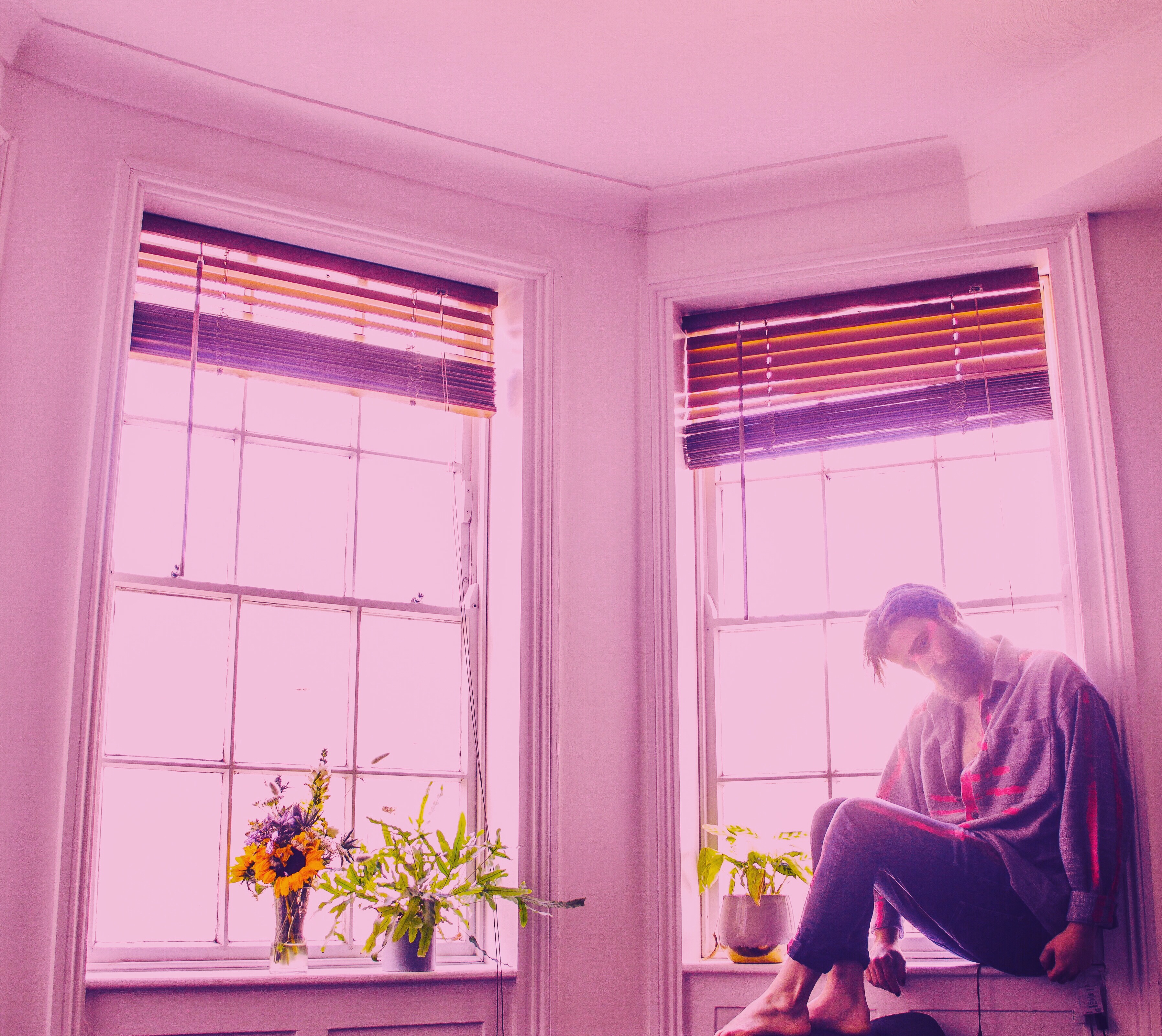 Single Ruin – 'Out'
Taking inspiration from a sundry of artists including Tyler the Creator, Childish Gambino, Tame Impala, Bon Iver and Billie Eilish, 'Single Ruin' is the solo pseudonym for songwriter Josh P Gale. Josh conceived the project as a means to test his creativity by writing and producing alone, before later handing the reins over to producer friend Jonny Bird for the mixing and mastering duties.

'Out' is our first taste of this new venture and its sweet synth-driven pop drew us in immediately. There's nothing like a pounding drum beat to get the toes tapping, and on top of this sits a melody that could get even the most luckless curmudgeon (me) humming along.

It isn't just Out's arrangement that makes it stand out. The production of the track really adds to the gloss, and Josh puts this down to the chemistry between himself and Jonny, "We've been producing together on other people's songs for a while, so it meant the world that he wanted to mix my songs."

Josh is emerging from his studio burrow and looking to take Single Ruin out for a spin with some live shows. You can catch him at Brighton Electric on 20th September. Don't fret if you can't make that one — we're promised more in the offing.

Website Facebook Instagram Spotify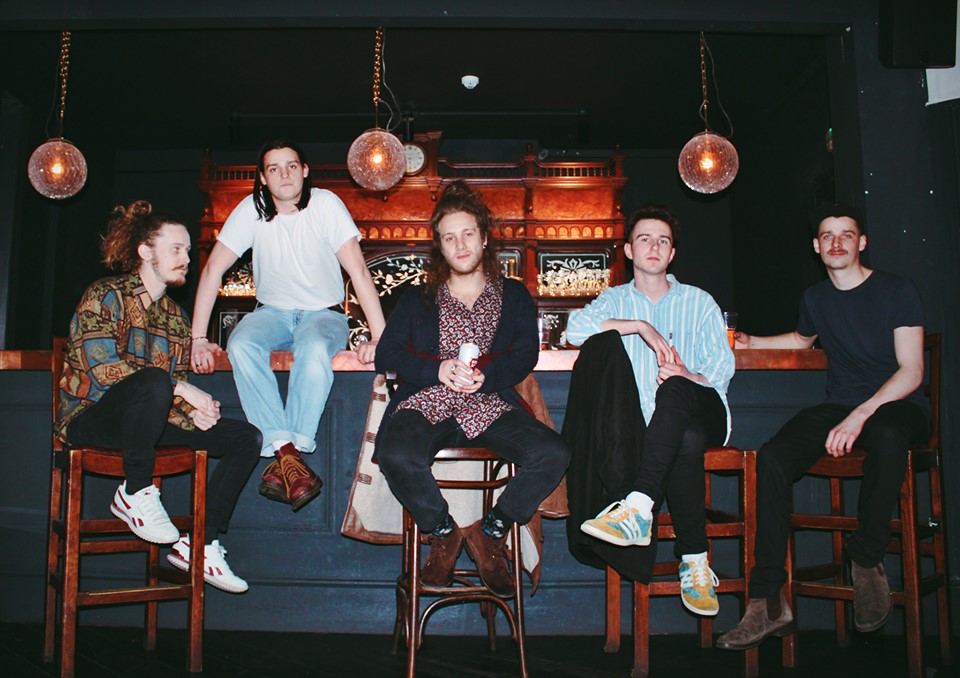 Soft Girls & Boys Club – 'Sex Music'
Soft Girls & Boys Club aptly dub their dreamy blend of psychedelic rock and doom pop as, "Happy music for sad people." Signed to Nottingham based indie, Phlexx Records, the past few years have seen them popping up all over the place - including Dot To Dot and on Y Not Festival's Quarry Stage, along with a support slot for The Districts and a headline set at Bodega.

Their latest release is tongue-in-cheek stoner groove, 'Sex Music'. The song was initially written as an admiring nod to Weezer's 'Undone - The Sweater Song', and its spaced out fun is also reminiscent of early Mac DeMarco. The track was written in the band's formative years and has long been a favourite in their live sets, but they've only recently been able to capture it as intended in the studio.

The band's enjoyment is palpable in the track's delivery. Guitarists Ben and Tom get plenty of use out of their octave pedals, interweaving slickly over the rest of The Club's romantic, candlelit foundations. It is clear that 'Sex Music' has had some time and space to evolve, especially once the garage pop outro arrives, which is truly something to behold.

'Sex Music' is out now on Phlexx Records if you'd like to get it added to all of your lovemaking playlists. They've got some more new stuff on the way, but make sure that you keep an eye on their socials for any gigs popping up during gaps in their recording schedule.

Facebook Twitter Instagram Spotify YouTube


How can I get featured on the Spotlight blog?
Our Spotlight blog is compiled every month from fresh new music submitted to us by our members. We want to hear from you! We select 5 of the best tracks from our members, so if you want to be in the running you'll need to sign up to The Unsigned Guide then follow the instructions in your Welcome email to submit a track for Spotlight consideration to us.

As well as being featured in our new music blog, your track will also be played on our monthly Amazing Radio show and also forwarded onto music industry professionals including folks from Big Life Management, Club Fandango, Decca Records, Memphis Industries, Rocksound, DIY Magazine, Transgressive Records and The Great Escape. Find out more about Spotlight here.

Members of The Unsigned Guide get access to our huge directory of over 8,500 UK music industry contacts, spanning 50 areas of the music business. Check out our quick video to find out more about the directory & other services we provide to help emerging bands and artists.
---
Tags
Unsigned and emerging bands and artists feature on The Unsigned Guide Spotlight new music blog