Wellbeing in Music: Artists and music industry professionals discuss mental health at Unconvention
Blog by Jamie Hamilton under Artist Managers, Creative & Branding, Finance, Law & Music Business, Live, Media, Music Publishing, Music Training & Careers, Record Labels, Recording & Production, Selling & Distributing Your Music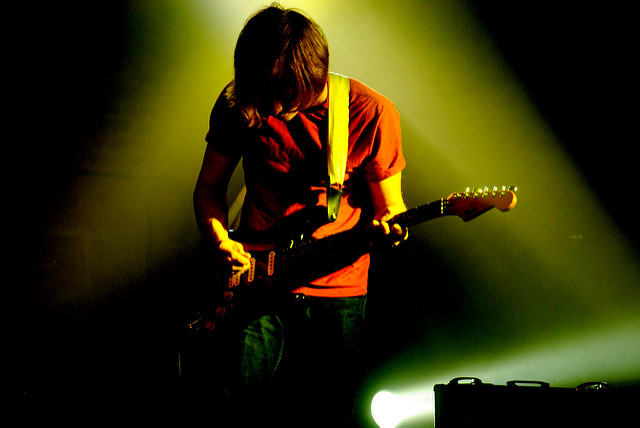 After years of being under-represented, it appears that mental health is finally being widely recognised and discussed as one of the major challenges of modern society. According to Mind, mental health problems will affect 1 in 4 people in the UK each year. With its very specific pressures, there are suggestions that the issue could be especially prominent within the music industry. A 2016 study commissioned by Help Musicians UK found that 71.1% of respondents believed that they had experienced panic attacks and/or high levels of anxiety. It isn't just the musicians in the industry who are suffering, a Skiddle Mental Health survey revealed that over 80% of promoters have experienced symptoms of stress.

This, paired with the devastating recent lost of Prodigy's Keith Flint, made Thursday's 'Wellbeing in Music' panel one of the most anticipated panels at Manchester's NIAMOS last week for the 100th Un-Convention. Moderated by John Herring, the panel included The Roadhouse's Kate Mountain, Barry Hyde of The Futureheads and Jenni Willbourn from Manchester Resilience Hub, along with the inspired late addition Sheni Ravji-Smith (Greater Manchester Health & Social Care Partnership).

John poignantly opened with a long list of famous musicians lost to suicide in recent decades. He then addressed Flint's passing by quoting John Lydon's shell-shocked response to the news:

"My heart is broken for him. He was a good friend of mine... He was left alone and he got destroyed. We are not looking after each other anymore and we should."

The idiosyncratic environment of the music industry can directly affect wellbeing. Kate Mountain spoke of the immense pressures on creatives. Musicians are constantly exchanging ideas and expending emotional energy, which leaves them vulnerable. Jenni Willbourn communicated the unique strain on creatives when saying, "There are some very positive aspects to being an artist and to being in touch with your emotions... But there is a competitive element to the industry that can be damaging. A network and a community are really important in this vocation."

Having a musician's voice in the mix added an extra layer of potency to the discussion, with The Futureheads frontman, Barry Hyde, talking eloquently and openly about his own mental health struggles. Along with the "toxic" adversarial nature of the industry, he spoke of the added pressure that comes when a hobby becomes a profession. It isn't easy when an activity that used to be turned to for relief becomes almost a burden, "Learning an instrument can become an obsession. Then, the more powerful you become creatively, the easier it becomes to allow the darkness and self-doubt to grow, rather than decrease."

Barry was also keen to highlight the role that lifestyle and success can play in exacerbating a sense of disconnection. A musician's self-esteem can become so linked to an alien environment of bright lights and screaming fans, that it is easy to lose touch with reality. Or, as Barry puts it, "When you have decided that you need to buy a llama for the studio—you know that you have lost the plot." Whether you're scouring Google for a llama salesman or not, a creative's day-to-day routine is generally very different to that of friends and family networks, which can foster additional feelings of alienation. Finding balance can be difficult when your self-worth is so tied up tightly to your creative output.

The exchanges saw plenty of references to the impact of alcohol and substance abuse on wellbeing, and the link between physical and mental health. In Kate Mountain's experience from her time at The Roadhouse, "Looking after your body helps you to look after your mind. Eat properly, sleep properly and don't self-medicate." This is another topic that Barry is well placed to comment on, "The body has its limits, and it is important to recognise that, as it will inevitably start to affect your mind."

Despite the obvious challenges in mental health and wellbeing in the music ecosphere, it isn't all bad news. The speakers were unanimous in their agreement that there is a sense of the tide turning. The British 'stiff upper lip' is loosening and more people than ever are talking openly about mental health. RNCM recently appointed Sara Ascenso as its first lecturer in musicians' health and wellbeing, with the hope that other conservatoires and institutions will follow. We are also seeing an increased focus on mental health first aid—the MU is hoping to improve mental health awareness. Keep an eye on their site for their mental health first aid courses which they recently started.

There was also some great advice on how to stay balanced and healthy as a creative and to help others to do the same. We'll finish on a few of our favourite words of advice:


- Keep it simple, eat well and get plenty of exercise.

- Be there when people ask for help and nourish others with kindness.

- Don't retreat inwards and make sure that you talk to somebody you trust when things get difficult.

- If your situation doesn't improve, seek professional help.

- "Don't be scared of changing your health and wellbeing—see it as a journey." Barry Hyde, The Futureheads.

- Get familiar with the New Economics Foundation's 'Five ways to wellbeing

If you need emotional support, information, guidance, or information on other services related to mental health, Music Minds Matter is a free support line and service for the UK music community lead by music charity Help Musicians UK.

You can reach their team of trained advisers 24/7 on 0808 802 8008, or by emailing [email protected].
ALSO READ:

Mental Health in the Music Industry: 'Making It'

Musicians' Union provide Hearing Health Scheme & advice on protecting your hearing

Musicians' Union offer support against sexual harrassment & discrimination through Safe Space
---
Tags
Mental health in the music industry discussed at 100th Unconvention