7 Best Mini Keyboards for Musicians With Limited Space
Blog by Professional Music Technology under Recording & Production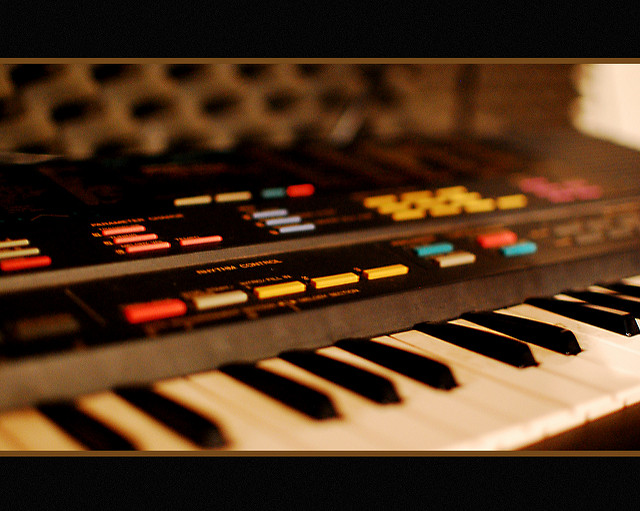 This blog is contributed by Professional Music Technology, the UK's leading instrument retailer with over 25 years experience and 16 locations nationwide. PMT's megastores are packed to the rafters with the latest Guitars, Drums and Hi-Tech gear and they have everything a musician needs from leading brands in the industry.

The Unsigned Guide has partnered with PMT to offer members an EXCLUSIVE DISCOUNT using the code "THEUNSIGNEDGUIDE" at checkout. Head over to www.pmtonline.co.uk now to see what they have on offer. (*Discount applied at checkout. Offer excludes sale items or orders using finance packages.)



Whether you're recording at home, creating music on the train or your live set up needs a scale down, you need something that'll provide a massive sound without a massive footprint – you need a mini keyboard.

Here at PMT we get asked all the time, what are the best mini keyboards that professional musicians can still use for live and studio applications – fortunately we have 7 of the best at hand!

These mini keyboards are ideal for travelling musicians, those with limited space (say, a dorm room or apartment) and those why have multiple keyboards on stage and can't be bothered carting around a bunch of huge keyboards!

Here's the 7 best mini keyboards and synthesizers that allow you to create music anywhere, any time.


Roland GO:Keys GO-61K Digital Keyboard

The Roland GO:Keys GO-61K Digital Keyboard is one of the best mini keyboards thanks to its amazing sound quality and superb price, not to mention the fact it's packed with 500 ready-to-play sounds built-in, taken from the impressive back catalogue of Roland's acclaimed pro synthesizers.

Best of all, it's entirely easy to use and has actually been designed to accommodate players who have never actually played a keyboard before! "How?" I hear you ask. Well, the Roland GO:Keys has been designed with an intuitive Loop Mix function which responds to whatever note you're playing and busts out some really great sounding loops – ideal for song writing and designing melodies.

You have Bluetooth connectivity so you can stream backing tracks and music into the quality speakers within the Roland GO:Keys. In fact, the 2.5w speakers within this nifty mini keyboard are actually a LOT better than most Bluetooth speakers out there, so it's great for just listening to your music.

It's lightweight, can be battery or AC adapter powered and is budget friendly. A great mini keyboard for entry level and pro players alike.



Korg Minilogue Polyphonic Analogue Synthesizer

Since the Korg Minilogue Polyphonic Analogue Synthesizer came out, synth geeks (like us here at PMT), producers and musicians of all levels have fallen in love with this polyphonic analog synthesiser thanks to its 8 lush voice modes, 16-step sequencer and 100 included sounds (with 200 program memories).

You have 37 keys and 41 dedicated panel controls at your disposal that allow you to make the most of the unique synth circuits including the 2VCO, 1VCF, 2EG, 1VCA, and 1LFO options. In addition, you have total control over the unique wave shape as you can fine tune the oscillators' harmonics. There's also a ring modulator as well as a delay with a high-pass filter for further fine tuning.

The 16-step sequencer alone makes it one of the best mini keyboards as you can enjoy real time recording and overdubbing – it's totally fun to play too.



Yamaha reface CS Analogue Synthesizer

Next up, we have the extremely portable Yamaha reface CS Analogue Synthesizer, which is part of the exqually popular reface series of mini keyboards and pianos. One of our favourites from the series is the CS Analogue Synth which replicates the legendary Yamaha CS from the past.

You have a polyphonic tone generator with 8 different voices and 5 oscillator types including multi saw, pulse, oscillator sync, ring modulation and frequency modulation, so you won't get bored very quickly! You can also change up your sound via the smooth sliders and pitch blend controls.

It's only got 37 keys, so it's extremely portable and the fact you can store and manage a world of sounds via the free reface iOS app on your iPhone and iPad makes it extremely useful for touring musicians and music producers. You can even assign names, pictures and multiple tags for stored voices, create set lists for your sounds and even exchange voices with your friends and band mates using QR codes – an awesome feature music creators.



Novation Launchkey 25 MK2 USB MIDI Keyboard

As far as mini MIDI keyboards go, the Novation Launchkey 25 MK2 USB MIDI Keyboard is easily one of the greats. This is a compact, entirely affordable and user-friendly MIDI keyboard designed for the Ableton Live musician with limited space.

This is light enough to be carried in your laptop bag and tough enough to withstand the touring schedule of a pro musician, so you're completely covered when it comes to travelling with it. We think it's one of the best mini keyboards thanks to the hardwearing, velocity sensitive keys, 16 velocity sensitive pads for triggering samples and beats as well as the automatic hands on control of your DAW.

You'll be pleased to know that it's ready to go straight out of the box and allows you to take complete control of your workflow and start creating music straight away.




Arturia Microbrute Monophonic Analogue Synthesizer

Whilst we're on the subject of 25 key synths, the Arturia Microbrute Monophonic Analogue Synthesizer is one of our favourites and makes our best mini keyboards list with ease thanks to a host of great features. First up you have the legendary Steiner-Parker multi-mode filter which provides a world of dynamic depth. The all-analogue design ensures the audiophiles out there are looked after, too!

You also have a 3-waveform VCO, Overtone Generator, and useful step sequencer to help you create music whilst the modulation matrix allows for extra sound sculpting. In addition, you have pro-level I/O connectivity so you can connect external MIDI controllers and other 5 pin devices alongside your Microbrute.

For those of you out there who don't have the room for the likes of its bigger brother, the MiniBrute, or the budget, this is your best option and easily one of the coolest additions to your live and studio set up.




M-Audio Oxygen 49 Mk IV USB MIDI Keyboard Controller

If you need a mini keyboard, but you still want some scope to move around, the 49-key M-Audio Oxygen 49 Mk IV USB MIDI Keyboard Controller is a great option. This is packed with some pioneering features that sets it apart from the other mini MIDI keyboards out there such as a host of features like Faders, Rotaries, Drum Pads and Transport Controls – all of which, the live and studio musician will really appreciate.

If you're just starting out in the world of music production, you'll appreciate the fact you get a huge amount of free software included such as Ableton Live Lite, Pro Tools First, VIP 3.0, Classic Plug-In Bundles, Synthesizers and more.

The M-Audio Oxygen 49 Mk IV is USB powered, so you don't have to carry a power adapter or batteries with you, whilst the smaller construction means you can take it with you anywhere.




Alesis Vortex Wireless 2 Limited Edition Red

We're throwing in a bit of a curveball here, but we simply can't get enough of the Alesis Vortex Wireless 2 Limited Edition Red – besides, everyone should have a keytar in their rig!

It still qualifies as a mini keyboard as you have 37 velocity sensitive keys with aftertouch to use, as well as 8 x velocity sensitive trigger pads for triggering beats, samples and clips. In addition, there's a thumb-controlled volume slider and reversible pitch bend wheel on the neck for easy manipulation of your sounds.

Unfortunately, there aren't any speakers, but it does come with a USB dongle-type wireless receiver which picks up a latency free signal from your computer. You get Xpand!2 from AIR as well as Ableton Live Lite software so you can both enjoy a world of different sounds and record them directly to your computer.


Shop a full range of mini keyboards and synths over at PMTOnline.co.uk today.

ALSO READ:

5 of the smallest audio interfaces for musicians with limited room

5 Best Audio Interfaces for Recording at Home on a Budget

Home recording tips - Advice on recording vocals in a home studio
---
Tags
PMT recommend their best mini keyboards for musicians