The Beginner's Guide to MySpace
Blog by Stef Loukes under Media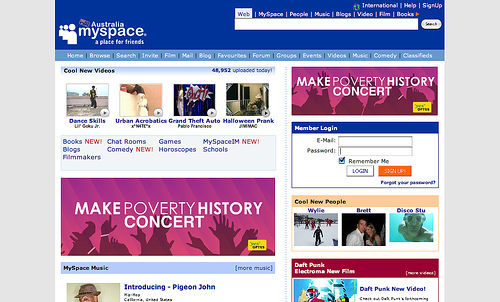 Even with the rapid growth of such social networking portals such as Facebook and Twitter in recent years and months, MySpace is still the best place online to showcase your music, alert readers of upcoming gigs and connect with fans.

Below are a few tips to getting started with a profile on Myspace.com.

1. Your Design
Thankfully MySpace pages are fully customizable using HTML and CSS. Not fully skilled in these unknown quantities? Well fear not - there are literally hundreds of websites built to cater for your needs, such as the MySpace Tutorial, Real Editor, MySpace Editor, Strikefile, MySpace Toolbox and MyGen.co.uk. These helpful sites will quickly generate the code you need to start jazzing up that boring white and blue profile, and before you know it, your page will be a lot more unique and personal to your band/self.

Even though the above websites do come recommended and are heavily used by individuals and bands alike, there are some extremely talented individuals out there who will design and code a totally unique MySpace design for you - so bespoke they can match artwork of recent releases, tour posters and the like. For more information on these contacts, have a quick browse of the Artwork/Creative/Design section of The Unsigned Guide, which lists over 500 designers.

Banners
Believe it or not, banners are a perfect advertising medium for you and your band. Provide the easiest and quickest way for other MySpace users to put your banner on their profile pages and you have simple and effective advertising in seconds. Again, there are a wide range of websites out there to help you do this, including My Banner Maker.

Video
With the fall in price of many quality digital camcorders, and even vast improvements to the video capabilities of modern mobile phones, there isn't a place you can turn without having
the tools to make some video content to put on your profile. Want to keep up to date with fans and listeners? Video practise sessions, tours and much more.

If you're feeling more professional, then there are a wide range of Video Promo Services in The Unsigned Guide that can help you get the perfect, affordable video you want.

Once you have some video content, it's relatively simple to get it straight on your page. Within MySpace there is the option to upload any video content, and this can be done within a few clicks. The added bonus of making videos available on your page, like many features of MySpace, is that this content can be shared, letting fans embed your video on their page. Yet again, easy, effective promotion for you!

Images
It's quite easy to get carried away with the more interesting aspects of setting up your brand new MySpace, but do not forget one of the most important aspects of it - imagery! From the very beginning, MySpace has let users/musicians upload multiple images to their profile, and with the advent of Facebook they extended this, offering the ability to make albums, link
people to them and much more. As a band, it would be advisable to have a broad range of albums on your page; such as Live, Press, Touring, Fan's Pictures to name a few ideas. So get snapping!

As you progress as a band, the urge to get a more professional look through photography is a must if you wish to be taken seriously. If you aren't lucky enough to know a more experienced/talented photographer yourself, the Unsigned Guide lists over 300 Photographers in the UK, working with top bands/musicians.

2. Your Music
The reason you are setting up a band profile on MySpace is not just to promote your band name, but primarily to get your music out to as many people as possible! One of the most frustrating aspects of band profiles is a lack of music to listen to, so don't make this evil mistake.

Uploading music is so easy even your Grandma could do it. First of all, you need an MP3 version of your track/s and simply use the uploading tool in MySpace to publish your music on your profile.

You can also add some extra niceties, including an image for the track (preferably release artwork), information about the track, and the option to enable the track to be downloadable by users or to be embedded on their profile. A very high percentage of bands and musicians enable this last feature as like aforementioned features on your page, it gives you quick and easy promotion. Enabling your tracks for download is your own personal choice and isn't used too widely by bands, but can prove to be a talking point or builds up a buzz about it being accessible.

For any more questions about uploading your music, read the MySpace FAQ.

3. Your Events
As well as promoting your music through the player and sharing of your music through other people's profiles, your band name/brand through banners, videos and imagery, you can also advertise your upcoming events on your profile. The above tools and methods could be seen as ways and means to gather new fans and listeners, and once this has been accomplished, you can start to plug your upcoming live shows.


By using the MySpace Calendar you can start to add your upcoming gigs/appearances so that readers can quickly work out which date is nearest/best for them. Not only do they appear on your profile page, but in the home control panels of all your friends, in their combined 'upcoming events' calendar - so it's vital to be included in this list.

If you are looking for upcoming gig dates or are booking a tour, then The Unsigned Guide has over 800 Promoters and UK Venues listed, covering all of the UK's major cities and towns.

Get connected... but don't spam!
Building your MySpace page is only the beginning of your adventure in an online capacity. Once you have the foundations laid, it's time to connect with all of your fans, start to make new ones, and use the tools such as Bulletins, Messages and Blogs to get your message across. There are cynical views about the usage of the 3 above in MySpace, and how now the platform is full of so many bands and individuals your message can get lost easily in an ocean of spam and illiterate junk. Be patient - don't abuse the services and your message will slowly rise above the rest.

It might not seem the most important thing in your band, but having an impressive, extensive and easily shareable MySpace page to back up your music is a vital tool in helping get your message across to your fans, listeners, budding new fans but also to Record Label scouts, Publishers and Management. Like in a lot of things in life, a first impression can be everything, and as long as MySpace seems to be the standard in how bands, fans and the industry combine, it's something you need to start taking very seriously indeed. Go and get the best out of it!

For more information on MySpace and creating/editing your profile, go here.
---
Tags
myspace design, twitter, facebook, myspace band, myspace profile, myspace beginner, myspace guide, myspace video