Advice from the music industry experts at BBC Introducing Live
Blog by Jamie Hamilton under Artist Managers, Creative & Branding, Finance, Law & Music Business, Live, Media, Music Publishing, Music Training & Careers, Record Labels, Recording & Production, Selling & Distributing Your Music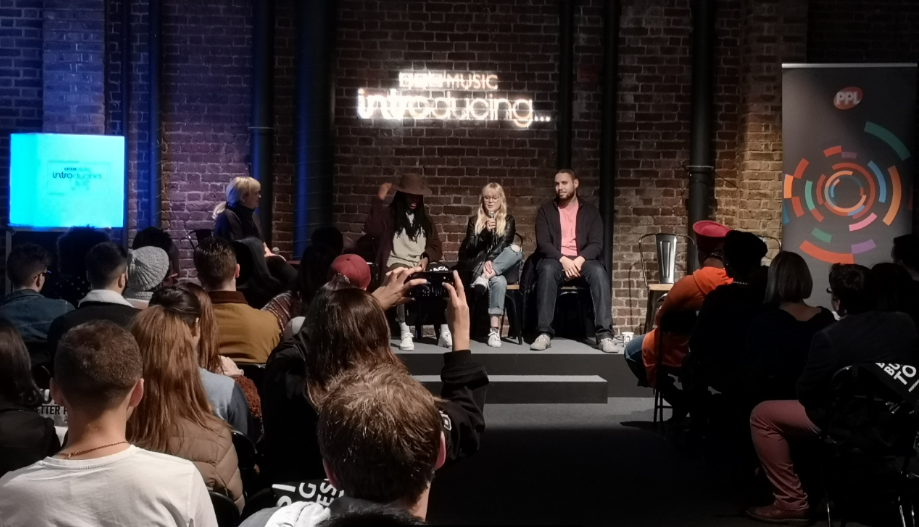 We had a wonderful time at this year's BBC Music Introducing Live [https://www.introducinglive.co.uk] event at London's Tobacco Dock. For those of you who couldn't make it—or for those of you that could and just want to relive the journey—we've put together a nice little summary of our favourite panels from Thursday's line-up. Read on for some priceless tips on everything from tweeting to royalties.


Building A Following On Social Media

Lucas Yeomans (Presenter, BBC Music Introducing)
Aaron Bogucki (VP Digital Marketing, AWAL)
Anil Rana (Artist Manager, Modest! Management)
Lettice Summerscale (VP of Marketing, Sony/ATV UK)
Rachel Stoewer (Head Of Digital, Cooking Vinyl)
Sean Adams (Social Media Producer, BBC Radio 6 Music)

* Social media is increasingly essential for connecting with an audience and building your brand. Whilst some acts can thrive off an aura of mystery, this is rare and building a clearer picture of your personality online is a much easier path to take.

* Which is the best social platform to use? You may want to consider having a presence on every major platform but focus on what you're most comfortable with. If you're very visual, you could be a hit on Instagram. If you have a knack for witty one-liners, get Tweeting. It is also useful to think about which community your intended audience is most likely to engage with. For example, Snapchat is often overlooked but is extremely popular with a younger demographic.

* When posting across multiple platforms, it is important to tailor the content appropriately. Examine the types of content that each platform is currently focused on, as this can change often. According to AWAL's Aaron Bogucki, participating in conversations is key, "Social media is a community, remember to engage rather than just waiting for the likes to roll in."

* One of the biggest mistakes made by artists on social media is over-selling to an audience who is already familiar with your goings on. Posting the same link 10 times won't make the information any more engaging or useful. Most news feeds have algorithms that actually make links less prominent when posted multiple times by the same page.

* Engagement is much more valuable than numbers when it comes to social media. Whilst the raw number of followers might once have been seen as an important metric, the industry is now much more focused on whether fans are interacting with an artist's content. There is no magic number to what constitutes a "good" following, so don't fall into the trap of taking shortcuts or buying followers—this will hurt you in the long run.


Get The Show On The Road! Playing Live & Getting Gigs

Abbie McCarthy (Presenter, BBC Music Introducing)
Chris Bye (Head Of Artist Development, Pirate Studios)
Gary Powell (Artist, The Libertines)
Geoff Ellis (CEO, DF Concerts & Events)
Matt Bates (Director, Primary Talent)
Sarah Casey (Booking Agent, United Talent Agency)

* You might have aspirations of world tours and headlining festivals but patience pays off in the long run. Play as many gigs as you can close to home as you're building your audience; develop your craft before you take on the bigger venues that are further afield. - Build up relationships with local promoters. These connections can be really crucial further down the line.

* Word of mouth is the most powerful form of marketing. Whether you're doing it through performing live or via online presence, get people talking. - The most effective bookings for delivering your music to a new audience is still getting on the bill with with a touring act. United Talent's Sarah Casey says, "The right support slot is the Holy Grail for emerging artist looking to build more followers. But before this you need to be making your own opportunities to be sure that you're ready."

* How do you go about getting a support slot? Primary Talent Director, Matt Bates, has some refreshingly concise advice: 1. Be nice to other bands. 2. Be nice to your booking agent.

* It can be easy to forget about the simpler things . The Libertines' Gary Powell had some cogent words on performing live, "Be yourself. The audience is looking for an authentic connection with the artist. You can't get this by trying to be someone else."



Self-Releasing: The DIY Guide To Getting Your Music Out There

Phil Taggart (DJ, BBC Radio 1)
Aly Gillani (European Label Rep, Bandcamp)
Julia Killer (Director, SoundCloud Artist & Label Services)
Lady Ice (Independent Artist)
Mark Dowling (Director, Absolute Label Services)
Nathan Barley Phillips (Entertainment Relations Manager, TuneCore UK)


* The biggest advantages of putting out your own music are control, flexibility, and a greater lion's share of the takings. Major record labels can sometimes take up to 70-80% of revenue, smaller independents generally offer shorter term, 50/50 deals.

* Bear in mind that, whilst you may get to hold onto creative control and a higher percentage of takings, self releasing entails a lot of extra work. A good label will provide extra support and industry contacts that may otherwise be unattainable.

* Self release doesn't necessarily mean flying completely solo, you can still look to build a team around you. Think carefully about the people you bring on board, be that an artist manager, a publisher, publicist or administrator - what does each person provide? Bandcamp's Aly Gillani advises against working only with yes men/women, "Surround yourself with people who believe in you but who are also constructively critical."

* When distributing your release online you may have a favourite platform to direct fans towards, but you'll still want it to be as widely available as possible. Make sure that your release is available across all possible platforms.

* Consider carefully if you need the support of a PR company and which to use. Ask bands of a similar level if they have any recommendations and always check on an agency's previous work before committing.

* "Make it your priority to understand the business side of the industry and don't quit your day job until you're sure that you can make some money from your craft." - Lady Ice, independent artist.


PPL & PRS Present: Get Played, Get Paid! Making Money From Your Music

Bethan Elfyn (BBC Producer, Presenter & Project Manager)
Claire Rose (Education & Outreach Manager, PRS For Music
Leo O'Brien (Performer Development Specialist, PPL)
Speech Debelle (Artist)


* Understanding revenue streams is vital to any new artist, particularly in an ever more saturated modern music industry.

* What is the difference between PPL & PRS? In a nutshell, PPL (Phonographic Performance Limited) [http://www.ppluk.com] look after the master rights for a sound recording and pay out to contributors and record labels in the event of radio or TV broadcast. PRS (Performing Right Society) [https://www.prsformusic.com] is a royalty distribution and collection society paying out to music publishers, songwriters, composers and producers when a song is performed live or broadcasted publically.

* The golden rule when registering a song or recording with licensing bodies is to submit the required information before (or as soon as possible after) a release.

* Educate yourself as much as possible and be proactive. PPL and PRS both have teams dedicated to helping artists to navigate the complicated world of licensing. - If you're worried about any royalties falling through the cracks, you can put in your own claim directly with PRS. There is also a dedicated unclaimed section on the PRS website if you want to look up a specific broadcast or performance.

* Remember that a TV or radio broadcast can be eligible for payment from both PPL and PRS.
ALSO READ:

Self-Releasing: The DIY Guide to Getting Your Music Out There

The inside knowledge about PRS For Music, music royalties & songwriting rights from an expert

Advice on booking gigs & tours from the experts at Liverpool Sound City
---
Tags
Advice from music industry experts at BBC Introducing Live