Rifftastic - The 6 best distortion pedals as recommended by PMT
Blog by Professional Music Technology under Live, Recording & Production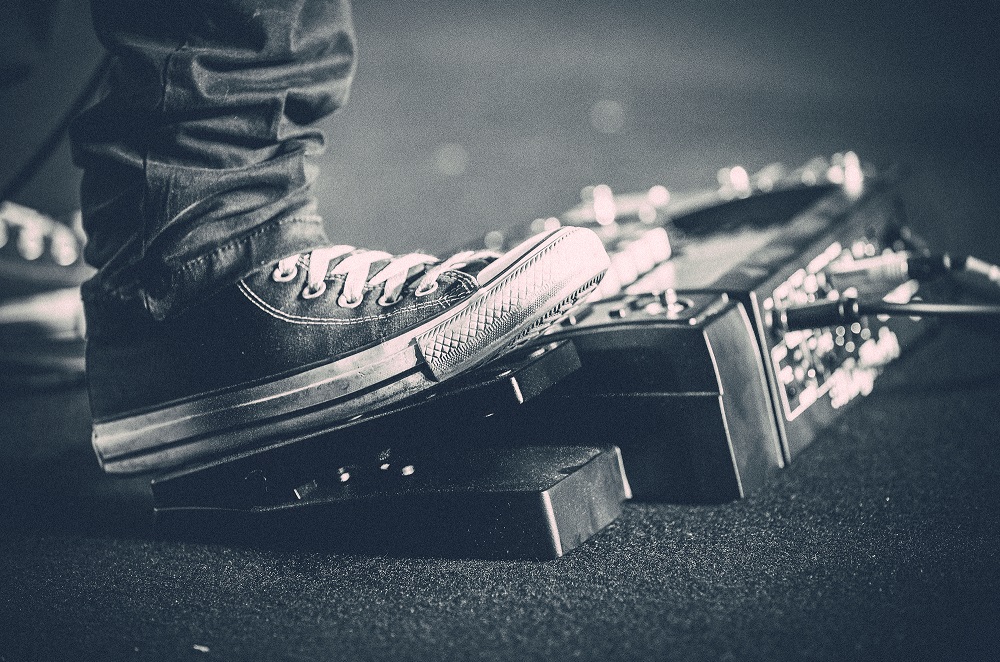 This blog is contributed by Professional Music Technology, the UK's leading instrument retailer with over 25 years experience and 16 locations nationwide. PMT's megastores are packed to the rafters with the latest Guitars, Drums and Hi-Tech gear and they have everything a musician needs from leading brands in the industry.

The Unsigned Guide has partnered with PMT to offer members an EXCLUSIVE DISCOUNT using the code "THEUNSIGNEDGUIDE" at checkout. Head over to www.pmtonline.co.uk now to see what they have on offer. (*Discount applied at checkout. Offer excludes sale items or orders using finance packages.)


Distortion pedals are an essential part of any guitarists rig. Whether you're a blues guitarist in need of a little extra boost and some creamy crackling distortion, a grunge player in need of that Seattle style fuzz or a heavy metal guitarist who wants to make people's bones shake and teeth chatter with massive riffs, there's a pedal out there for you.

So today, we're compiling a list of the best distortion pedals for all budgets and players of all styles. This list will span everything from cranked tube amp distortion to high gain goodness.


Boss DS-1 Distortion Pedal

We can't have a best distortion pedal blog without the most famous distortion pedal of all time! The Boss DS-1 Distortion Pedal is not only the first distortion pedal ever produced by BOSS, it's also one of the most widely used distortion pedals ever made appearing on the pedal boards of Kurt Cobain, John Frusciante, Steve Vai, Kim Deal – the list goes on and on.

For just over £50 you get easily one of the most versatile distortion pedals on the market. You can enjoy everything from some smooth, loose distortion or crank the distortion setting all the way up and start shaking the walls with the amount of high gain on offer. This extremely versatile distortion pedal can be heard on the likes of Nirvana's 'Breed' and 'Smells Like Teen Spirit' as well as Eagles records and Whitesnake albums, proving this pedal is a great idea if you want to experiment with different sounds.

The almost-indestructible design means that this will put up with decades of (ab)use, and the low price tag makes it easy for everyone to afford.


Fender Full Moon Distortion Pedal

The new range of Fender pedals have taken the music world by storm thanks to their ease of use, fantastic sound and their near-indestructible construction. Just like Fender amplifiers, these things provide a massive sound for guitarists who care about their tone. The new Fender Full Moon Distortion Pedal in particular is one of our favourites and easily slides in to our best distortion pedal blog thanks to the amazing sounds on offer.

The reason why we love this pedal so much is down to the fact you have both a distortion pedal and a 12dB boost at your disposal. You can sculpt your sound to your exact specifications via the 3-band EQ with flexible Hi-Treble control and gain knob, shaping your distortion from smooth, creamy Fender textures to all-out high gain goodness. Clipping modes can be adjusted via the Texture switch and the Bite switch shifts your upper-midrange harmonics for a unique sound! When you need that extra push, simply engage the Boost switch for up to +12dB of post gain-boost. This means you have a distortion pedal which is both versatile AND will cut through the mix when you need it most.

The durable anodized aluminium chassis is nigh indestructible and the Amp jewel LED found on Fender amps is a nice addition. A distortion pedal for those who want a lot of options without getting too complicated.



Boss MT-2 Metal Zone Pedal

If you're a fan of any kind of heavy metal, you NEED the Boss MT-2 Metal Zone Pedal in your life. This thing is unapologetically metal. It's the kind of pedal you graduate to when you want to absolutely destroy the practice room with your riffs and one of the best distortion pedals ever made that everyone from death metal bands to Biffy Clyro rely on.

This thing is capable of a wide range of tones ranging from high gain Southern Rock to Industrial all the way to the blackest of all Black metal. Basically, if you want high gain riffs that cut through the mix to doom laden sludge rock, this is your pedal.

The team at BOSS have thought of everything here, as we all know metal riffs can sometimes become lost in the mix. Thankfully you have a massive amount of control over your sound via the 3 band EQ. This allows you to cut mids, boost highs and bring out the low frequencies where you need them. A dual gain circuit ensures when you need to go heavier, you CAN go heavier – a great option for the metalheads out there and easily one of the most iconic and best distortion pedals ever made.



Stone Deaf Warp Drive High Gain Parametric Filter

Let's face it, we all love the sound and look of our Boutique pedals. But on many occasions, they're just not set up for years of hard touring and reliable sound on stage. This is where the likes of Stone Deaf pedals blow other boutique pedals out the water. Handmade in the UK, the Stone Deaf Warp Drive High Gain Parametric Filter offers a world of distortion tones that you'll actually want to use and a reliable pedal built to last.

It's designed for high gain sounds like 90s metal, but you can dial that right back and enjoy everything from Sabbath inspired riffage to more modern distortion tones just by twiddling a few knobs. The switchable noise gate also offers some serious versatility and provides the discerning guitarist with that super-tight high-gain tone they're looking for.

We think this is one of the best distortion pedals thanks to the amount of control you have due to the Highly sculptable Paracentric EQ and Phaser/Wah functionality via the optional Stone Deaf EP-1 active expression pedal. The pedal is not complicated to use and you can basically make any distortion sound you need quickly. In addition, you can actually smooth out the gain or crank it higher via an expression pedal mid-song. A great idea!



Blackstar LT Distortion Pedal

Blackstar amps make some of the best amps in the world, renowned for their distortion and dynamic response. The team at Blackstar have basically taken the sound of a cranked Blackstar amplifier and placed it in a conveniently sized, hard wearing effects pedal - the Blackstar LT Distortion Pedal.

You have the tone, gain, level and patented ISF (infinite shape feature) control that put Blackstar on the musical map, so you can easily switch between UK and USA based distortion sounds, or blend the two. Turn the ISF knob anti clockwise and you have a more American characteristic with more aggressive mids. Turn it clockwise and the pedal instantly provides the sound of a British amplifier cranked into distortion which is more 'woody' and less aggressive.

A no fuss distortion pedal that provides the tone you need when you want it, but also offers a versatile option for those who want to be able to switch between iconic distortion sounds.

At under £50 it's not only one of the best distortion pedals but one of the cheapest distortion pedals too!



Dunlop Jimi Hendrix Fuzz Face Pedal

Ok this is not strictly a distortion pedal, but the fact you can dial the fuzz and volume back on the Dunlop Jimi Hendrix Fuzz Face Pedal to a nice distorted crackle or crank it into some serous bone crunching rock tones really allows you to add a new dynamic to your sound.

If you're a fan of the Jimi Hendrix sound (who isn't?) then you'll undoubtedly love the sound of the fuzz pedal! The sound of 'Voodoo Chile (Slight return)' and 'Foxy Lady' would be drastically different if it wasn't for the likes of the Dallas Arbiter Fuzz Face Hendrix used in the late 60s. Unfortunately, an original pedal can't be found for less than the price of a house, but fear not as the Dunlop Jimi Hendrix Fuzz Face Pedal is here to save the day. This pedal board friendly pedal is meticulously faithful to the original pedal, but offers modern improvements such as an On/Off status LED, true bypass switching, smooth reliable knobs and solid construction.

Now, you don't have to love Hendrix to appreciate this pedal as you can get everything from psychedelic wails and semi distorted textures, to complete bone crunching fizz. If you want the sound of a 60s style fuzz taken from Hendrix's pedal board, this is your best bet. Thick, luscious fuzz that responds extremely well to your guitar and the dynamics of your playing. This is ideal for grunge style players, blues fans and those who want to really make their lead lines stand out from the mix. The Iconic Hendrix Art by legendary rock artist Gered Mankowitz is a nice finishing touch too. One of the best distortion pedals that also allows you to enjoy thick fuzz sounds too.


ALSO READ:

Check, One, Two - Top 6 best mics for less than £150 for live vocals

5 Best Audio Interfaces for Recording at Home on a Budget

Home recording tips - Advice on recording vocals in a home studio
---
Tags
PMT recommend the best distortion pedals