Living the small town music scene dream: how Sunbird Records took their music community to the next level
Blog by Jamie Hamilton under Live, Record Labels, Selling & Distributing Your Music
Sunbird Records is a record label, music venue and soon to be recording studio based in Darwen, Lancashire. I spoke to Label Manager, Jonathan Lindley, about the past, present and future of the venture, what the label looks for in an artist, and the intricacies of operating outside of the mainstream music industry.


A small, former mill town in East Lancashire probably wouldn't be considered as a prime location for a burgeoning revolution in independent music. Darwen has always had a small, dedicated music community - but as with many small towns across the UK, opportunities for musicians can be very limited. As a local musician based in the area in the early days of the label, I have first-hand experience of just how important and influential Jonathan Lindley and Sunbird Records have been in giving direction to a whole raft of young creatives. Since working at The Unsigned Guide, I have discovered that there are pockets of independents creating their own communities outside of the mainstream across the country, and what has been slowly evolving in Darwen is a particularly interesting example of this.

Originally founded in 1999 by The Full Zimbabwe's Steven Lindley as a means of self-releasing the band's music, Sunbird Records effectively laid dormant between 2003 and 2012. Steven's son, Jonathan, got involved while working as a freelance graphic designer with the sole intention of rebranding the label and presenting the older material online. Eventually, Jonathan's creatively-minded friends began to express an interest in the project and more lofty ambitions began to take shape. The next few years saw a steady stream of eclectic DIY releases but to really move forward, the overarching goal was to develop a space to contain and coordinate all of this activity under one roof.

A venue followed in 2016, opening up Sunbird's vision to a new audience. With the help of sister company, 1988 Promotions, the venue has hosted established acts from across the UK and Europe, as well providing local acts with a platform. With plans for a recording studio well underway and the recent announcement of a massive line-up at the venue for Darwen's annual music festival (25th-28th May), I thought it would be the perfect chance to catch up with my old friend Jonathan (or "mi ewd cocker Jonny lad" in Darwen speak) for a chat.


What was the music scene like in Darwen before you started?

Darwen's music scene has always been an interesting one. For a long time, the live scene was mainly propped up by cover bands, with the exception of a few smaller venues that occasionally supported original material. This was something we wanted to challenge with Sunbird Records, starting by organising our own nights, featuring artists playing original material.

In a town like Darwen, organising nights that didn't crescendo around 'I Predict A Riot' was still a little foreign to a lot of people—so I'd like to think we have helped to make Darwen's live music scene more vibrant. Until we started arranging nights with 1988 Promotions, it was very rare that any bands travelled to Darwen to play a show. Now every week we have bands travelling, nationally and even internationally to play our shows in the town.

The label tries to do a bit more than just release music for artists, it effectively facilitates movement between a crazy little network of participants. Importantly, these participants aren't all musicians, yet they act as a kind of extended music community, so our photography pals are as vital to our music scene as the singers or guitarists, the bar managers, designers and social media warriors that support Darwen's music scene are an extension of it, and we need each and every one of them to keep the scene going.


How did the venue come about?

The venue reared its ugly head at the end of a drunken night in February 2016. A few of the Sunbird team ended up at my house at daft o'clock talking about how much we needed to create the physical space we'd dreamt of. I fired off some emails the next morning and, within the month, I had signed a lease agreement to occupy a decommissioned bank in the heart of Darwen. We had two months and a minuscule budget to open the venue, bar, and recording studio.

The entire Sunbird tribe essentially skived off work for 3 months, working non-stop (and through the nights) to build what would become the first independent, alternative music venue in Darwen's town centre. In the end, we opened a month late and, 2 years later, have yet to finish the recording studio but the most important thing was to open. It was a really difficult and emotional time for everyone. We made some friends, lost some friends, and if I could change a lot of the things that happened, I would. But the goal was to create something that radically challenged the way that the town receives, consumes and participates with music culture, and I think that we have achieved that.
The Making of Sunbird Records from Sunbird Records on Vimeo.
Darwen already had a quiet reputation for supporting local artists through the annual music festival and a great, eclectic venue in Number 39. Have you seen any changes in the local music scene since opening the Sunbird venue?

It has been a very strange few years for the town's nightlife. Since we have opened, 4 or 5 more music venues have appeared in the centre of Darwen, all with totally different genres and tastes in live music. We were worried that perhaps it was going to reach a saturation point, but it has made the town more vibrant and fun. You can really experience music in Darwen. There's a rock bar, a blues bar, a cheesy-pop bar, a jazz bar, an acoustic bar—it's a really good thing for a town so small. I think the people of Darwen should be really proud.

Sunbird tries to be the joker in the pack, so each night at the venue is totally different. We provide a platform for everything: metal, rock, dance, hip-hop, drum 'n' bass and we even now run a cinema night. It's strange that for a town so small and generally unnoticeable. I think we are setting an incredibly good example, proving that the people run the town. A lot of independent labels spring up in cities where links to the mainstream music industry already exist.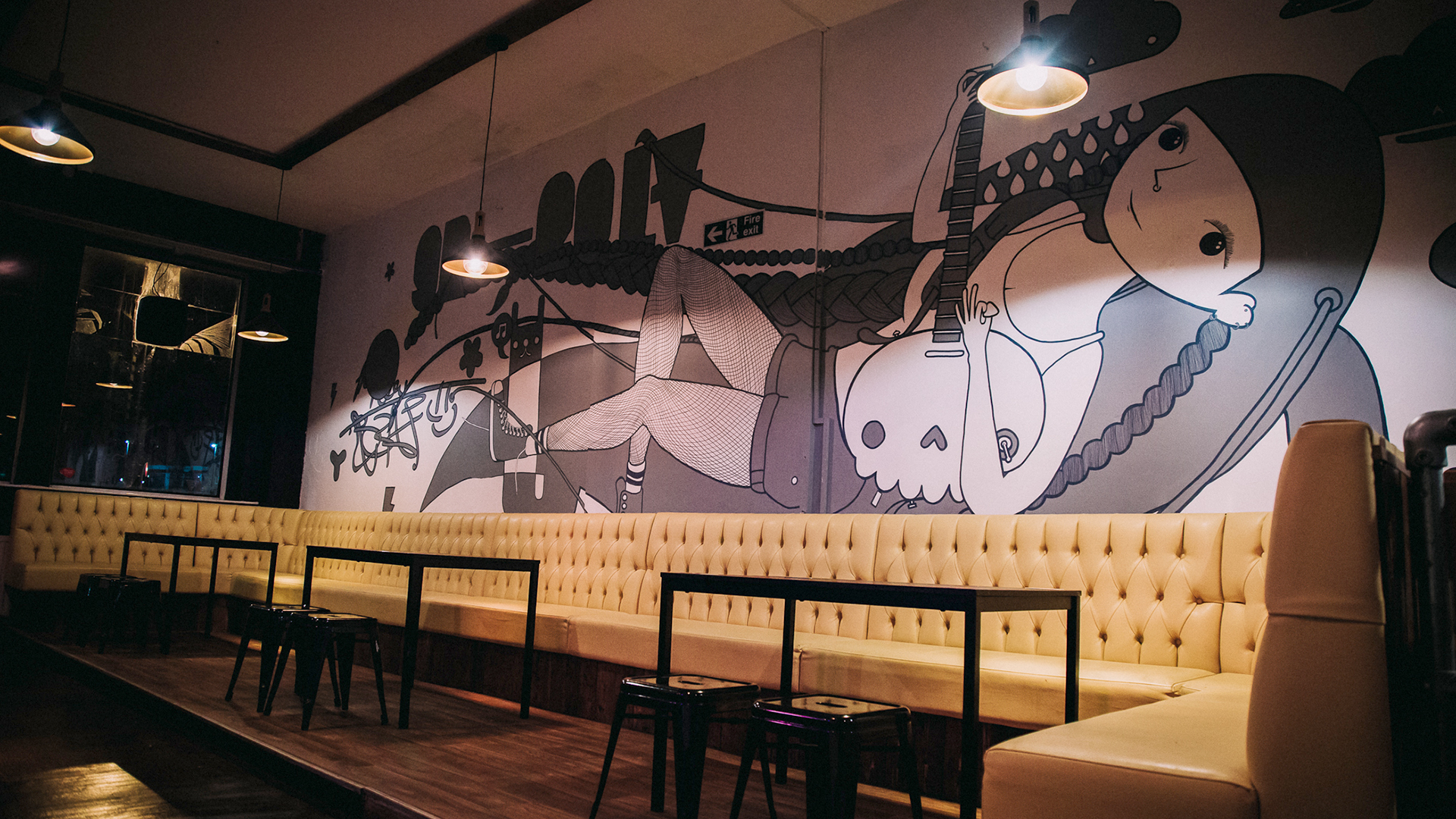 How does it differ to start a label from a small town in the North of England?

This is where I get excited about the organisation of Sunbird Records. Two years into my involvement with the label, I realised that we were doing something really exciting in a town that nobody else seemed to care about—the mainstream music industry definitely didn't care. So I developed a research proposal and went back to university to try to better understand what exactly was happening, and turn it all into a PhD thesis. It felt like we were developing a new subculture, but couldn't be because subculture was dead. I felt like I was surrounded by people that would have been subculturists 60 years ago, but wanted to find out what you would call these people now.

I found a guy called Raoul Vaniegem who was himself in a group called the situationists, he explicitly persuades people to develop: "authentic guerrilla focos fighting for generalised self-management." Which for me meant that independent cultural organisations, like record labels, could be just as cool as the situationists. The label had an identity crisis, we weren't a subculture because we didn't all look the same, listen to the same music or consume the same culture in any way at all. I discovered that we were, and still are, what Michel Maffesoli terms a neo-tribe, developing on the outskirts of the real action in Manchester.

In answer to the question though, I imagine it would be very different building Sunbird Records in a city centre. We don't have access to a cultural infrastructure like Manchester or London's music scene, so starting a label in the back end of nowhere means you have to build your own, which for us is equally as difficult as it is rewarding.


What do you look for when you're signing an artist and how does the process usually work?

In a way, we look for artists that are going to help us as much as we can help them. We've been approached by a lot of musicians over the years, and finding the right chemistry is tricky. One thing I have learnt is that it's really obvious when it's going to work, and not very obvious when it isn't. Mostly, it's about being patient and sensitive enough to pick up on all the right signs.

As for the process, if we like a band or artist, we get them to play at our venue. Then, if we like what we see and if they are cool and easy to get on with, we will have a big meet at Sunbird HQ to figure out what we can do for the artist. It is probably important to state that we don't sign anyone just because their music sounds ace anymore. We have signed artists in the past simply because they produce great music, and have got to know them, only to find out that they weren't actually very nice. The people that we sign are an extension of the label, so who they are, and the way they are, really matters to us.


What's in store for Sunbird Records in the coming months and years?

We've very nearly finished the recording studio, with the kind support of Blackburn with Darwen Council's regeneration scheme. Now that the budget has been thoroughly battered, we just need to finish furnishing it before we are ready to open. We are also planning and booking our first ever Sunbird Records Tour, taking as many as 10 of our artists on a small UK tour, which will hopefully be bigger and better each year going forwards. Other than that though, really we're just focusing on streamlining the label so that the beast functions better than ever.

Personally, I am hoping to finish my PhD this year and to then spend more time curating and cultivating the label. We know that Sunbird and 1988 can do great things now we just need to keep grafting and make those things happen.


Find out more about the label and its bands here. Or, if you'd like to experience it first hand, Darwen Live takes place this weekend. Sunbird's stage hosts the likes of Pins and Cleargreen, along with Sunbird favourites Today, They Are Older, Donnie Willow and Jordan Riding.
---
Tags
Sunbird Records Label Manager chats about the record label and live music venue