How to get your music playlisted on streaming services
Blog by Ditto Music under Selling & Distributing Your Music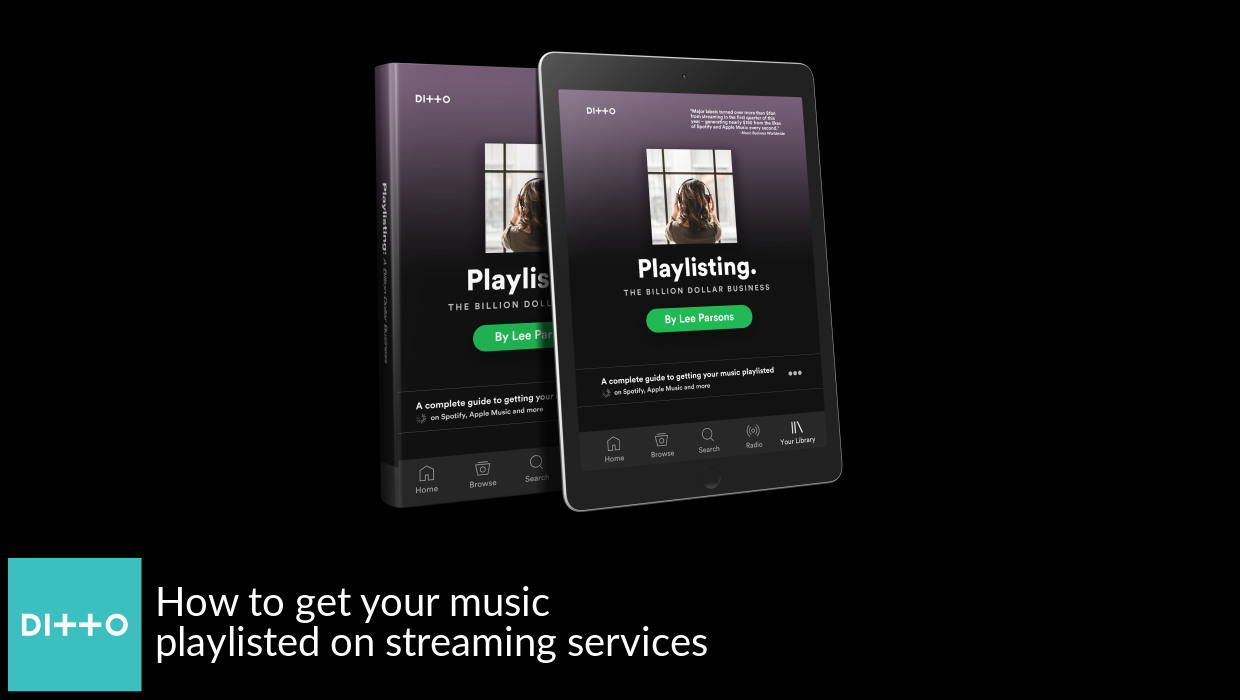 Getting your music playlisted on the biggest streaming platforms has become one of the best ways to get discovered by new fans and rack up thousands of streams. But how do you get your music on to influential playlists across Spotify and Apple Music?

Ditto Music's CEO Lee Parsons has just released a new e-book designed to help you improve your chances of making it into major playlists, sharing tips and tricks he's uncovered over many years in the industry.

Ditto Music have picked out 5 tips from their e-book to share, but make sure to download Playlisting: The Billion Dollar Business for more essential advice and playlisting hacks. It's completely free.


Verify your profiles 
It's not enough to simply get music on Spotify and hope for the best. It's important verify your artist profile to give yourself a credible and legitimate face on the platform. A professional profile will make playlisters much more likely to take you seriously and include your tracks when curating their playlists.

It used to be that only artists with 250 followers or more could get verified on Spotify. However, now once you access Spotify for Artists you'll be automatically verified. As well as auto-verification, Spotify for Artists also offers access to a range of analytics and insights about your listeners, as well as the ability to customise your artist profile and create playlists.


Organise your profiles 
Organising your Spotify page can help to make the right impression on potential followers and playlist curators. As mentioned above, Spotify for Artists is a useful tool to help you customise your profile with images, playlists and more.

You can pin a song to the top of your page and showcase the track you want people to focus on, as well as add featured playlists and tour dates. Spotify will then organise your top 5 tracks in order of most plays per day, so listeners can see your most popular music as soon as they land on your profile.


Create your own playlists 
Make your own playlist featuring your favourite tracks, include some of your own music in there and pin this playlist to the top of your profile. Remember, it's a lot easier to promote a playlist with lots of different, recognisable music.

Make sure to update it regularly, push it on social media and direct people who are already familiar with your music to it. If you develop a reputation as a tastemaker, it won't be long until you build up more subscribers.

If you create your own playlists, include your own tracks in them and build a following, it not only helps you achieve more streams, but also provides the platform's editors with a basis on which to make informed decisions about playlisting your music on the lists they curate themselves.


Give and take 
If you want to get support from streaming platforms, then you have to give support by directing your fans and social followers to listen to your music on Apple Music and Spotify as much as possible. An increased number of people coming to your music from 'off-platform' indicates to the editorial teams that there's an audience and desire to listen to your tracks.

The bigger the fan base wanting to hear your music, the more chance it stands of staying on a playlist longer, moving up playlists or being spread to wider lists.

The higher proportion of fans you're driving to these platforms from other sources who are listening all the way through, re-listening and adding to personal playlists, the better. These are all important indicators of a song performing well when the curators weigh up potential playlist inclusions.


The attention span problem 
Keep in mind that the average person's attention span for new music now is very small. They are unlikely to sit through a 40 second guitar intro to a song they don't know.

There is nothing wrong with making music the way you want to, but consider creating edits if you are trying to get playlisted. In the same way that radio stations will want a song to go straight into a vocal line and then hit the chorus in under 15 seconds, listeners on streaming platforms can be even more ruthless with their listening habits.

Make sure that your track is edited with this in mind. Give yourself the best chance of getting your music heard. You can always release 7-minute masterpieces down the line when you have a large, dedicated fanbase. If you are starting from scratch, then make life easy for yourself and create music that's easy for new listeners to digest.


These points offer some great ways to start improving the possibility of your music being featured on major playlists, but they are just the tip of the iceberg.

Download the free e-book Playlisting: The Billion Dollar Business now to discover more ways to boost your chances of making it onto the biggest playlists on the world's most popular streaming platforms.
ALSO READ:

A guide to breaking your music on Spotify and getting playlisted

How to claim your free artist profile on iTunes and Apple Music

The Basics: 5 simple things bands & artists can do to promote their music & make money
---
Tags
Ditto Music provide advice on getting music playlisted on streaming services