Demo submission emails: The Do's and Don'ts
Blog by Louise Dodgson under Artist Managers, Creative & Branding, Finance, Law & Music Business, Live, Media, Music Publishing, Music Training & Careers, Record Labels, Recording & Production, Selling & Distributing Your Music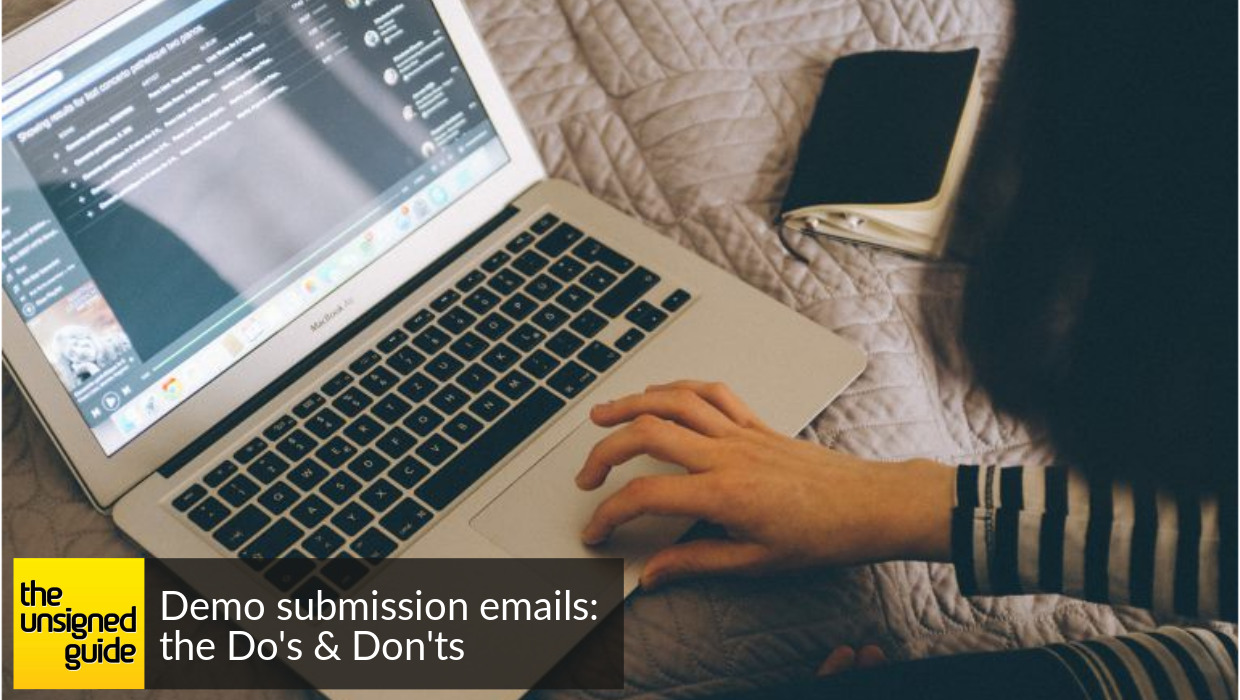 If you want to book gigs, get some exposure for your music on blogs and radio, or try and attract the attention of record labels, managers, publishing companies, PR companies, agents and the like, the most effective and economic form of contact is to email the right people.
Here at The Unsigned Guide, as recipients of MANY emails from bands and artists ourselves, we've seen everything ranging the good, the bad and the downright ugly. You don't want to hinder your chances before you've even got your foot in the music industry door, so introducing your music and presenting your email in the correct fashion is a simple way to make sure your email doesn't end up directly in the dreaded Deleted Items folder.
You want your email to be read and your music listened to, but when you're battling against hundreds of other hopefuls also emailing their tracks, your email needs to deliver the goods. In summary that is to be polite, personal and succinct with relevant information. Let's delve more into the Do's and Don'ts of the ideal music submission email now…
No blanket emails - personal all the way!
DO try & personalise your email wherever possible – use a contact name if you have one and if not, do a little research on the web, or make a quick call to see if you can find the most appropriate contact.
DO tailor your email in some way to demonstrate you have thought about who you are targeting your music to and know something about their work. Perhaps mention a band on a label's roster that you feel sits well with your music and could generate interest in what you're doing. Do you listen to a particular radio show on the station you're contacting for airplay? Give it a mention! Any way you can make an email seem more personal rather than one that has been churned out to thousands of people is desirable.
DO check out their demo submission policy where possible. Large files usually don't go down that well as they can clog inboxes.
DON'T send blanket emails. They can be spotted a mile off! And those emails that have 50+ other music industry email addresses CC'd always go straight in the Deleted Items folder, just so you know.
Short & sweet is best
DO keep the info you send clear and concise, so the important factors you want to highlight don't get buried.
DO select a stand-out track to direct people to, rather than linking to a whole album or EP. On first introductions, most of your email recipients won't have the time to listen to the whole thing, especially if they've never heard of your band and you haven't had any previous contact. Make the best impression in the limited time you've got by linking to your latest single or outstanding track.
DON'T include dead or out of date links! Ensure all links you include in your emails are up to date. If you're directing people to them, your website, biog, press kit, social media profiles or Bandcamp and SoundCloud pages need to be well-maintained.
Shout about your achievements
DO bullet-point some key selling points that make your band or music appealing. List the key achievements briefly that you feel are suitable for your email recipient such as stand-out gigs, festival appearances, support slots, radio play, blog & press coverage, producers you've worked with and so on.

DON'T waffle! Your email has limited space and you are also contending with the limited concentration span of the reader in which to sell yourself. The trick is to capture their attention, but then allow the reader to click through to your press kit or website to find out more, rather than writing an essay about each selling point.

We've included an example email below to give you an idea of how a demo submission email could look: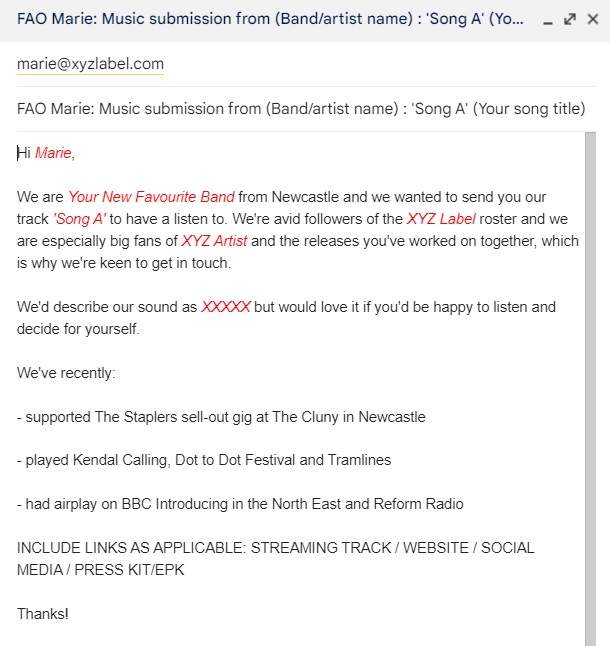 ​

---
Tags
Advice on emailing the music industry with your demos and music