All you need to know about PRS For Music, music royalties and songwriting rights
Blog by Louise Dodgson under Music Publishing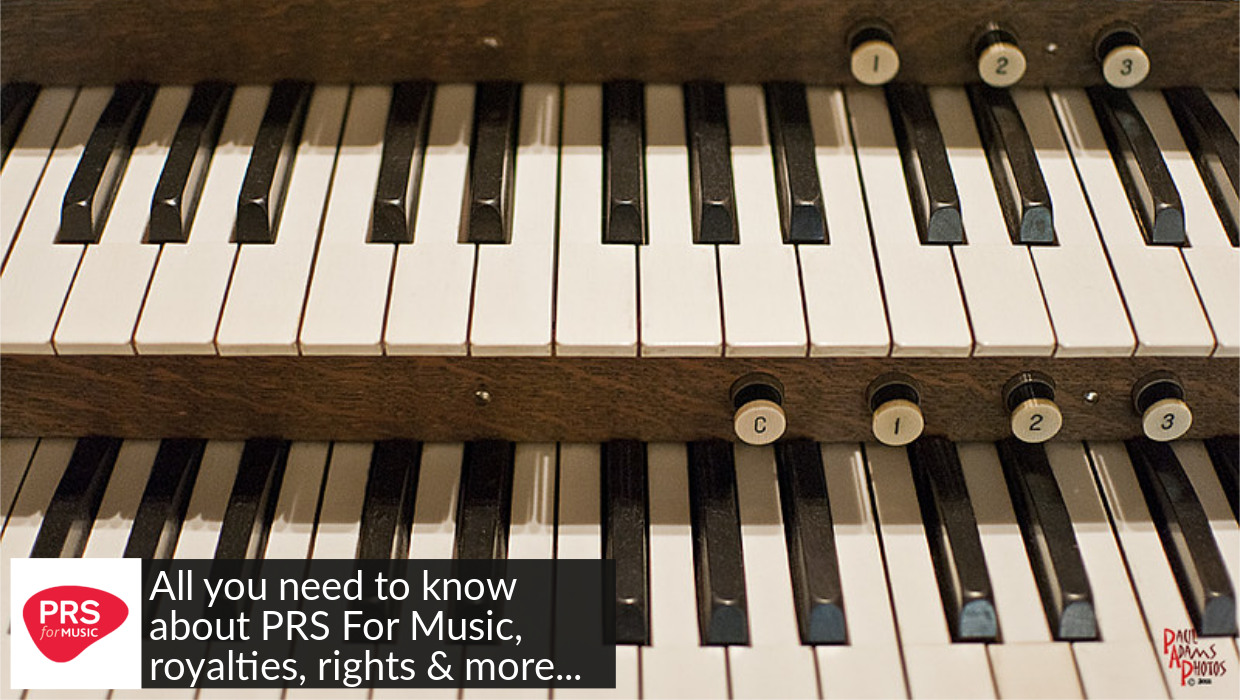 We chatted to Daniel Jones of PRS For Music who kindly answered questions posed by bands, songwriters and artists regarding royalties, rights and everything else related to PRS For Music.
Currently representing the rights of over 124,000 songwriter, composer and music publisher members across the world, and help ensure they are rewarded when their music is played, performed or copied, PRS For Music provides an essential source of revenue for songwriters, whether emerging or established.
Q. What do PRS For Music do?
A. PRS for Music is a royalty collection and distribution society. Its members are songwriters, composers and music publishers. Its customers are music users. PRSfM issues licenses to its customers which allow them to use its members music. Monies raised from issuing these licenses are paid as royalties to the members whose works have been used.
Far from it just being established & signed bands & artists, thousands of unsigned and emerging acts are members as well and receive royalties for their gigs, radio plays and streams etc.

Q. What do you get paid for different opportunities such as gigs, festival slots, radio play? Is there anything else you can get paid for?
A. Yes, there's lots of different royalty sources apart from just live shows and radio play, probably far too many to list here! For an idea please click here.
Apart from live performances and radio play other significant sources PRS pays out are for TV, cinema and online usages. In regard to what will you get paid, there's lots of different variables such as the venue, ticket prices, other performers on the bill, radio station listeners etc, so it's difficult to give a general answer.
But for example, if your song was played on BBC Radio 1, PRS currently pays out just over £14 per minute, while on BBC 6 Music it's just over £5. If you're played on a local BBC introducing show the rate varies from around 50p to £1 a minute.
For gigs at local pubs and clubs, each event will generate a royalty of roughly £6. For performances at concert venues and festivals PRS takes around 3% of the box office gross and revenue is apportioned to all individual works performed, so this can range greatly.

Q. Do PRS take a cut of the royalties, and if so how much?
A. PRS is a not-for-profit organisation whose members have agreed to us deducting our administration expenses. The administration rate differs depending on the source of the revenue, a full list can be found here.
Without having to delve into all that detail, PRS's cost to income ratio in 2015 was 13%.

Q. Where does the money artists get paid come from?
A. PRS for Music collects and distributes money on behalf of songwriters, composers and music publishers, for the use of their musical compositions and lyrics. We issue licenses to music users (our customers) which allow them to use our member's music.
A few different examples are: pubs, clubs & gig venues, shops & businesses, broadcasters and digital service providers.

Q. What benefits does PRS offer to a musician who is predominantly listened to via streaming services, rather than more traditional methods such as the radio?
A. Simply put, as well as paying royalties for radio play, PRS also pays out royalties on streaming services such as Spotify, Apple Music and Google Play Music. So if your music is being significantly streamed (in the thousands) then you can earn royalties from PRS.


Q. I have attended several sync seminars and some music supervisors have stated that music artists applying for sync opportunities, need to have their music correctly registered with all 3 collection societies (PPL, PRS, MCPS) to have a serious chance of acquiring a sync deal. Can you confirm this point?
A. In the UK, PRS, MCPS and PPL have blanket licenses set up that cover all the songs controlled by them, in order for production companies and TV stations to use music without requiring individual approval from the copyright owner.
Some music users may therefore not want to use your music if it falls outside of these blanket agreements and they need to clear the recording (PPL) and publishing (PRS & MCPS) side of each track prior to transmission, meaning they must contact the label, the publisher or the artist's management directly which can be problematic, costly and time consuming for them.
TV stations have separate blanket licences with each of the 3 individual organisations. So, the stations are more likely to play member composed music in that they'll be confident that those compositions are covered under their existing licence rather than having to seek additional clearance.


Q. Can you explain the differences between PRS, MCPS, PPL and the royalties you each deal with?
A. This is a question we get a lot. PPL and PRS for Music are two separate collective management organisations (CMOs). PPL collects and distributes money on behalf of performers and record companies for the use of their recorded music. PRS for Music collects and distributes money on behalf of songwriters, composers and music publishers, for the use of their musical compositions and lyrics. Under the PRS for Music brand sit PRS and MCPS. PRS collects performing royalties from when music is publicly performed, i.e. gigs, radio. MCPS collects mechanical royalties from when music is copied, i.e. CDs and vinyls.


Q. How do my songwriting rights change if I sign with a publishing company?
A. This really depends on the type of publishing agreement you sign, as there are several types of music publishing contracts. The rights within a publishing contact are usually assigned or licensed. Assignment is the transfer of ownerships of rights, so if you sign this type of deal the publisher will own the rights to your songs for the duration of the contract. A licensing deal is where the copyright owner, i.e. you the songwriter holds onto the rights and only gives the publisher permissions to do certain things with their copyright. The split between the writer and publisher is often 50/50 although can be weighted in favour to the songwriter.


Q. Can you backdate & collect royalties for shows you played before you joined PRS?
A. To a certain point, but not indefinitely. When you join PRS, your ability to claim for past performances will depend on when your performances took place and when your membership application form was received. In order to claim royalties, a performances must have taken places on or after your "effective date" of membership. All application forms received in the office between January 1st and June 30th will receive an effective date of January 1st. All applications received in the second half of the year will receive the effective date of membership of July 1st – so there is a window to collect royalties for past shows.

Q. If I sign up to PRS will this automatically make me a member of MCPS too?
A. Simply put, no. PRS and MCPS are two separate collection societies that operate together as PRS for Music. Joining one doesn't make you a member of the other. So you are an existing PRS member who wishes to join MCPS too, you will need to fill in the MCPS application form and pay the joining fee.

Q. How does PRS check the validity of the gigs, radio plays etc that you submit?
A. Where possible PRS for Music asks for the full details of what music is played by music users. We ask concert venues to provide full details of all music performed, and we gather full information from most TV and radio broadcasters on the music they use. Live performances claimed through our Gigs, Clubs and Small Venues scheme are subject to checks. With smaller businesses, such as hairdressers, restaurants, shops and pubs, music researchers survey premises to determine music use. From these details we calculate the royalties due to each member.

Q. How long does it take to get paid after I send details of gigs through?
A. We distribute PRS royalties to our members four times a year, in April, July, October and December. For shows that fall under our Gigs, Clubs and Small Venues Scheme, we distribute royalties 3-6 months after the performance, assuming you've reported the shows in a timely manner.
For larger shows at concert venues and overseas, it's more difficult to give an exact time as there can be lots of external factors that can impact and delay payments (for example, we're awaiting setlists from other performers on the bill, late payments from venues). A general rule though I'd say is 6 – 9 months.
We do actually have a distribution timetable on our website that shows the full details of when we distribute royalties for each source. Take a look here.

ALSO READ:

Ricall Music explain sync licensing

Your questions answered! Music publishing, sync, royalties & more

What is Copyright? Who owns it & how can you protect it?
---
Tags
Learn about PRS For Music, music royalties and songwriting rights