Live Screening: for, against, and what you can do about it
Blog by Musicians' Union under Live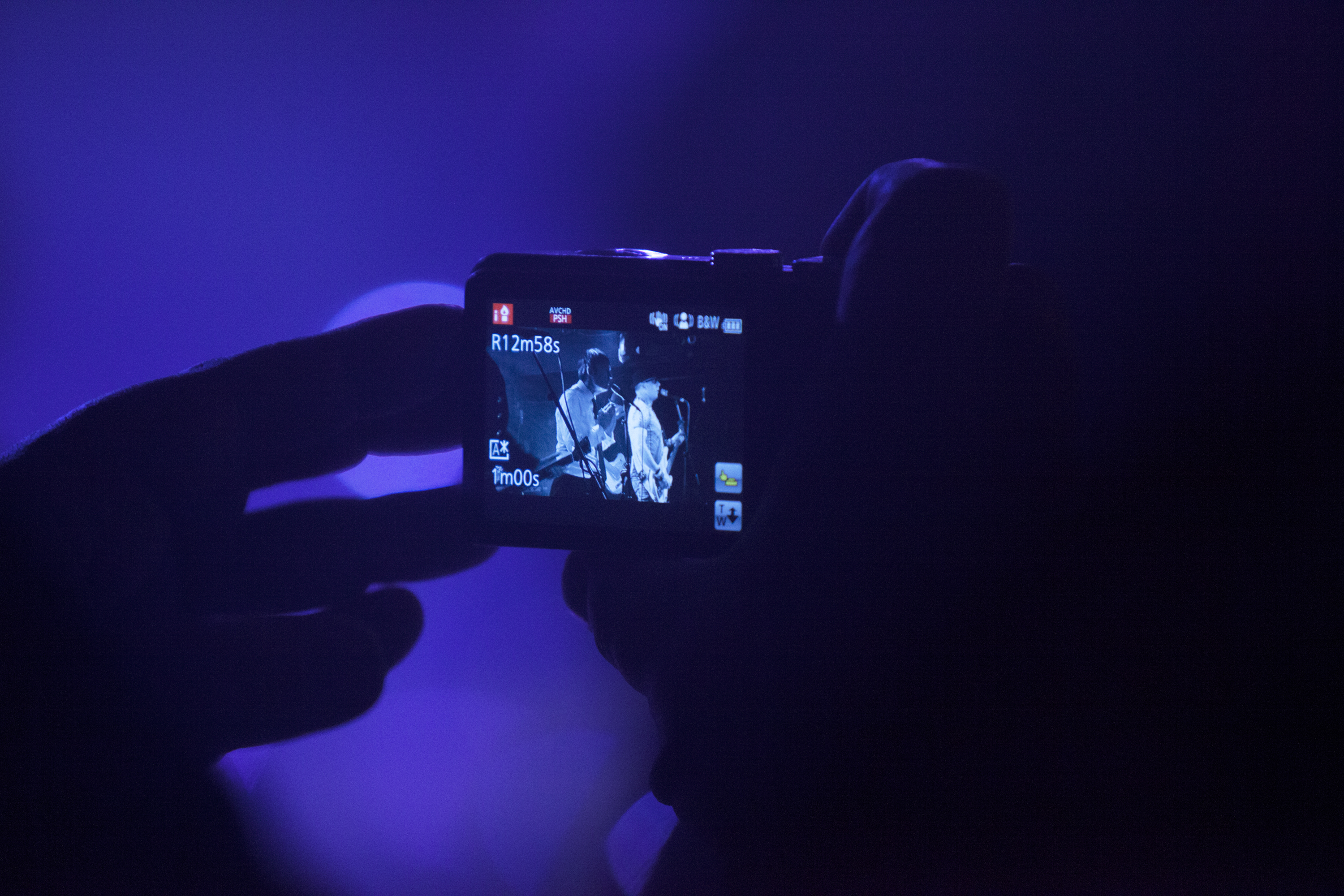 Any musician playing live will have experienced a face full of smartphones and tablets wielded aloft by fans to capture every last moment of the show. And everyone who has ever been to a gig has experienced dodging iPads to catch sight of the band. But all of that could change. An increasing number of artists have voiced objections to being photographed and filmed at gigs. Some are outlawing these devices at their shows, and there are concerns that their use is having a detrimental impact on the lives and livelihoods of musicians.
Why some artists object
For more and more artists, this is a problem. One concern is that those stood behind the people in the audience with iPads or smartphones are unable to see the stage. Another concern is that fans watching and filming a live show on a screen are not actually engaging with the very thing that they've come to experience – the music. Finally, it can affect work prospects. One badly-filmed video with distorted sound can cost an important gig or festival slot.
In April 2013, US band Yeah Yeah Yeahs became one of the first acts to take a stand when they put a sign outside their gig at New York's Webster Hall, requesting that their fans "do not watch the show through a screen on your smart device/camera". Since then, artists such as Savages, Jack White, Florence And The Machine, Father John Misty, Roger Waters and Adele have asked fans not to use cameras on their phones at gigs. At a show in Verona in May 2016, Adele appealed to her fans to watch her through their own eyes and singled out one woman in particular. "Could you stop filming me with that video camera?" she asked. "Because I'm really here in real life, you can enjoy it in real life rather than through your camera."
Why some artists don't mind
It's worth noting that some artists have absolutely no objection to being filmed at gigs. Artists such as Radiohead are happy to let fans film gigs. In June this year, the band encouraged the audience to live stream their set at Iceland's Secret Solstice on Periscope. Another UK band, Kodaline, are also keen. In 2014, music start-up FanFootage decided to exploit the trend for fans filming at shows, and one of its more high-profile gigs was Kodaline's performance in the O2. Asking the fans to record one song, All I Want, it combined the best footage to produce an eight-minute video.
As a performer you put yourself in the public domain. In this social media age, fan-generated content is deemed invaluable for fuelling an artist's fanbase and career. The free publicity that comes with people sharing how much they're enjoying your gig can be a boon. And asking audiences to stop taking pictures or filming could be met with hostility, when it's more important than ever to build a strong relationship with fans.
Whichever side of the debate you fall on it is important that you understand your rights as an artist.
What can artists do?
The big issue is deciding how you feel about audiences taking photographs or videos through all or part of your gig.
If you don't like it, how do you stop it? The fact that recording, editing, uploading and distributing such images is actually illegal – constituting infringement of the artists' copyright – seems little deterrent. Consent is important, and making it clear that you do not consent to being filmed or photographed by the audience on the actual tickets, in terms and conditions, or with posters around the venue may help.
As an artist, you have the right not to have your work treated in a derogatory manner. That includes poor quality recordings you did not consent to. If you spot an unauthorised recording online, you can also ask for it to be taken down. Many social media platforms such as YouTube or Facebook have procedures for reporting infringing content, and will take it down if you report it. In more extreme cases, ISPs or internet sites that are put on notice but fail to act could potentially have injunctions obtained against them, compelling them to block infringing content.
As the issue of filming at gigs gains momentum, technology is entering the market that offers artists, venues and promoters a potential, yet controversial, solution. In June 2016, Apple won approval from the US Patent and Trademark Office for technology that could be used to prevent fans filming or taking photos of gigs on their iPhones. Another, already adopted by artists such as Alicia Keys and Guns N' Roses in the US, is Yondr, a locked neoprene bag that prevents fans from using their mobile devices, and which can only be opened after a show.
But the best solution involves having a good dialogue with fans and venues alike.
For advice on your rights as a musician, about copyright, building a relationship with fans, or any other aspect of your career, get in touch with your Musicians' Union Regional Office via theMU.org.

ALSO READ:

Avoiding noise complaints as a practicing musician: Advice from the Musicians' Union

3 tips to better promote your music videos on YouTube

What's copyright & why should you care?
---
Tags
The Musicians Union discover how bands feel about fans filming at gigs on their phones