Gig promoters: their role & how to book gigs for your band
Blog by Roanne Wood under Live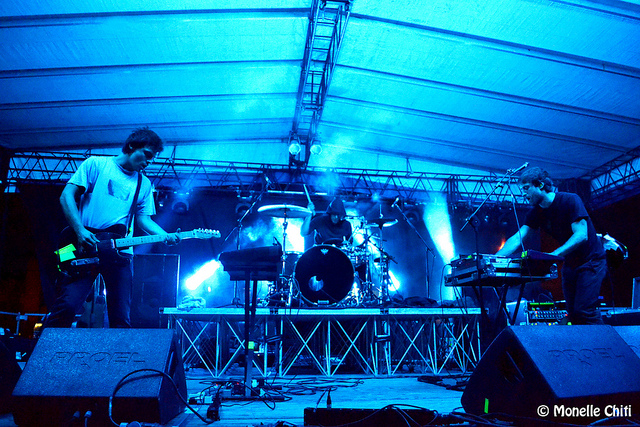 Gigs promoters are an important bunch of music industry folk to know if you're looking to spread your wings as an unsigned artist or band. If you've got yourself a set's worth of original tunes and you're looking to play them live, building yourself a network of promoters to call on should be high up on the to-do list! Understanding how promoters work and what they expect from you as a band or artist should equally be a priority.
Different types of promoters operate on different scales and levels. Highly organised, large-scale national promoters such as SJM Concerts or Live Nation, work directly with agents promoting their gigs and tours on behalf of signed bands and artists at a variety of venues across the UK. Local, unsigned gig promoters tend to deal solely with the local, grassroots music industry - that's unsigned or emerging bands and artists to you and me.
You may also come across in-house promoters who work exclusively for one venue, booking the venue diary including a combination of signed and unsigned shows, where there maybe support slots available for the right kind of bands or artists with a proven track record in terms of standard of performance as well as audience size.
In this 2 part blog we talk to several types of promoters to help shed a bit more light on the subject and ultimately help you get better gigs in front of bigger audiences...

Dan Roberts - Promoter for DHP
Dan Roberts at DHP is the youngest promoter within the DHP family. DHP are venue operators and national promoters, booking shows for their own venues and also booking acts for various venues from 80 to 80,000 capacity. Some of DHP's venues include Oslo (London), Rock City (Nottingham), Thekla (Bristol) and Rescue Rooms (Nottingham), amongst others.
How did you get into promoting?
I developed a passion for live music after seeing Foals, Wild Beasts and Maps & Atlases at Nottingham Rock City in 2008. It was the feeling of being in a crowd of people all experiencing something together that did it for me. The overwhelming amount of emotion that a live music experience brought to me, I was hooked instantly. Over the next two years of college I spent all my education maintenance allowance (EMA) on gig tickets & I've never looked back. I started out on my career as a promoter by putting up posters & flyering & doing the door for a guy called Ricky Hayley, who at the time did a night called Liars Club (early shows for Klaxons, Foals, Late of the Pier etc). I then moved to Leeds to study & began working for Ash Kollakowski who at the time were booking great stuff at Nation of Shopkeepers alongside other venues & Beacons festival. I flyered and repped his shows, alongside booking some local bands who would pull a good crowd. Essentially I just immersed myself in the music culture of the cities I was living in and worked enthusiastically for anyone that was booking the kind of shows I would like to go to.
What's your role at DHP?
My job as the youngest promoter within DHP is to find new acts and work with them and their agent to build the live story over different cities. This consists of proposing ideas on suitable venues and cities to visit on a tour, festival slots that would work well for them, any support opportunities for bigger tours that I hear about and so on. We're thinking about where the band are in their career, where they want to be in a year, what size room will work best and what style of room is right, what ticket price will work etc. I'll offer on shows, put together a plan on how we market them, utilizing our contacts and experience with both online and print. Once confirmed we'll do our best to sell them out. Alongside promoting shows I also chat to scouts and venue bookers around the country to find new acts that are promising and help them secure agents, shows and managers.
Is promoting as part of such a large organization less hands on?
It isn't less hands on, I'm actively involved in all decision making on all of my shows. We have fantastic teams of ticketing, marketing & production & we all work together to ensure every aspect of a show goes as smoothly as possible. I make an effort to get to as many of my shows as I can to chat to the bands & their teams.
How do you pick support acts for larger gigs?
Usually this is sorted by the agent prior to the tour being announced. When it comes to local acts, I pick artists that are enthusiastic, like the headline act, are polite & turn up on time, it also helps if they can bring a crowd and they don't overplay in their city.
Do all bands get paid?
We endeavour to pay everyone that plays on a DHP bill.
What do you expect from the bands that you book?
A fantastic show!
What do you think the bands expect from you?
Good ticket sales, the right venue, the right supports, fantastic sound, good hospitality, reliable and prompt communication, good production & advancing, profile boosting marketing and a good time!
Do you have any advice to bands that are just starting to contact promoters?
Make sure you have 6 songs ready to go that are platinum bangers. Don't pop your head out into the world until you do. Don't approach promoters until you're ready, don't overplay, be positive, be polite, know and have a passion for emerging acts. Try and build a scene in your hometown and have fun!
Krystian of Yeah Buddy! DIY
Yeah Buddy! run regular events in Liverpool's Maguire's Pizza Bar and The Magnet. Their ethos is to create a friendly community for the DIY music scene and they've been doing this since 2011.
Why did you set up Yeah Buddy?
Having been in 2 separate bands over a period of 5 years and also putting on events of our own, we got to know a ton of really cool people. The whole idea was to create a friendly community for the DIY music scene, it has grown in ways that we never expected which is awesome!
What is your ethos as a promoter?
Our main aim when putting on shows is to keep cultivating a friendly scene; bands supporting each other and everybody getting stuck in and connecting. We've always tried to help out bands from other places, getting them a gig in Liverpool which is something that can be extremely difficult.
How do you differ from other promoters?
I think we have definitely achieved our goal of creating an exciting, DIY community that is accessible to anyone with the right attitude who wants to get involved. You see folks from various different bands and musical ventures at our shows getting stuck in, stopping at the end to talk with the bands who played.
We have always tried to do something different to your average unsigned night, without a big budget for decorations and all that jazz. We made things all about the atmosphere and friendly nature of our shows.
What does your usual line up consist of?
On average we probably run at a 50/50 local to out of town ratio. We generally build a show around DIY bands who have a good reputation and enough of a name that gets the other bands and our audience excited. From that we will book a couple of locals who can supplement the attendance, then we will give a lesser established or new band a chance to come and play 2nd or 3rd on the bill. That seems to be a tactic that works pretty well and the bands always go home happy, recommending us to others.
Do you always pay bands?
As long as we have agreed a fee in advance, bands always get paid. Travelling bands will be covered, even if a fee hasn't been agreed they will get money to at least cover their petrol. If the gigs have gone really well then anyone who hadn't agreed a fee will get some money to add to their band kitty...or to spend on booze. We always get beers and pizzas in for the bands too. We generally don't make money off our shows because of covering everything else. I think overall from about 12 shows this year we are running at a profit of about £50. We do the shows mostly out of our own desire to see our favourite bands live. I'll mark it down as a good night out, win or lose.
What do you expect from bands you work with?
To be sound, think about the other bands, promoters and the venue as well as yourselves. The only way you are going to grow as a band is with the help of others. Watch each other sets, get to know each other, do some gig swaps - it always leads to something good, trust me!
What do you think bands expect from you as a promoter?
To ensure that they will have the best gigging experience possible. So for a show at Maguire's, I imagine bands would expect me to promote the show as much as I can, make a cool poster, book similarly inclined bands for the bill and generally show that I care about the show that they are playing.
Have you had any negative experiences with bands you have put on?
It is inevitable that you will come across people who don't share your attitude towards the show. We have had many bands turn up 5 minutes before their set and leave straight after, I just don't see the point of that at all.
Also, one of my pet peeves is when bands argue over what place they play on the bill. On the DIY and underground scene, it really shouldn't matter, especially if the promoter is doing their job and booking bands of the best standard. Of course there are times when a headline/main support/opening slot is required but generally it shouldn't matter where you play. The main focus should be supporting each other and making sure people stay to watch every band.
Do you have any advice to up and coming bands who are beginning to contact promoters?
Make sure you check out some info on the promoter you are contacting and check out whether they are suitable for you. Don't just send out a mass email to a ton of addresses because it will get you nowhere. You are better off pinpointing a small number of really suitable promoters, doing some research, getting out to their shows or getting to know the bands they put on and then start a relationship with them.

Also read part 2 of our blog where we chat to more gig promoters. The Unsigned Guide music industry directory has a whole section dedicated to Promoters including over 230 gig promoter contacts covering England, Wales, Scotland and Northern Ireland. To gain access to the promoter contacts in our directory, as well as 8,500 contacts covering all aspects of the UK music industry. Check out this short video for more details…
ALSO READ:
Gig promoters share their advice for emerging bands
---
Tags
Gig promoter interviews with DHP, Grey Lantern, Yeah Buddy, Destroy All Monsters about how they book gigs