Bill Ryder-Jones: Record deals, mental health and Merseyside
Blog by Roanne Wood under Artist Managers, Record Labels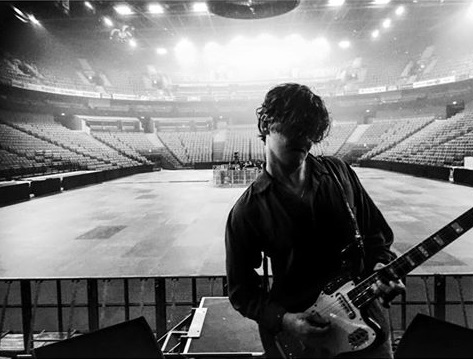 Photo credit: Jack Prince

Bill Ryder-Jones, if you don't know him already, is a singer songwriter from West Kirby, Merseyside. Perhaps best known for formerly being in The Coral, he is endeavouring in a new musical adventure after a short break. With signing a multi record deal to Domino Records, the future is looking bright.
Bill has been and still is extremely busy touring, so we feel super lucky to have been able to gain some of his time for this interview.
He recently picked up The GIT Award back in May, Liverpool's own version of the Mercury Award. We discuss how it feels to be championed at this level on his home turf and Bill's involvement with Mental Health Awareness Week 2016.

Congratulations on winning the 2016 GIT award! How does it feel?
Yeah! It feels really nice. It's nice enough to be recognised as a nominee and to win was unexpected, especially as the shortlist was so strong.
What does winning the award mean to you as a Merseyside musician?
I'm not sure being from Merseyside matters all that much. Obviously in an exclusively Mersey based award it does but generally, I think, in winning anything you should look to the content of the art rather than anything like geography.
You were up for nomination amongst a wide range of artists including many under the radar and completely unsigned acts. How do you feel winning the award will benefit you as you already have backing from a label and management?Yeah, I can't lie, I feel slightly strange about that. Make no mistake, I make very little money but yes, certainly the £1,000 would've gone a lot further for an unsigned act. I do however, plan on putting the prize money towards a studio I'm setting up on the Wirral. It's going to be the two guys who run War Room Records and myself and we'll certainly be doing our bit to support and give a hand to younger unsigned artists.
You're clearly proud of being from the Wirral, having named your album after your primary school. Why do you think it's important to be proud of where you're from and put small towns on the map for other people?
I'm not sure it is all that important to be honest. Certainly there have been great people who've done great things but detested where they came from. I think with anything it's just important to be honest about things. I happen to love many things about the Wirral, I also happen to hate a lot about it. I think in all honesty, the assumption that I named the album West Kirby County Primary because I'm proud says a lot about Merseyside's obsession with itself. Again, pride is healthy if it's genuine but certainly there's an element up here that are overly Mersey-centric.
I guess the best way of saying what I mean without offending anyone is to say that music for me should deal with the universal issues and focusing on geography seems a little small minded.
You essentially started again after The Coral. What was the transition to a solo career like?
Up and down really. I never intended to have a 'solo career' or to be a 'singer/songwriter'. In fact both those terms embarrass me slightly for some reason. I guess 'solo career' is the worst as it implies that I left my band to 'go solo' and that wasn't the case. I left for reasons completely separate to my decision to make music again. In fact there was 2 years after The Coral that I barely made any music.
You were recently part of a short film featured on Noisey for Mental Health Awareness Week 2016. How important is it for you to speak up about your issues with mental health?
Other than music, talking about those subjects is really one of the few things I care about. I'm careful not to overdo it though. I think mental illness is easily romanticized by publications and also by young people. Having said that, it's worth those things if you say something that helps someone understand their own situations. I firmly believe understanding and acceptance to be the most important steps for anyone trying to cope with issues.
What do you hope the music industry could achieve in the future with mental health and their artists?
I think musicians get an easy ride compared to other workers. It's accepted that many of us find music because of our struggles. There's of course pressures but I couldn't equate it to being in a job you hate and having issues. There's millions of people across this country struggling with themselves and their targets or deadlines or whatever. This thing shouldn't be separated into industries. That old thing about the industry and how you are closer to drugs etc. is complete shite. I know people in music who like to use to escape but they get their kicks the same way a lad working at a supermarket does.

Bill is writing at the moment and aims to get something new out early next year, but with the focus always being on quality, he is in no rush. We're sure whatever he has in store will be worth waiting for! Here's some links to keep up to date with what he's up to.
www.billryderjones.co.uk
www.facebook.com/bryderjones
www.twitter.com/BRyderJones


ALSO READ:

Blossoms in Bloom

Pulled Apart By Horses: 9,419 Miles Across The World
---
Tags
bill ryder jones, the coral, the git award, mental health awareness week, domino records, west kirby county primary