How to network with music industry professionals
Blog by Louise Dodgson under Music Training & Careers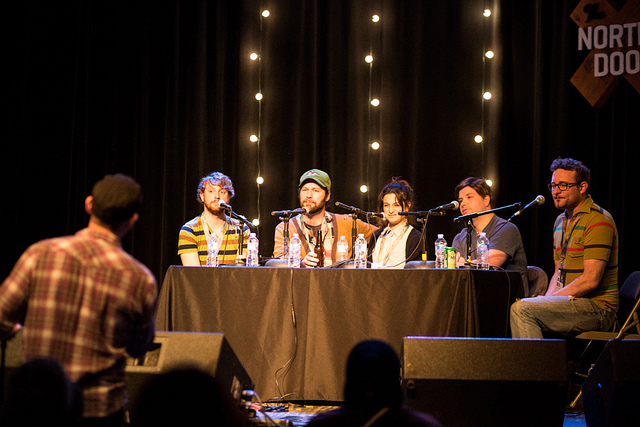 This article originally appeared on the Sonicbids blog

It's that time of year again when music festival season hits its most mainstream pinnacle as thousands of people flock to Austin, TX, for SXSW. Whether you're attending a massive event like SXSW or opting for a smaller conference, it can be tough to create the ideal opportunity to network with panelists without forcing the conversation and coming across as desperate. Having proper etiquette goes a long way in these types of scenarios and, after spending the time and money to put yourself in a position to connect with the right people, the last thing you want to do is squander any promising opportunities.
To help you not get caught up in the hype of the moment, we've put together a list of dos and don'ts for networking with conference speakers. If you stay grounded and act professionally, that's how you'll be treated!
What to do
Have respect for deadlines
Music festivals tend to be a bit chaotic with so many people and events happening in one place. However, being on time is just as important at these conferences as it is at any other business meeting. When there's a seminar that's discussing a topic you find interesting or features a panelist you'd love to meet, don't get there on time – get there early! You never know who's going to be hanging around socializing at a conference, but you'll never get the chance to find out if you show up to an event when it's already halfway done.
If you have a prearranged meeting with a panelist, the importance of showing up on time is even greater. With schedules being so hectic during music festival season, having respect for people's time and deadlines is essential in ensuring you make a great first impression.
Listen to what the panelist is talking about
It can be easy to zone out during the discussion if you're merely focusing on your own motives and how you're going to get the email address of an influential industry figurehead. But if you happen to meet the person you set your eyes on, the last thing you want to occur is a blank stare when they ask you what you thought of the panel. To avoid this disaster of a scenario, listen intently and be hungry to soak in knowledge at every event you attend.
Connecting with a well-established professionals in the industry can result in great opportunities, but it isn't going to happen every single time. The more you're open to learning and being mentally engaged throughout your entire music festival experience, the more takeaways you'll be able to utilize moving forward in your career.
Come prepared with the right materials
Building a great repertoire with someone at a music conference is a result of having shared interests and being genuinely interested in each other's background. But when the conversation is over and you have to go your separate ways, it's vital to end a networking session in the right fashion. In order to do this properly, you need have the proper materials in hand so the person you've just met can easily contact you at a later time. No, this doesn't mean carrying around a giant bag with CDs and flyers. Lugging around a ton of stuff from random people is the last thing a panelist wants to do at a conference. To keep things simple and easy, bring a large number of business cards (which includes your personal contact info/social media accounts) and Dropcards (a nifty and convenient way of giving someone your latest album). If you're equipped with those two simple materials, you give yourself the best chance of sharing your artistic identity without hassling any panelists in the process.
What not to do
Waste valuable Q&A time with a self-promotional pitch
We've all seen it before. After any discussion within a public forum, there's always that one person who's just dying to be the center of attention, either asking a never-ending series of self-serving questions, or straight-up wasting valuable Q&A time to tell everyone about their latest project. Do not be that person. Ever.
When there's limited time during Q&As, panelists will be extremely annoyed if one attention-seeking artist attempts to impress people with his or her outspoken "confidence." It's okay to be bold and aggressive during music festivals because of how competitive and crowded of a space it is, but do so with respect for the panelists and the other attendees. Don't try too hard to be noticed, and don't act like an opportunist. Allowing relationships to develop organically is always the best route in solidifying long-lasting connections.
Value quantity over quality
Music festivals, especially large-scale events such as SXSW, have hundreds of events on their schedules, and it can be quite overwhelming. Before making the trip to a music conference, do your prep work and mark the panels that should be considered as "can't miss" affairs. It's impossible be a million places at once, so focus more on dedicating your time to the experiences that have the potential to be most rewarding.
If you have multiple panelists on your radar, attend the talks that you think will be less crowded, because that greatly increases the chances of having the chance to network with that particular person. All it takes is one great conversation that can lead to your music being heard by professionals within the industry, and with this in mind, valuing quality over quantity should be the motto.
Forget that you're there for a purpose
While music festivals are jam-packed with valuable educational events, it can be hard to deny the allure of the extremely popular parties and drinking festivities at events like SXSW. We're not saying not to go out and have a good time enjoying the nightlife of cities like Austin, but networking with panelists the day after will be much more of a struggle if you're hungover and have a pounding headache.
You aren't attending a music conference to party; you're there to develop relationships and progress as an artist. The temptations will be in abundance, but don't forget that you're there for a purpose. In the long run, you'll be thankful that you prioritized your activities with the best interests of your career in mind.

ALSO READ:

What Music Industry Conferences Have To Offer Musicians & Bands
---
Tags
music industry networking, music industry conference, music industry panels, music business events, network with music industry professionals