PINS - Rehearsal room gigs to sold out shows
Blog by Roanne Wood under Artist Managers, Creative & Branding, Finance, Law & Music Business, Live, Media, Music Training & Careers, Record Labels, Recording & Production, Selling & Distributing Your Music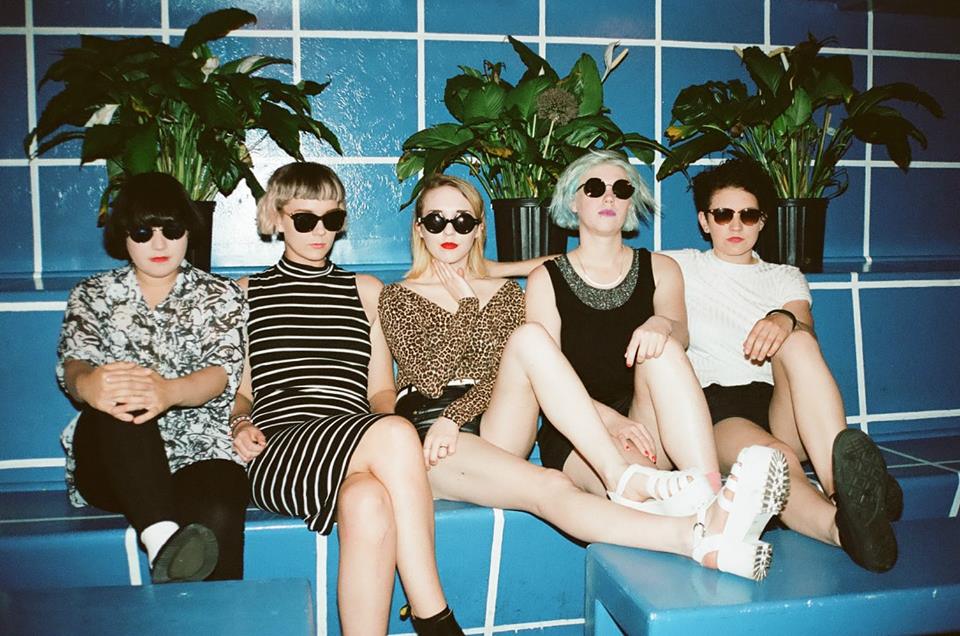 Image credit: Shannon Kurlander
PINS are a Manchester based surf pop quartet who formed in 2011. Having been together for just four years they already have two studio albums under their belt, along with a mass list of sold out shows and once in a lifetime support slots. We were pretty keen to find out more about how they've enjoyed such a meteoric rise in this short space of time.

PINS are Faith, Lois, Anna, Sophie and Kyoko. The band formed after Faith (singer & guitarist) spent time in different male dominated bands and was sick of being the 'token girl'. Faith decided it was time to find an all girl line-up.

After releasing EP 'LUVU4LYF' in 2012 they went on to unveil debut album 'Girls Like Us' in 2013, and their second album 'Wild Nights' was released earlier this year in June. After a year jam packed with festivals and gigs with the likes of Sleater Kinney, Babes In Toyland and Drenge, PINS are getting geared up for a UK/EU tour this autumn.

We interviewed Faith to find out a little bit about the bands journey from starting out to getting signed to Bella Union.
What was your process of building the band up from the beginning?
We practiced like mad, had a lot of long fun nights in our rehearsal room, then we just started booking shows. There is no better experience than just doing it.
What was the turning point when you thought "We're a real band now"?
I felt like that right away!
How were you releasing music before getting signed?
The 'Eleventh Hour/Shoot You' cassette tape was our first release, we did it on a label that myself and Lois made called 'Haus Of Pins'. We still release other bands music via our label.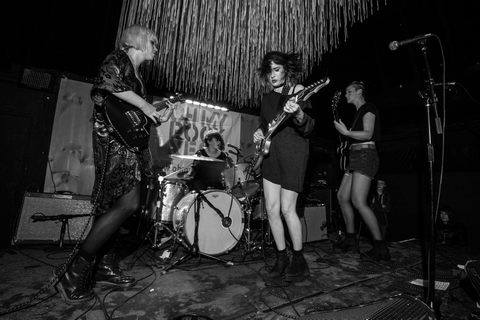 How did you get involved with Bella Union?
We played a gig at the Bunker in Salford with Savages and Simon from Bella Union came up to see us. He said he would sign us right away. In reality it took about a year to get all the legal stuff in order but yeah, it was quite quick!
Did you have any interest from other labels? If so, what made you choose Bella Union?
We played our first show to our friends in our practice space, our second show at Islington Mill to our friends plus 100 strangers and our third show was supporting Brown Brogues and Iceage at Kraak Gallery to our friends, 100 strangers and a load of London A&R business men.
At that point we wanted to maintain control of our band and get familiar with playing live so we didn't take them up on any offers of record deals and free studio time. I think it's important to go with your gut.
It's every bands dream to get 'signed', so what does getting 'signed' actually mean?
I have friends in bands and they're all signed to different labels and they all have completely different stories to tell. We released our first single ourselves and we had to do it on cassette because we didn't have the money to press vinyl. Having a label meant we could make actual records. It meant we could release our music on a much larger scale and reach a larger audience.
How much control do you have as a signed band?
We would never do anything that we didn't want to do.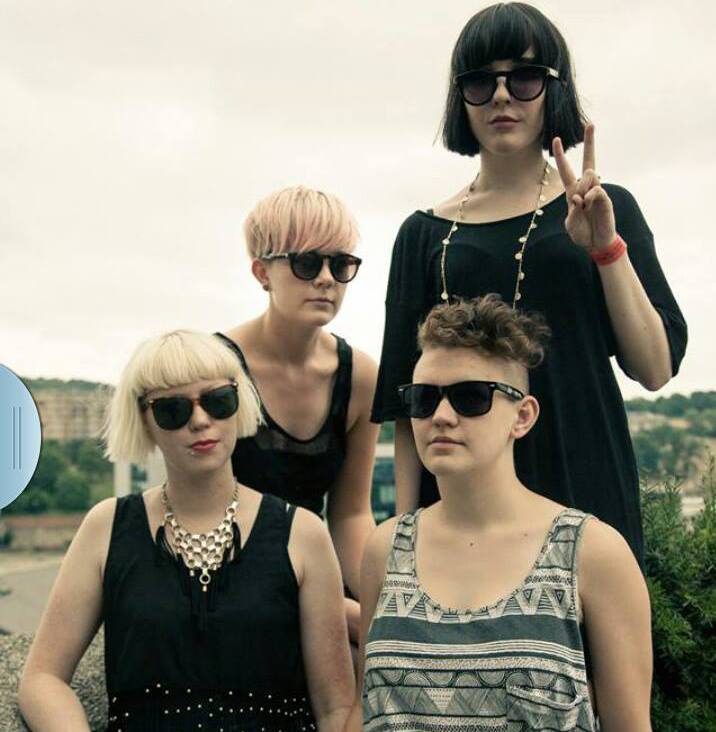 Who is involved with the PINS team? Do you have a manager, booking agent etc,? How did they come about and what came first?
Yes we have a manager, it was Simon from Bella union who introduced us to her. She helps us with pretty much everything apart from writing the music! We got a UK booking agent almost immediately after playing our first few shows but he was awful so we fired him and got another one who actually believed in us. We also got a really great agent in the USA.
Our first UK agent approached us, we had interest from a couple of others at the time too. I suppose having the initial buzz of being a new band was enough to gain the interest of an agent. Making the buzz is the tricky part. We put our hearts into the band without knowing it would lead anywhere. We made our own videos, visuals, website, photos, artwork and label. We had no money so did it all on a shoestring. We recorded the first 2 singles - half at our practice space and half in Anna's flat. We got creative and believed in what we were doing regardless of what anyone else thought. I think that's the key, just think about what you are doing and the rest will figure itself out.
What are your highlights so far?
Recording Wild Nights out in Joshua Tree, California at Rancho De La Luna and meeting Dave Catching (Queens Of The Stone Age and Eagles Of Death Metal) and Hayden Scott (Engineer) is something I will never forget. There are lots of little milestones that make me feel proud; getting the test press of our records, seeing the final edit of a video, being invited to play with bands that we admire…the list goes on.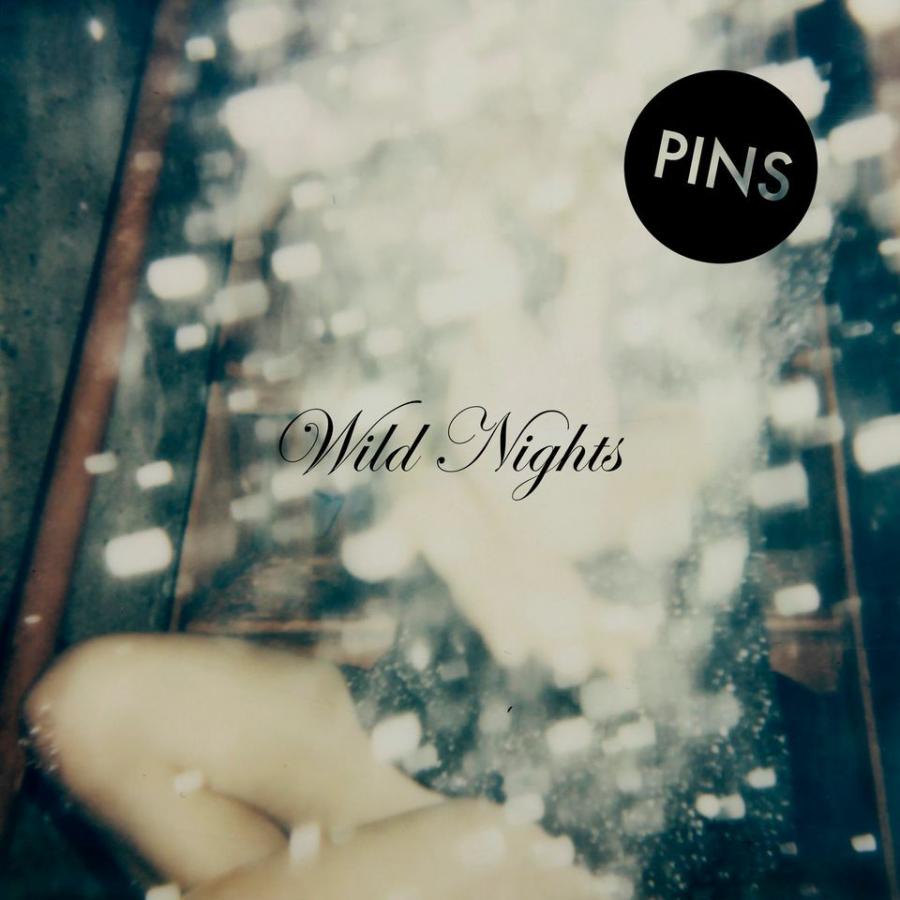 Check out more about PINS here & pick up a copy of latest album 'Wild Nights'.
www.wearepins.co.uk
www.hausofpins.co.uk
www.facebook.com/wearepins
www.twitter.com/wearepins
Lead image credit: Shannon Kurlander
---
Tags
pins band, bella union records, pins luvu4lyf, pins girls like us, pins wild nights, getting signed, getting a record deal