Fly On The Wall: Area 52 take to the stage at Leeds/Reading festival
Blog by Louise Dodgson under Live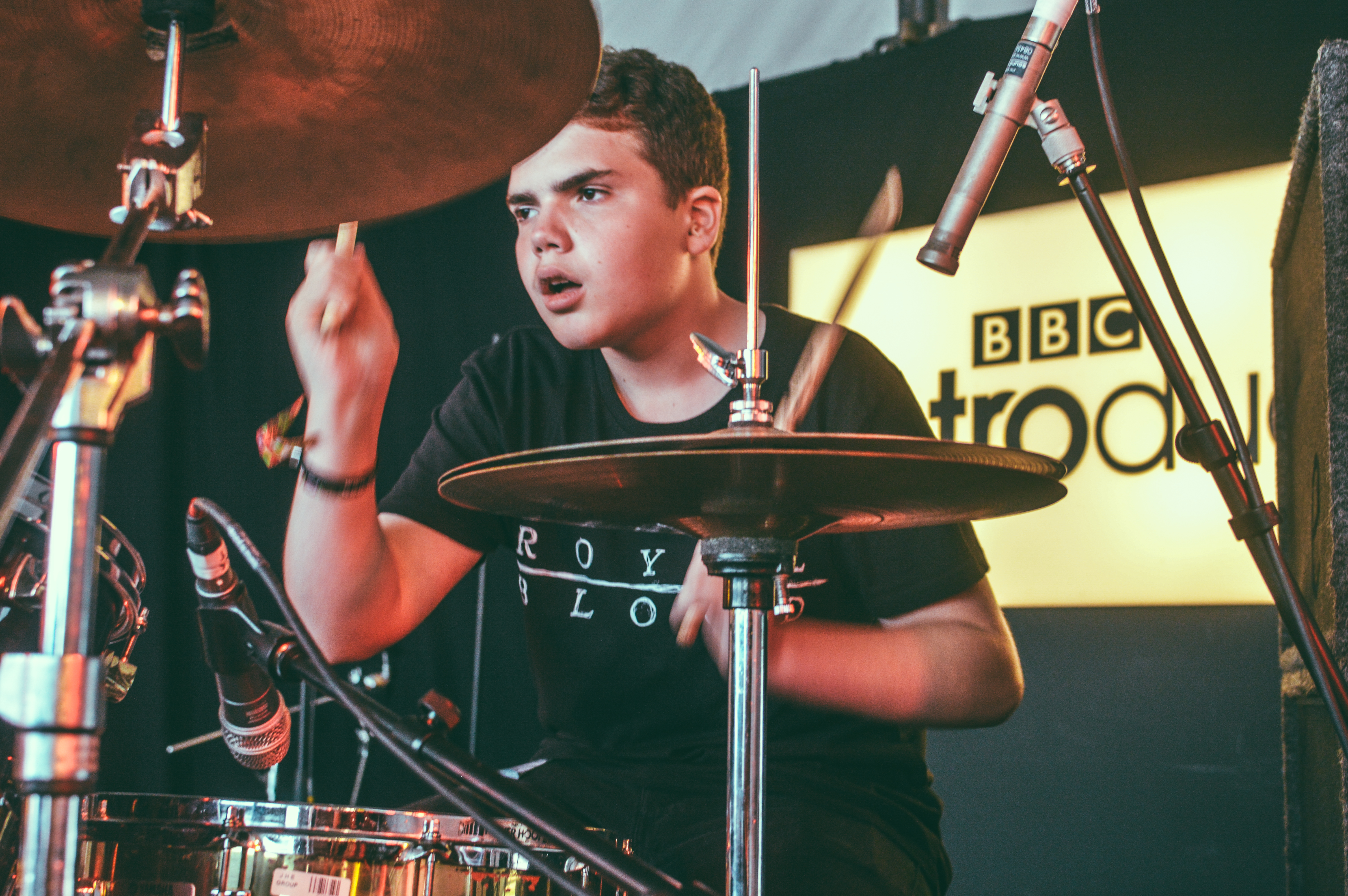 Just over a week ago one of the fantastic bands we've raved about on our Spotlight blog this year, Area 52, were lucky enough to grace the BBC Introducing stages at Reading and Leeds festival.

Whilst rehearsing in drummer Max's shed they received an email out of the blue from the BBC Introducing team letting them know they'd been chosen out of heaps of emerging bands to play at the renowned festival. Coming as a complete surprise for the band, we can imagine some serious noise erupted from the shed at that moment!

Keen to hear how such an incredible experience would play out for them, we got in touch and Rose Yagmur, who sings and plays bass in Area 52, kindly agreed to share the laughter, tears, excitement, nerves, adrenaline and sheer exhilaration of playing sets at one of the UK's most prestigious music festivals. Let's hand over to Rose to countdown to the biggest gigs of their lives…so far!


10 DAYS TO GO
First practice for the big week ahead, we have 3 gigs this weekend including our first ever London gig and the single launch for 'Carry On'.
We go to rehearse at Readipop, we write the set lists for the weekend and for Reading and Leeds checking timings – we hate over-running! We take a break, order pizza and chill out for a bit.
After running through a few more times we decide we are happy and just jam out and come up with song ideas. After rehearsal I go back to Max´s to play XBox.

9 DAYS TO GO
George and I have a photography/film project called Noise War. We were invited to film an acoustic event called Sofar Sounds. The location was secret until just before the event (it turned out to be in a library!), and the night is really intense, the acts were diverse and we've got a load of editing work to schedule.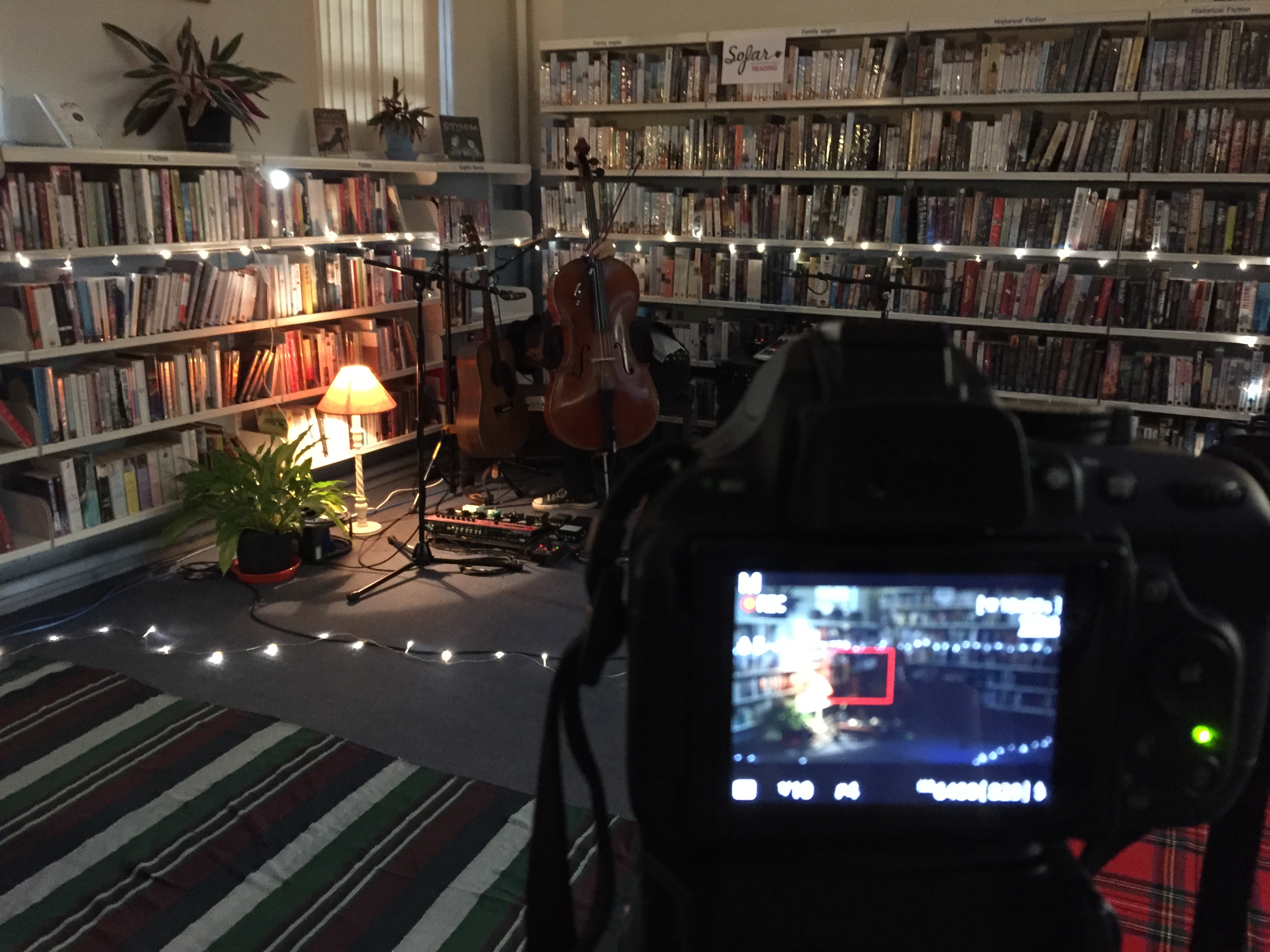 8 DAYS TO GO
'Carry On' is on the Radio 1 playlist for next week – we've seen it for real!

7 DAYS TO GO
9:00am - Wake up and the first thing I do is send a Snapchat video to everyone in the band saying "Its gig day" ;) Big day today…'Carry On' is officially out! And we play our first ever London gig at The Borderline!
10:00am - Eating breakfast, get ready & pack all equipment.
11:00am - Max and his dad come to pick me up to meet George so we can drive to London and spend the day together before the gig.
12:00pm - On the way to London we listen to music, and run through important info about tonight's gig.
1:30pm - Finally arrive in London. We park by Chinatown and walk down Denmark Street looking at cool guitars.
3:50pm – We meet Katie and Cat! We sit down to have a drink all together before getting our gear to the venue. I met Will Poulter walking around!!
5:30pm - After what seems to be the longest walk of my life with heavy stuff, we finally arrive at the venue. We leave our stuff in our dressing then go out for a drink.
6:30pm – Sound check then get some food.
7:45pm – All warmed up, about to go on stage.
8:15pm – Set finished, it was great!! We put everything back in the dressing room and go out to watch other bands.
10:30pm – To finish off a perfect day in London we go out and get some food in Chinatown.
11.30pm – On the way back home, listening to RATM ;)
6 DAYS TO GO
Wake up and send a mandatory Snapchat vid to the band… GIG DAY! Today we´re gigging @techrockslive #techrocks15 to raise money for Reading Rock Academy.
It's a 9 hour marathon of live music and 13 bands coming from as far as Birmingham to perform. Includes a brilliant set from Draw The Shades with George's brother Matthew on drums. We hung around all day watching bands and eating.

5 DAYS TO GO
Last gig of the weekend. Playing Wickedfest, Reading. We get to the venue, sound check and head out to get some food.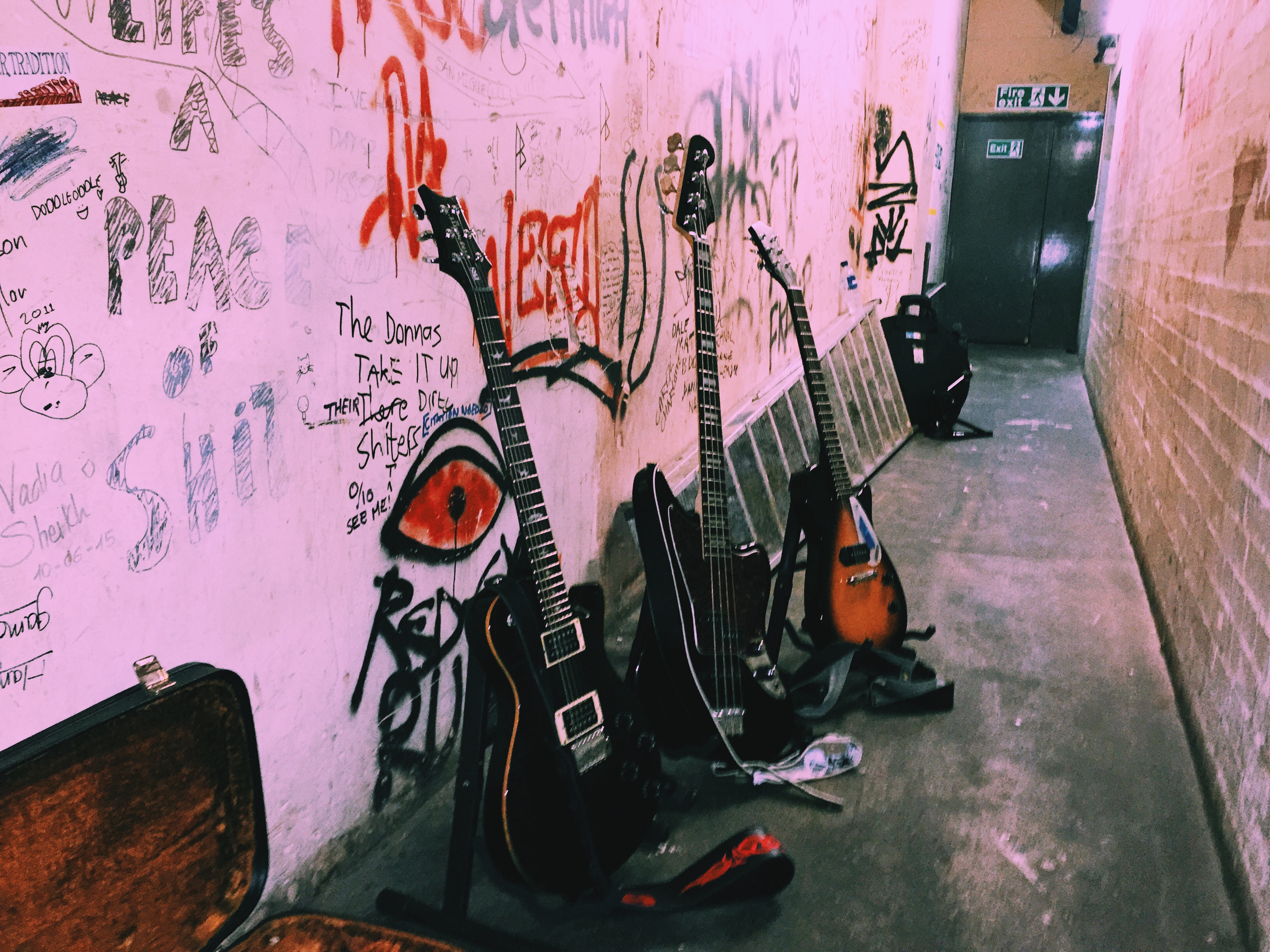 We check out other bands on the bill until we go on. The set goes well and we´re all really happy and excited after a good gig weekend. Now looking forward to Reading & Leeds!

4 DAYS TO GO
Tuned in to BBC Radio 1 to hear Clara Amfo play 'Carry On'. Went to spend the day in town and got some film developed. Starting to get nervous for the weekend!


3 DAYS TO GO
We go to Max´s shed for a final rehearsal. Dev sitting in for Greg James on BBC Radio 1 compared us to Wolf Alice!
We run through the set a lot of times and make sure everything is tight, can't believe we´re rehearsing for Reading & Leeds festival! After making sure we´re all happy with the set we decide to chill out and play some Xbox.
We have a big band meeting with everyone to sort out ticket arrangements and times, then I go home to get my hair done!

2 DAYS TO GO
George is in the studio with Tufty recording 'Left With Nothing'. We go to town to buy some last minute things… George´s tuner pedal broke!

1 DAY TO GO: FRIDAY AT READING FESTIVAL
Set off for Reading Fest! Reading is our home town so playing here tomorrow, well we can't believe it to be honest!
We go through the guest entrance, get our wristbands and go in. We hang around the guest area for a while. I met Ian Grushka from New Found Glory and Jack Barakat from All Time Low! We watch bands like The Districts, Vant, Drenge and The Amazons.
I have to go to college for my enrolment day while the rest of the guys stay at the festival and watched Peace´s secret set :(
I leave college as quickly as possible as we have been offered an interview with Kerrang! I run back to the festival and get interviewed. We managed to find Katie in the crowds and get her back for the interview, but Cat's partying too hard with her friends and doesn't get the message in time.
We hang out and watch more bands but leave after watching Alt-J ´s great set to make sure we´re all rested for our performance tomorrow!

SATURDAY AT READING!
11:00am - We get to the festival and put our gear backstage.
12:00pm – We chill out around guest area and are interviewed by BBC Radio 1, we're a bit jumpy and walk around and watch other bands.
1:00pm – Head backstage to get ready for the set! We´re all feeling so nervous and excited! Cat´s crying, I feel like I'm going to pass out and George realises a vital bit of equipment is still in the car! Someone had to run and get it!
1:50pm - SHOW TIME! BBC Introducing film the set, it is unreal.
2:15pm – Finished. I cried as soon as I walked off. We´re all so stoked and emotional, that was the best moment of our lives! We´re all left speechless, the best crowd we´ve ever had! After we calm down we watch Wolf Alice´s secret set.
5:00pm - Linda Serck interviews us backstage for BBC Introducing Berkshire and we're relaxed and happy. We chill out around the festival, watch Pvris´ set, then Royal Blood on main stage
7:00pm - Leave for Leeds!
11:30pm - We finally arrive at Leeds at our hotel. We get all the gear out the car and chill out at reception for a while.
SUNDAY AT LEEDS!
10:00am - We eat breakfast together and chill out, then head back to our rooms to get ready to leave. Cat and Katie arrive after staying late to watch Metallica at Reading.
12:30pm - Arrive at the festival! We all meet at the guest area and hang out.
2:00pm - We meet backstage to get ready for our set. It was a bit rushed and I had to buy a new piercing because my one broke – less time to get nervous.
2:40pm – All warmed up and ready to go!
3:15pm – Finish the set, Leeds was great!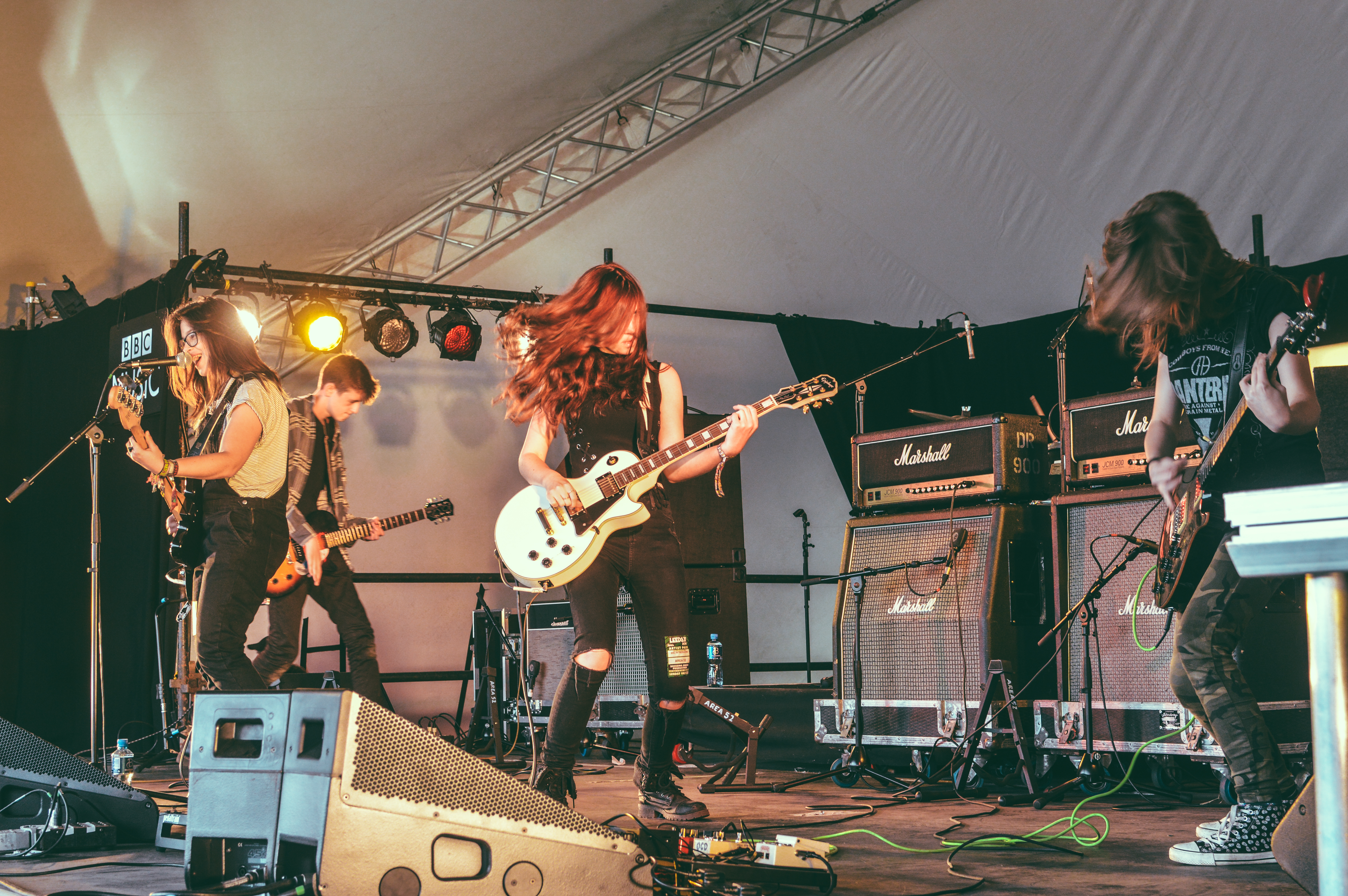 3:30pm onwards– We go and watch bands and wander around the festival. After a fun, long day we go and watch Metallica. Katie waited hours for Metallica to be front row, she fought to get a good place. She even got a black eye in the fight for a Metallica beach ball, but she got it and 2 picks!
We split the last hours between Metallica and The Wombats. After watching The Wombats, who were awesome (we started a huge mosh pit), we go to the guest area to meet with everyone else. All the band members and parents reunite after a great day at the festival.
We chill and dance at the after party, everyone is so happy and it´s great.
After getting all our excitement out we decide to head back to the hotel and hang out together for a bit.
We had an amazing experience at Leeds/Reading. We want to thank anyone who took part in it. Thanks for coming out to our shows, for watching our videos, singing our songs and moshing to them. Thanks to BBC Introducing for making Reading & Leeds happen for us, to BBC Radio 1 for playing 'Carry On', to Linda Serck for all her support, to our parents for putting up with all the driving and for being 100% supportive, and thanks to all our friends. We will never forget this experience. Now we´re going back to writing new tunes for you guys!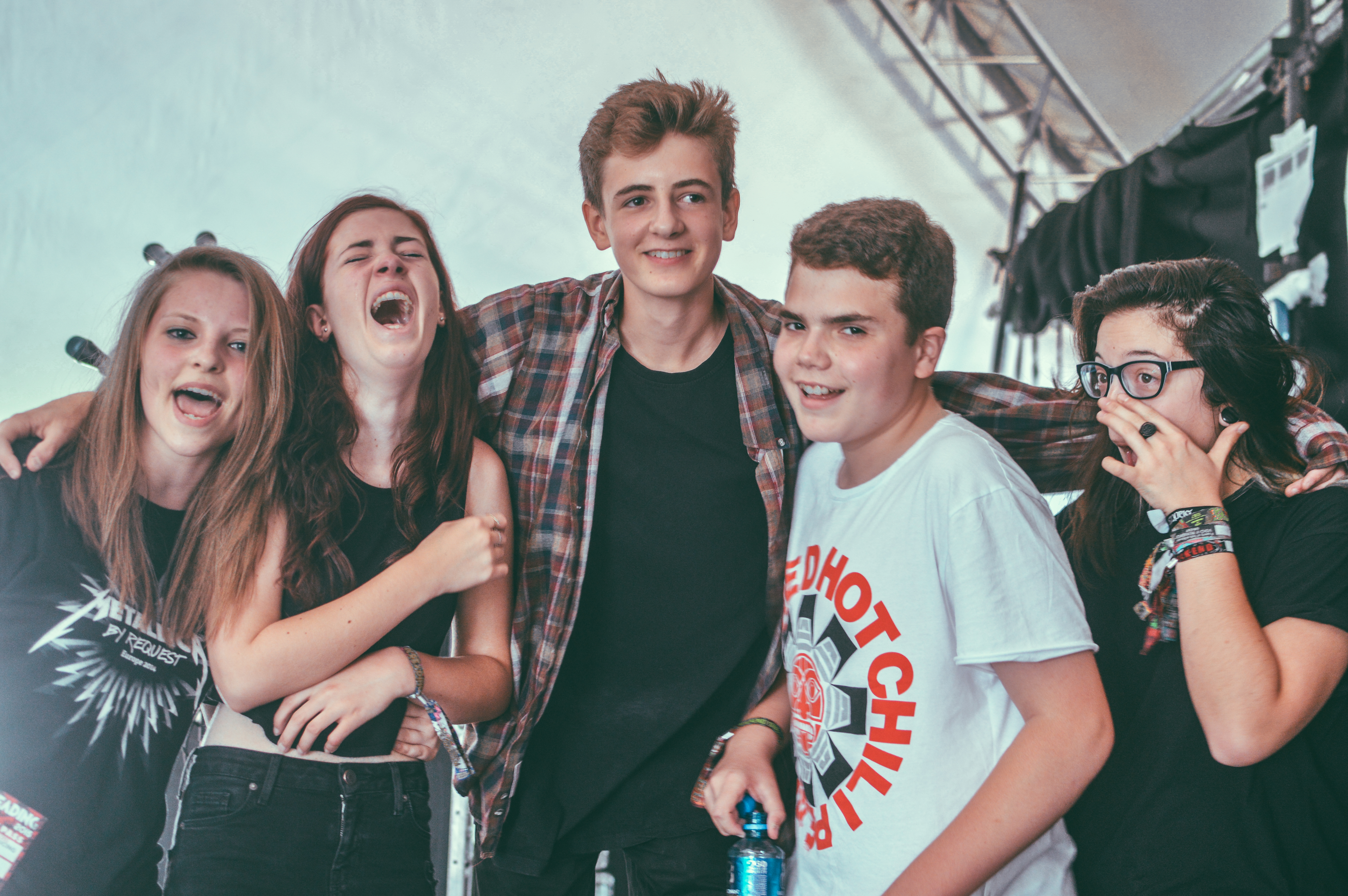 ---
Tags
area 52, bbc introducing, leeds reading festival, unsigned bands, emerging bands stage, unsigned festival stage, play at a music festival