The ultimate guide to booking a tour for your band!
Blog by Roanne Wood under Artist Managers, Live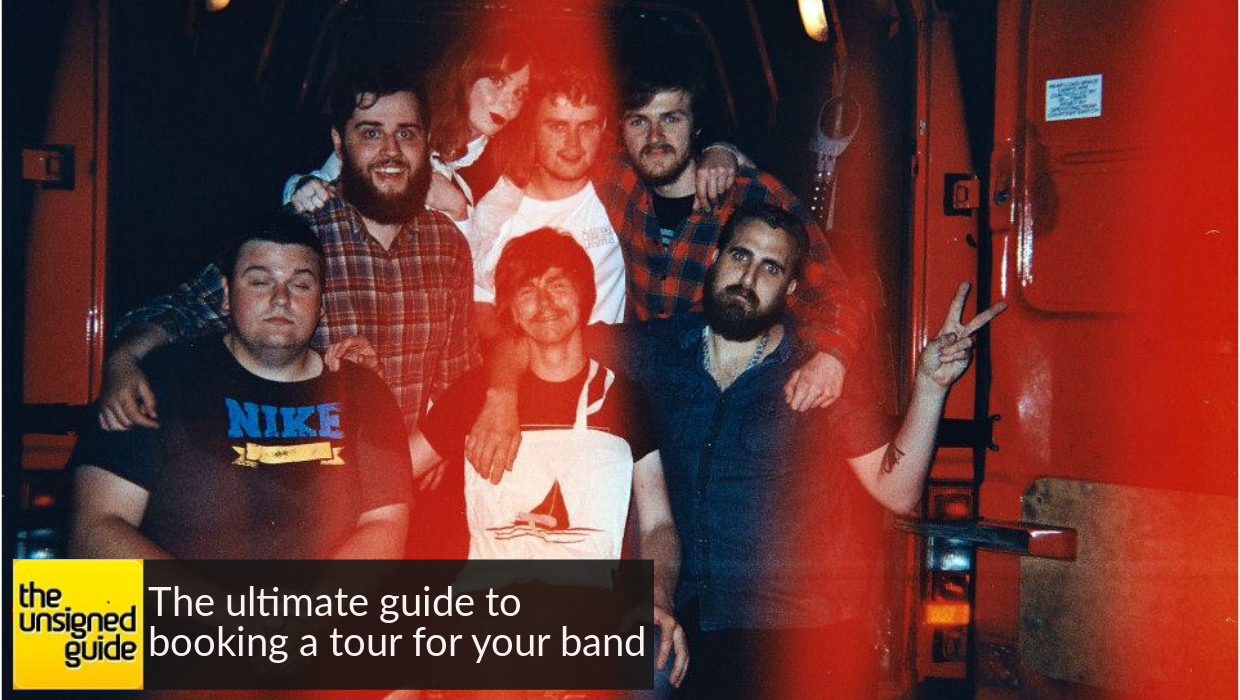 Everyone dreams of being famous or at least wonders what it would be like at least once in their life, right?

As a musician I've dreamt of going on year-long tours with my band across America pretending to be Kim Gordon or someone cool like that! This dream may or may not have faded after co-arranging and participating in UK tours with my band. It has not put me off by any means, but there is a lot you need to consider before going on tour, whether that's for a couple of days or a couple of weeks.

So let's stop dreaming and think about the reality. Unless you have an established label, booking agent, manager and tour manager looking after you with a guaranteed tour bus, hotel and a rider full of whatever food you request, then you should read this article.

Can you afford it?
Does your band operate with a band fund? Does all the money your band makes go into a pot or will it be a case of splitting the costs with each member? People may think of going on tour as a chance to get away with not showering and wearing the same clothes all week but they don't realise that posing as a bum for a week is actually really expensive. You really do need to figure out if you can afford to go on tour first. Costs you need to consider include:

Transport
There are 3 ways of getting around on tour, it all depends on your budget and how many people you're touring with.

1. Van Hire (hire, age fee, fuel, parking, tolls)
This is the obvious option for bands who don't have a big enough car. Hiring a van is great for bands with lots of gear or if you're going on tour with another band. If you are under 21 most companies usually charge a small fee per day for hiring the van. If you can, avoid leaving valuable gear in the van overnight.
2. Van & Man (hire of van and driver per day, fuel, parking, tolls, fuel)
This allows the bands to completely chill out during the journeys and not have to worry about driving. There won't be a band member left out because they can't drink due to driving. Finding a Van and driver who know about touring would be ideal. Understanding the way the music scenes work can be confusing to non muso people. This also means you get an extra pair of helping hands when loading in and out of venues. With this, however, you need to cover the cost of fuel, parking, and hiring the van and driver. Avoid leaving valuable gear in the van overnight, unless you are lucky enough for the van driver to sleep in the van overnight.

3. Own form of transport (fuel, parking, tolls)
This is the cheapest way of travelling around and if you have a van of your own, then you're sorted! A band such as mine who like vintage amps and 2x15 cabs can fit everything into our VW Touran, except drums. This is fine if you are not headlining every night but you also need to consider the person sat in the back squashed in with all the gear. This is only advised for small bands who don't have much equipment. It is important to be comfy during long journeys to avoid grumpiness.
Marty Toner, guitarist from Alright The Captain who have toured Europe numerous times says:
"ALWAYS get breakdown cover for your van, you'll be forever grateful that you did. We've had numerous van disasters and would have been royally screwed if we hadn't taken it out."
Insurance
If you're planning on going on tour it's essential you have your gear insured! There are so many horror stories of instruments and equipment getting nicked from vans and even from venues. Musicians' Union membership includes instrument and personal liability insurance so this may be an option worth checking out if you don't already have insurance in place.

Where will you stay?
When we go on tour, we just ask the promoter if there is a floor space we can stay on for X amount of people, and there is usually someone that is willing to put us up. I understand that this won't be the case for everyone and I couldn't imagine sleeping in the van.

If you can't live without home comforts and are planning on staying at hostels and Travelodge's, then of course you need to budget for this, but bear in mind you could be doing it for a lot less. Not only is The Mothers Ruin in Bristol a venue, it is also a band hostel complete with a room housing 5 bunk beds! Worth considering if you're playing in Bristol.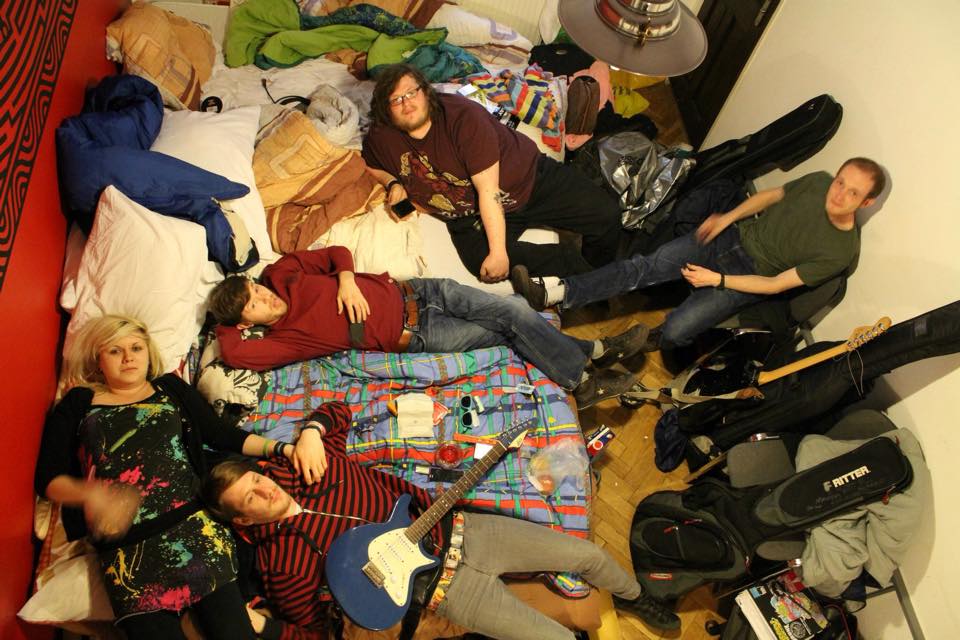 Food
It's usually a good idea to ask if there will be any drinks or food provided at the venue or the place you are staying at. Stock up on supplies from your local supermarket before you go. Making sandwiches goes a long way for the first couple of days and buy TONS of bottled water. A multipack of crisps helps beat the hunger from venue to venue.
Touring is fun and you should treat it as something of a holiday, but buying Krispy Kreme donuts and other junk food is all great until you start feeling really tired. Buy fruit - apples are the best to survive bumpy journeys. Avoid bananas!

Wetherspoon's breakfasts will be your saviour, in fact Wetherspoons in general will be. So you need to make sure you can afford your 3 meals a day. If you can, only go to service stations for a toilet break, don't get lured in as your money will disappear before you know it. You also need to work out how you will be paying for your food. Will this be a daily allowance split from the band fund? Or will everyone buy their own food?



Thomas Edward, front man of God Damn: "Always make sure you eat, don't forget to eat!"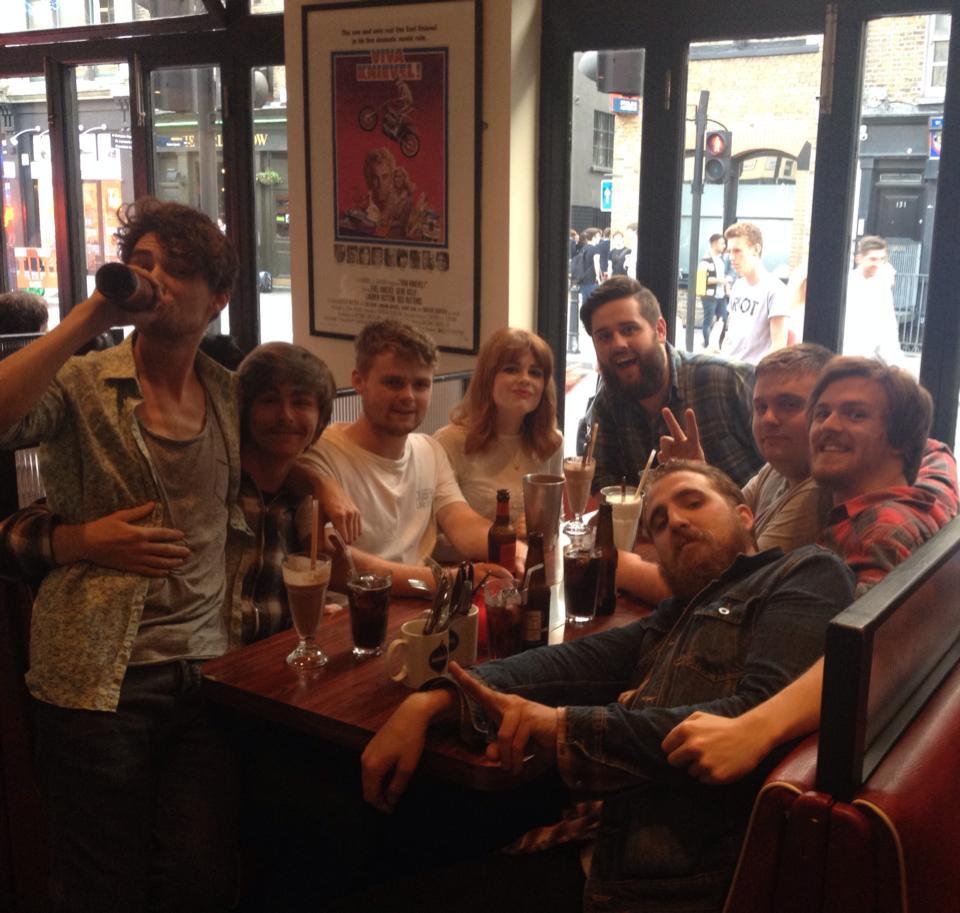 Merchandise
Obviously you will need to outlay some money to get merchandise ready before your hit the road. Once you do, selling merch is a great way of making money on tour. It's not unusual, if you are planning on touring, to promote your latest single or album, so of course get those CDs, LPs and cassettes ready in time. People like cool t-shirts. In the past we've used screen printers that also offer in-house design; handy if you're struggling to come up with something. Check the Merchandise section of The Unsigned Guide to find similar folks located near you. The great thing about t-shirts is that you can sell them for a lot more than the cost of buying them in bulk. The average price we sell tees for is £10. Make sure everything is displayed well on the merch table, play a killer show and people will buy your stuff. If you want to avoid reaching into your own pocket, then put the profits from sold merch back into the tour budget.

Booking tour dates
So now you think you can afford it? Where do you want to play? Look at where bands of a similar genre have played. When we first booked our tour, a band we loved had recently gone on the road so we just looked at their tour poster and contacted the venues and promoters.
Gigs can get cancelled and people may ignore you when you first email them, so the further you book in advance, the more time you have to deal with any hindrances. Facebook and Twitter are your friends, posting simple statuses like 'We're after a gig in Brighton, does anybody know someone that would put us on?' goes a long way. If you're thinking of touring then you should have been gigging for a while and have potentially built up a network of promoters and contacts along the way to make this process a little easier. Of course The Unsigned Guide is a brilliant source for finding gig venues, promoters and booking contacts, plus van hire firms and people providing tour services. Now start working on that tour poster and create a Facebook event for your tour dates.

Gig Payments 
You should get paid for every gig you do, even if it's just fuel money. When booking a tour it is worth asking for a guarantee from each promoter which you can then put into your tour budget. If you are touring with another band, money from gigs should just so straight to the total amount owed to ensure fairness.
For some gigs you may receive a percentage of ticket sales. Ticket sales are based on how many tickets you sell and the audience you can bring, but when you're going on your first tour and are trying to gain new fans in new cities, it can be tricky to work on this basis so you may wish to try and avoid this kind of set-up whilst touring.
Don't forget to register with PRS For Music to receive royalties for each gig you play at venues that are associated with PRS (there's usually a red sticker on a door or window).

Planning your routes 
Once you have interest from promoters you need to plan what gigs you're going to confirm and plan your route. You need to think logistically, you want to save money on fuel so you don't want to be travelling to London the first night to play Manchester the second. Gradually travel to the most northern or southern destination and end near to your hometown.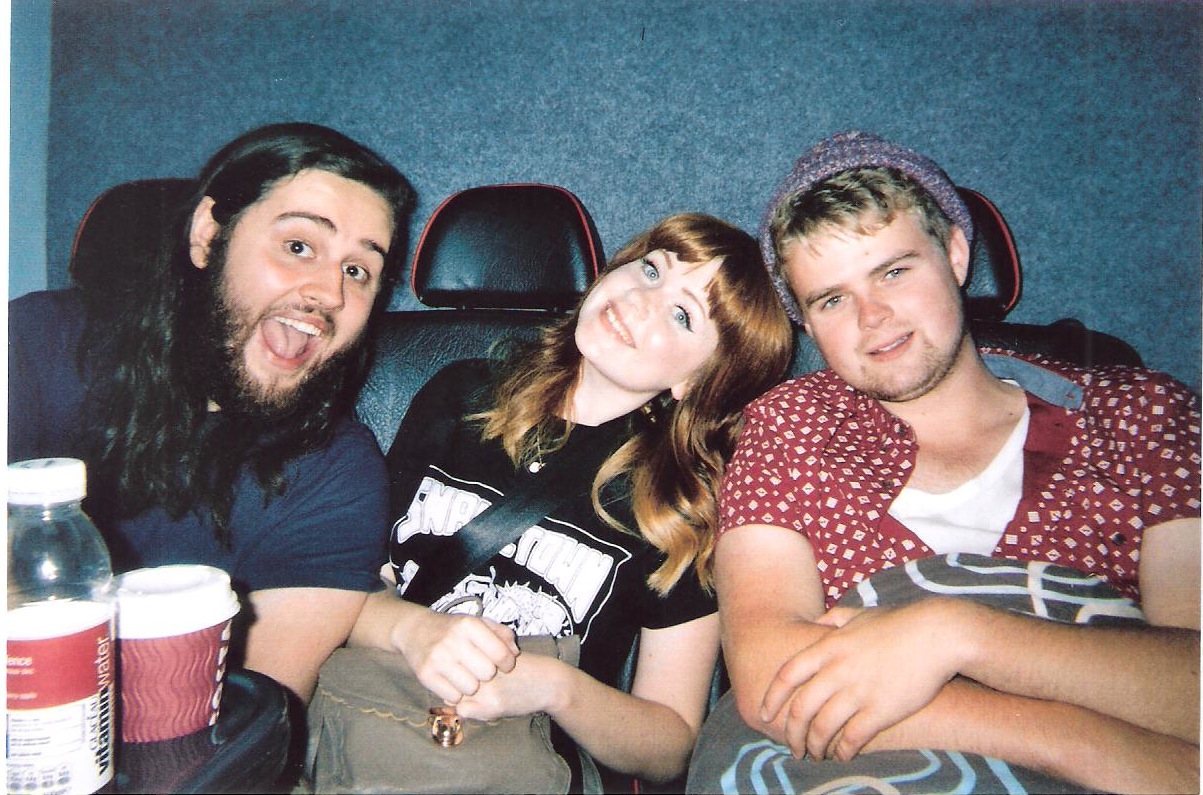 Make an itinerary
I am not trying to bore you, I swear and this is probably the last thing you want to think about or do. There's always one really organised member of the band so leave this to them. Make a chronological list of venues you are playing, complete with load in times, stage times, addresses, promoter contact details and any guarantee you are expecting. This way you can easily refer to this list to keep on track. Who knows, you may have time to explore before heading over to the next venue.

Look after yourself
You've sorted the budget out, your means of travel, all your gigs are booked, you have a place to stay every night so you're nearly ready to go! Don't forget about yourself. The obvious things such as fresh clothes don't need to be mentioned, or perhaps they do? Here are some essentials that are more likely to be forgotten:
Tour essentials
• Bedding and pillows - sleeping bags are perfect.
• Bungee cords - great way to tie pillows and bedding together.
• Towel - awkward to dry off every day but definitely an essential still. Unless you want
to use one scattered on a stranger's floor?
• Toothbrush/toothpaste - you will feel great after refreshing your mouth and your band
mates will be thankful too.
• Shower gel and shampoo - not the most rock and roll I know, but feeling refreshed will
prepare you for a long day of travelling and why would you want to dwell in last nights
sweat anyway?
• Phone chargers – we know we would all be lost without our beloved phones.
• Dry shampoo - for you lazy people, or for the people too scared to go in that grubby
shower.
• A mirror - seriously, I had to do my hair in the reflection of a picture on a wall once.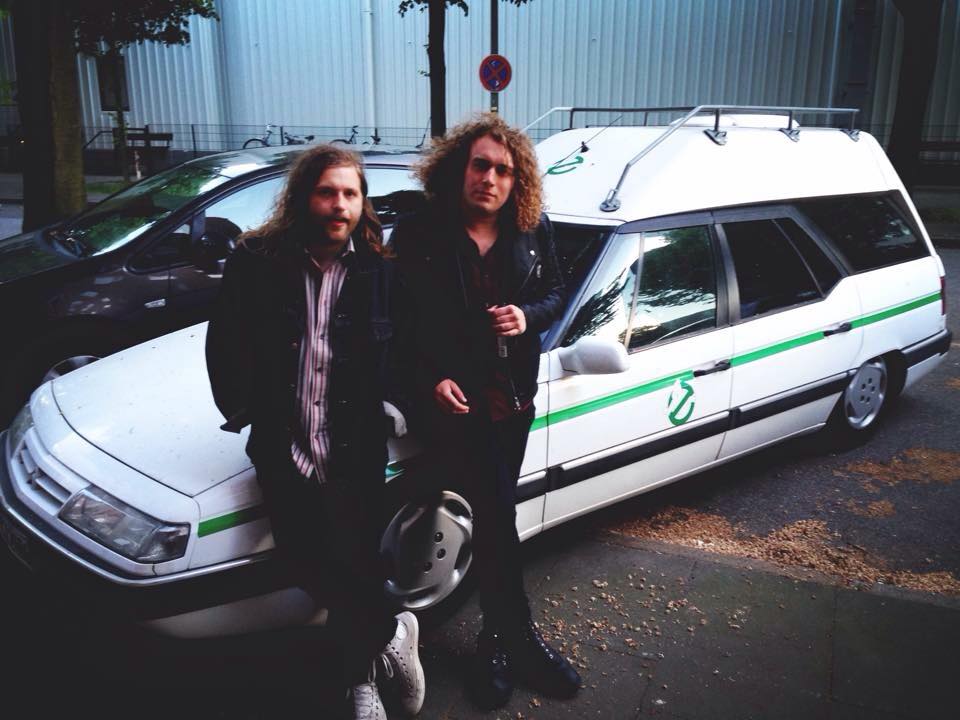 Tom from God Damn:
"Always take your own toothpaste, you can't expect everyone else to have it. Brushing your teeth with a jumper isn't fun."

Finally…look after each other
A tour should be a source of teamwork. You will end up getting sick of the sight of each other. You will just want to be alone for at least an hour and you will find things that annoy you about someone that you never noticed before. BUT it doesn't have to take over! Cards Against Humanity has always been a saviour and an ideal way to break any tension. Make sure everyone is eating well. Everybody should help load gear in and out. Make sure you have breaks on long journeys to stretch your legs. Swap places in the van and car, spice things up a little and most important of all, enjoy yourself!
---
Tags
booking a tour, going on tour, band tour, live music, booking gigs, gig venues, gig promoters, tour survival guide