Fly On The Wall - Delta Mainline go to Abbey Road!
Blog by Louise Dodgson under Artist Managers, Record Labels, Recording & Production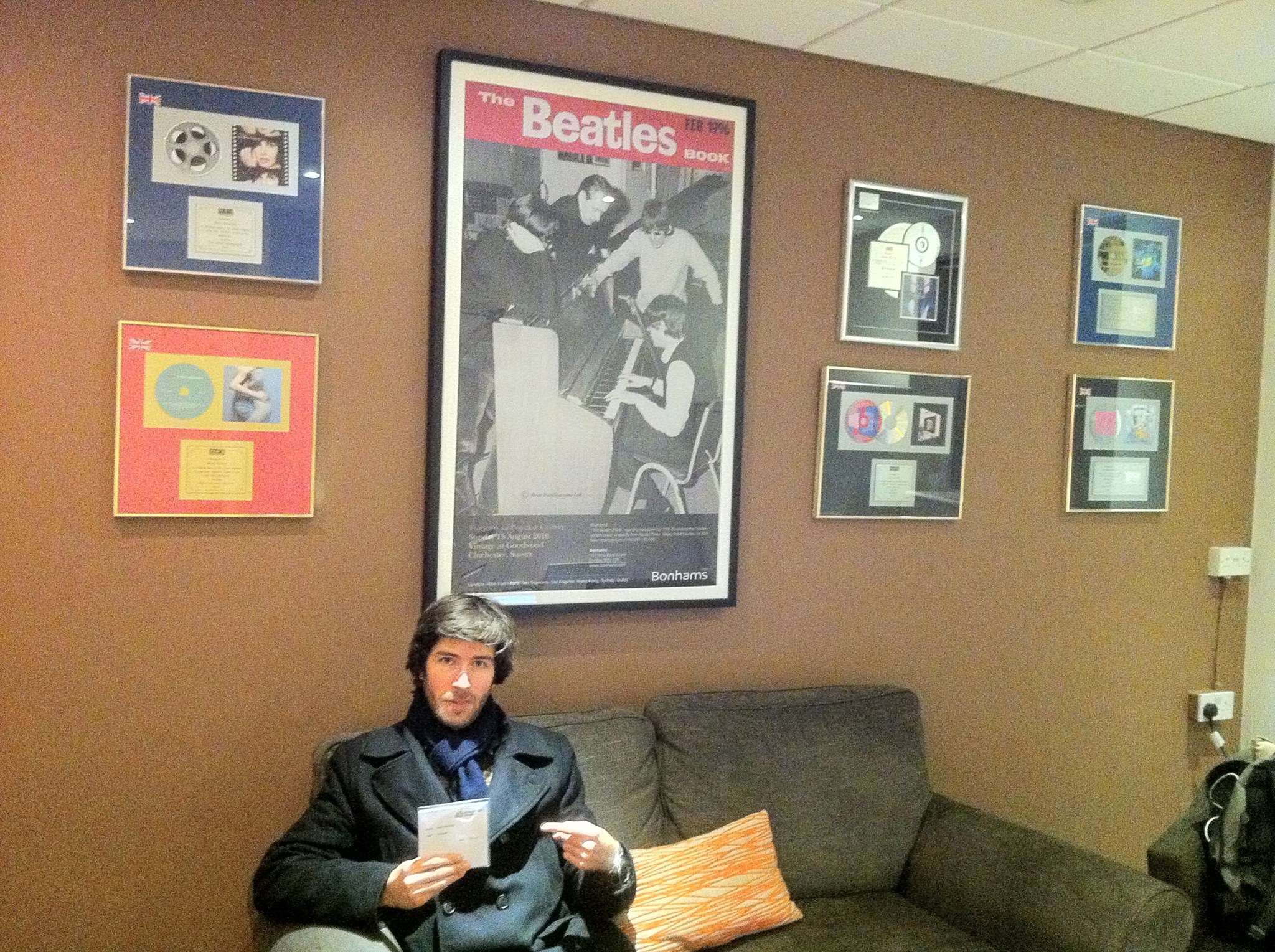 Last week Delta Mainline told us about their 7 day stint at Edinburgh's Chamber Studio but this week it's time to put the album sessions to one side, as they focus on their single 'Vultures'. Recorded and mixed earlier in the year at Chem 19 Studios, all that was left was the mastering so why the hell not head to Abbey Road Studios?! Let's hand over to the band's guitarist George to get some behind the scenes insight into the legendary studio…

Enjoying a little more freedom than the rest of the band as I await the start of a new job, I travelled down to London alone to stay with my producer pal Kunal, a.k.a. Swoon, who'd be joining me for the session. I insisted on leaving Kunal's home in Hackney Wick far too early on the day of the session ("We're going to Abbey Road, we CAN NOT be late!") and, sure enough, we had a bit of time to kill upon arrival. After picking up eye-wateringly expensive coffees, we amused ourselves for a bit by watching tourists attempt to capture the obligatory zebra crossing photo.

The original crossing from the famous Beatles album cover has long been moved further along the street. The street itself also happens to have a fairly constant stream of traffic coming from both directions. If you fancy a chuckle you can watch Abbey Road's 'Crossing Cam' and see the photograph-hunters getting berated by impatient van drivers for yourselves: www.abbeyroad.com/Crossing

We started getting a few interested looks from the tourists after entering the studio's gates. Buoyed by the coffee and restless anticipation, we turned at the top of the steps, waved presidential-style and were greeted by camera flashes. They've obviously never heard the band…

Abbey Road doesn't resemble any other recording studio I've been to. Upon entry, you're immediately greeted by a desk of receptionists with an office of full-time admin staff behind them. Meanwhile, event managers and catering staff are also milling about. On first impression it feels more like a bustling city office space. After signing in, we're met by Geoff Pesche who takes us on a small trek up to his studio on the third floor.

The gold and silver records adorning Geoff's wall are an instant reminder that we're being looked after by one of the very best in the business. Geoff has mastered records for many of the most successful artists on the planet and here we are, wee Delta Mainline from Edinburgh and East Lothian, Scotland, about to run our music through his desk. Kylie looks on begrudgingly from her silver disc on the wall as we load up the files and get going.

"We're happy with the mix so we're not looking for any hard treatment or EQing," I explain as I take my seat and try not to break anything, "we essentially just need it louder." I would later learn that every artist who comes in says exactly the same thing, but Geoff still invariably finds fault with their mixes. However, Geoff is very happy with ours, which makes for an extremely straightforward and efficient session. David McAulay (mixing engineer): take a bow, min.

After the single and remix are mastered, it's time to say thanks and goodbye to Geoff before sneaking in a quick and mischievous wander around the building. Now that we're familiar and happy with the sound of his mastering suite and how Geoff works, we'll be able to send tracks in the future for him to work on remotely.

As we make our way downstairs we bump into staff from Facebook, who have rented out Studio One for a trendy Christmas party. I'm told that Studios One and Two are now predominantly used for similar functions, as well as big budget film scores. We sign out, wave again to the tourists (who've completely lost interest in us now, the fickle rascals) and head home.

That's the single finished and sounding great, now it's just a case of gathering artwork and sorting out distribution, licensing etc. etc. Ahh, the joys of being in a self-managed band. It's all worth it in the end though.
---
Tags
delta mainline, recording studio, mastering, recording session, single release, abbey road studios