Fly On The Wall: Playing Liverpool Sound City with Hurdles
Blog by Louise Dodgson under Artist Managers, Live, Music Training & Careers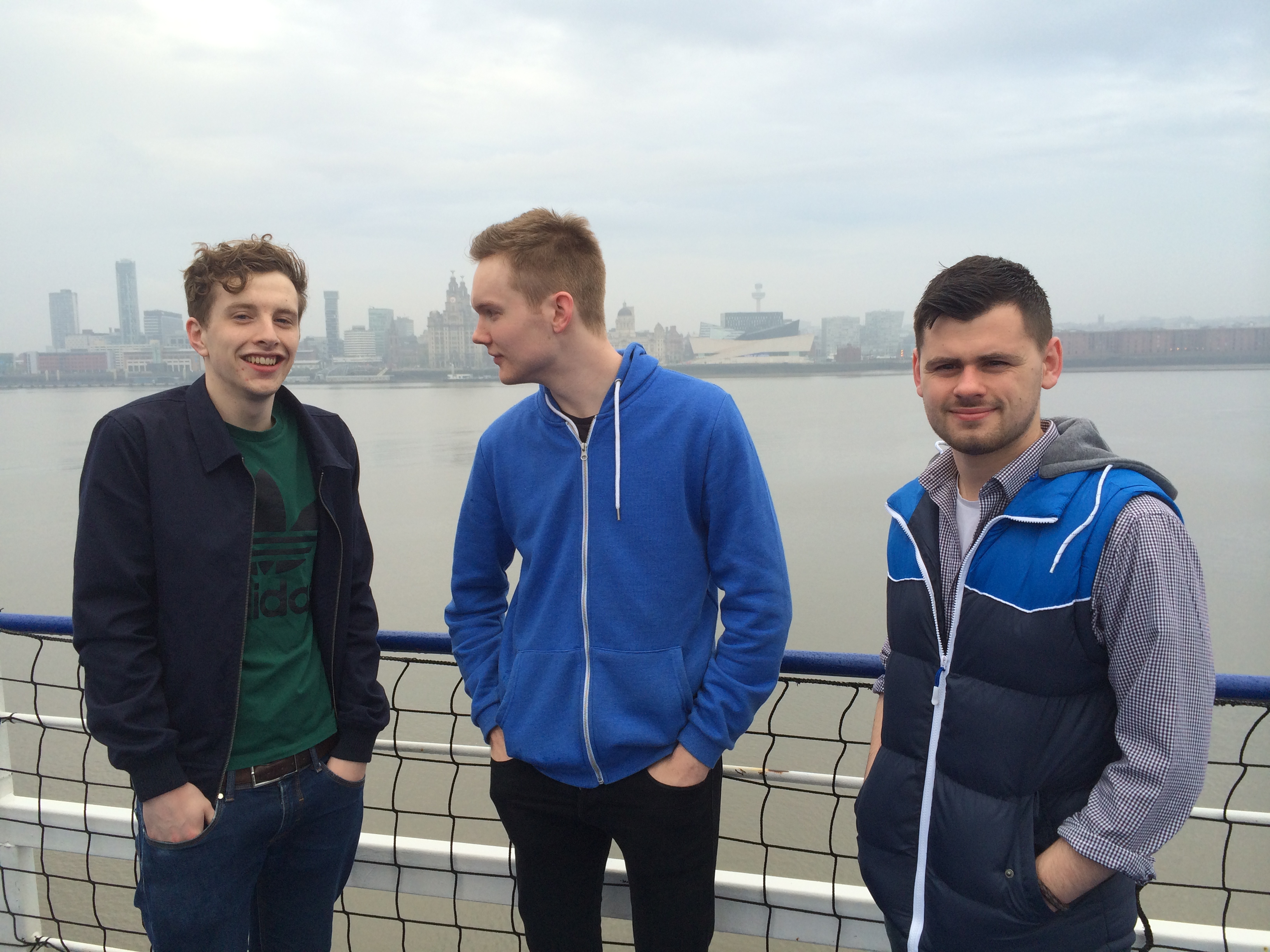 First featured in one of our Spotlight blogs at the start of this year, we were excited to hear that Northern Ireland's finest indie-poppers Hurdles had bagged a slot at Liverpool Sound City and were keen to hear all about it. Not only is performing at a music industry showcase in front of industry and music fans alike a unique experience for most bands, but being based across the Irish Sea, the four-piece have not ventured over to play on English soil before which made the whole endeavour even more remarkable. How important is gigging over the water for acts not based in England and how do they go about planning the logistics and covering the costs? Let's hand over to Hurdles to fill you in and share their diary of events with you…
How did you go about getting the Sound City slot?
We applied to play and were lucky enough to get a slot with the help of some people who were interested in our music. This was our first gig across the water so we were really excited so be heading over. We played a festival called Indie Week down in Limerick the week before and through that ended up booking a Manchester date up for the same week as Sound City which was really worthwhile and great experience for us to play two cities whilst we were over.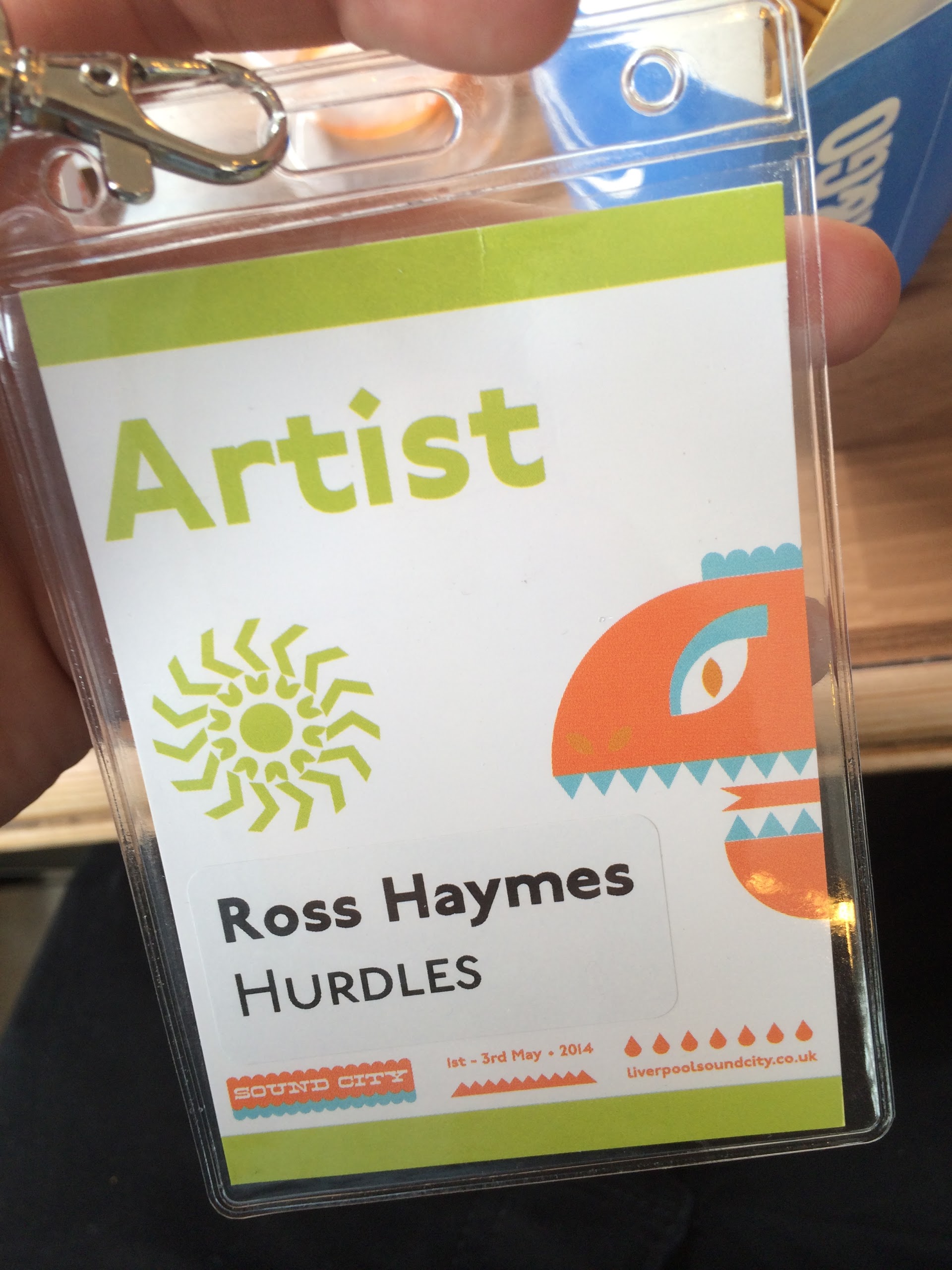 How did you plan to make the most of your time at LSC?
We planned to attend as many of the sessions as possible, get out there and see loads of awesome bands and try and make contacts where possible! The toilet tour session was of particular interest to us as touring is something we really want to learn to do well and make the most of. It had a great line-up of speakers and loads of useful info so was well worth it!
So what were your main hopes for the visit, what did you aim to get out of it?
For us it was about getting a bit of tour experience under our belts, learning the logistics of travelling and trying to make a good impression to those who saw us live when we were over.
How did you fund the trip?
We were lucky enough to receive some funding from the very generous Generator NI which covered some of our travel costs. The rest came from our band fund and a bit from our own pockets! Getting a car full of gear and 4 people over to England from Belfast isn't cheap and when you add in accommodation it can get a bit pricey. Definitely a worthwhile experience but it's made us realise how much a full UK tour would realistically cost.
And how did you go about promoting the gigs?
Through all the normal online routes really, plus contacting people we know from both Liverpool and Manchester and getting them involved where possible!
Did you bring any merch etc. over with you?
We always try and bring t-shirts and CDs to help generate a bit of extra money at gigs. A lot of the time there are so many costs involved with gigging so it's handy to have stuff to balance those costs out!
Do you think it's important for bands from Northern Ireland to get over to England and play? Has it been a conscious decision to book gigs over here?
It's really important for us to get over to England and try and play some more shows where we can. There's some great gigs going on in Northern Ireland but we really want to expand our audience and heading over to England for more shows seems to be the best way to do that at this stage.

THE NIGHT BEFORE
9pm: After practising relentlessly for the past few months we were finally loaded up and ready for our trip to Liverpool Sound City. It's our first time gigging outside of Ireland so we're all excited to get over to England and play some gigs! First up we've got an 8 hour overnight ferry from Belfast to Liverpool. We get loaded in and find a pub on board as well as a few other bands we know including More Than Conquerors who are also playing Sound City.
After a few hours sleep in a pretty comfy cabin we arrive at the port and get ready to head into Liverpool.

DAY 1
7am: We load off the ferry and head into Liverpool. Unfortunately we can't check into our hostel until 3pm so after a bit of a power nap in a car park (definitely the highlight of the trip so far) then we head over to Registration to pick up our passes.
12pm: After grabbing a bit of much needed food and coffee we head over to our first panel session at the Hilton Hotel conference centre, Cowboys VS Indies. It's a really interesting session showing you what both majors and indies have to offer, what the differences between working with both are and how you go about attracting interest from both. Things essentially boil down to money and the kind of reach you can expect but it's interesting to hear both sides make their case.
2pm: We head to another session in the Hilton, this time Breaking The Rules with John Morter, the guy who ran the campaign to get Rage Against The Machine to Number 1 in The Official Charts over The X-Factor. Again it's an interesting session and we learnt a lot about what not to do on Facebook which is handy, especially as it's one of the main ways we promote gigs and releases at the moment.
3pm: We finally manage to get checked into our hostel and dump all our stuff, throwing in a much needed power nap for good measure. From here on in we decide to go and check out some venues including Korova where we'll be playing on Saturday.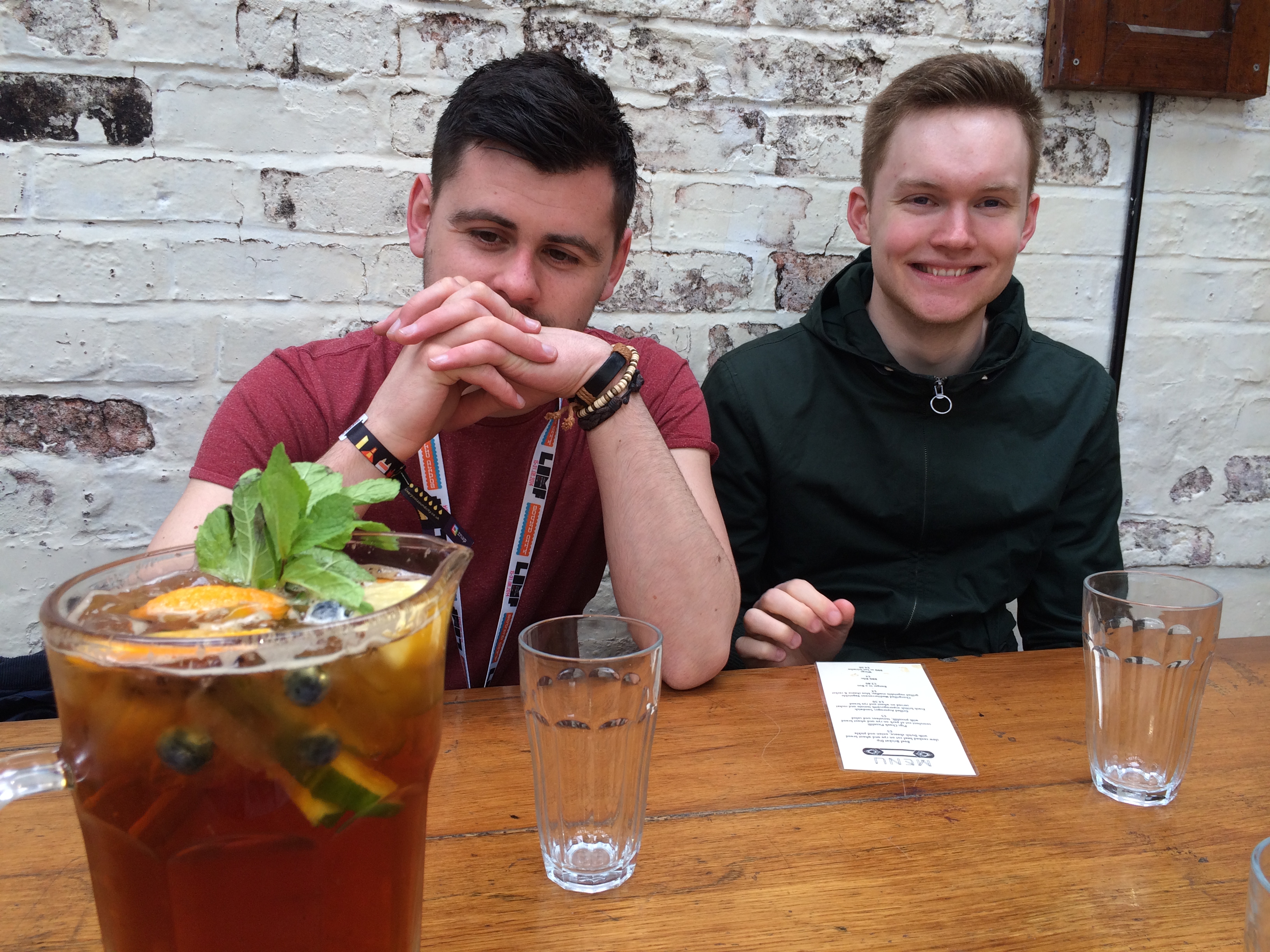 6pm: We head over to Kazimier Gardens where the awesome Generator NI have put on a stage with a load of homegrown acts we all know we'll enjoy. First up it's an acoustic set from the brilliant Runaway Go, we've seen them loads at local festivals and gigs and they always put on a great show. After their set we get chatting to some of the people from Generator NI who were kind enough to give us some funding to get over from Belfast to attend the festival. It was a massive help for us to pay for travel so big thanks to them for the support!
7pm: We go and grab a bit of food nearby then come back to Kazimier Gardens to catch the start of Malojian's set who again put in a great performance. I'd heard from a friend in Manchester about an awesome two piece called Cleft who are playing a venue called the Black-E at 8pm so we head over there towards the end of Malojian's set to check them out.
8:30pm: It's back to the Generator NI stage to catch one of our favourite bands from NI called PORTS, formerly Little Bear. We get to hear some new material and everyone seems to be enjoying themselves after such a strong performance. We then stick around to catch More Than Conquerors set who up the volume and pull a great crowd like always. It's great to see so many bands from home come over and make a great impression at the festival and hopefully it will attract more people to make the trip over and play here in Belfast.
1am: After an evening of venue hopping, catching gigs from the likes of Travis Is A Tourist, Jon Hopkins and ASIWYFA, we're feeling pretty knackered, having slept very little. We decide to head back to the hostel so we can check out even more tomorrow and get ready for our gig in Manchester at Dry Live in the evening.

DAY 2
11am: After a good nights sleep in the hostel we head over to another conference session called Get In The Van, We're Off On A Toilet Tour. It's an area we really want to know more about as touring the rest of the UK is the next big step for us and something we don't want to do wrong. There's loads of great tips as to how to make things worthwhile and, as always, the questions generate a good bit of discussion so it's well worth attending.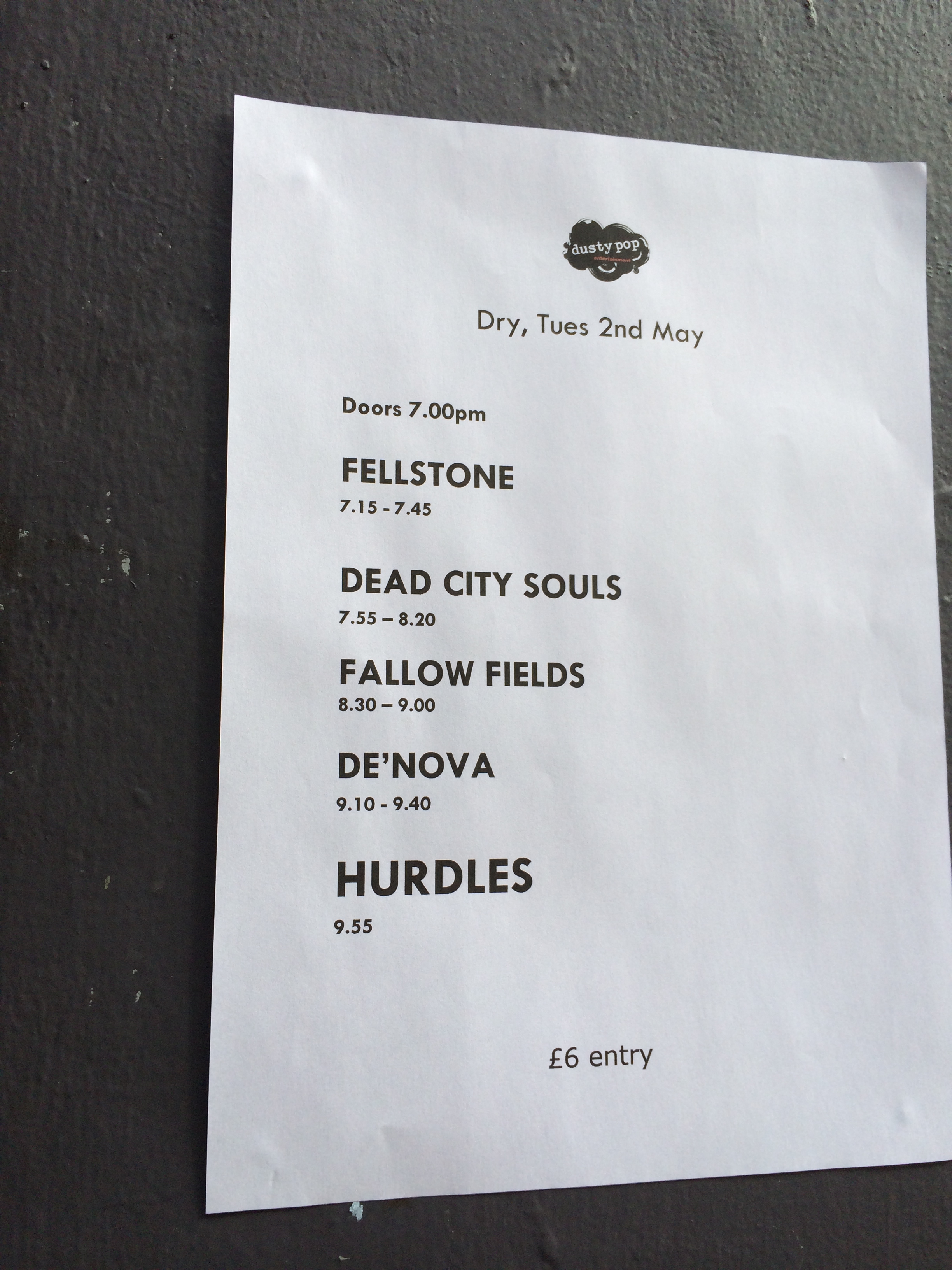 1pm: After checking out some of the stands and displays at the conference centre we head to get some lunch and make our way back to the hostel to get everything together for tonight's gig in Manchester. We were gigging down in Limerick about a week before Sound City and met a band from Manchester called De'Nova who suggested we come and gig in Manchester with them whilst we were over. After a short drive from Liverpool we arrive at the venue and unload all the gear before getting parked up and heading to an amazing pizza restaurant for some much needed food.
5pm: We have a quick soundcheck and make sure everything's ready for the night before heading out to a nearby pub to meet up with some friends who live in the city. Eventually we head back over to the venue to check out some of the other bands and meet up with a few more people from back home who've come along to catch the gig. Most of the other bands are a lot heavier than us tonight but we have a great time checking out some local acts and De'Nova put in a really solid performance.
9pm: We're the last act on tonight and although the venue isn't rammed we have a really great gig and a great response from everyone after. It's one of the first times we've properly tested out our backing and click tracks so there was a lot of pressure on making sure everything works out but thankfully nobody dies and all is well. It's really nice to get out of your home city and play some new places, especially when things go well. Hopefully it won't be too long before we're back.
12pm: We drive back to Liverpool and decide to head straight to the delegates bar at The Attic. The place is heaving with loads of bands and industry people dancing and drinking like it's the end of the world so we gladly join in. We meet some really nice people and chat through what we want to do tomorrow before finally heading back to the hostel around 3am for another well needed sleep.

DAY 3
12pm: With no conferences to attend this morning we take things easy and get ready for tonight's gig. We decide to spend a bit of time over in Kazimier Gardens checking out a Korean showcase with some crazy talented bands, PATiENTS and Hellivision. The worst part of any gig is waiting around beforehand so we wander from venue to venue including the Moon Museum and The Attic before heading over to The Shipping Forecast to grab more food.
5pm: We head back to the car park to grab all our gear and drive it over to Korova so we can unload and get ready for our set at 8:30pm. It's just a quick line check tonight before our set so we want to get everything ready as quickly as possible. Luckily the guys at the Korova are really helpful with all our gear and make sure we know exactly what to do and when, so there aren't any issues.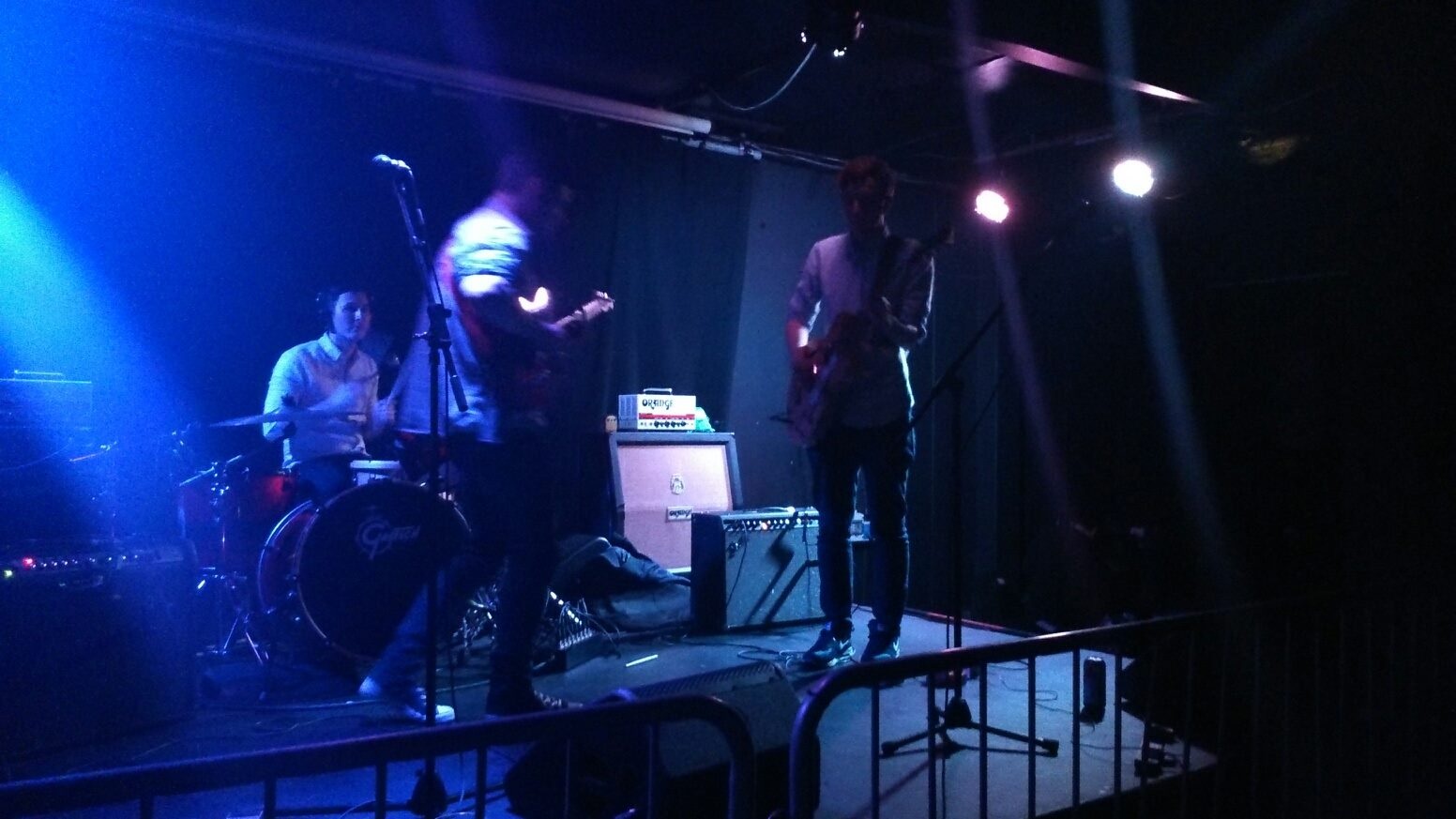 8pm: Before we play there's an amazing Korean band called Peterpan Complex who take to the stage. It's super upbeat synthy pop goodness and puts us all in a great mood before we head on. After a quick changeover and checking all our gear we get going with our set. Again, like Manchester, the venue isn't exactly rammed but we get a great response from those who have showed up and put in a performance we're all really happy with. New songs which we've been working on pretty relentlessly for the past few months all sound great and none of our technology fails us which leaves us coming off stage buzzing.
10pm: After chatting to some of the people who came along for our gig we try to bring the car back to the venue to take the gear away which ends up becoming a bit of an epic task after bollards appear out of nowhere and every stag and hen do in the UK seems to have hit the streets! We get as close as we can and have to carry all our amps through a sea of drunken fancy dress parties but manage to get back to the car park safely with everything intact.
11pm: We decide to head back to The Attic after such a good night last night and spend the rest of the evening drinking and chatting away about all the bands we've seen and what we want to do next as a band. Unfortunately we've got a 10am ferry to catch back to Belfast in the morning but at least the 8 hour trip will give us plenty of time to sleep and recover. As the night draws to a close we head back to the hostel and collapse after an awesome festival experience and a worthwhile first ever mini tour outside of Ireland. With any luck we'll get to do it all over again next year!
---
Tags
hurdles, liverpool sound city, music industry conference, music industry convention, music business, playing live, music industry showcase