How is The Unsigned Guide directory updated?
Blog by Michelle Lloyd under Artist Managers, Creative & Branding, Finance, Law & Music Business, Live, Media, Music Publishing, Music Training & Careers, Record Labels, Recording & Production, Selling & Distributing Your Music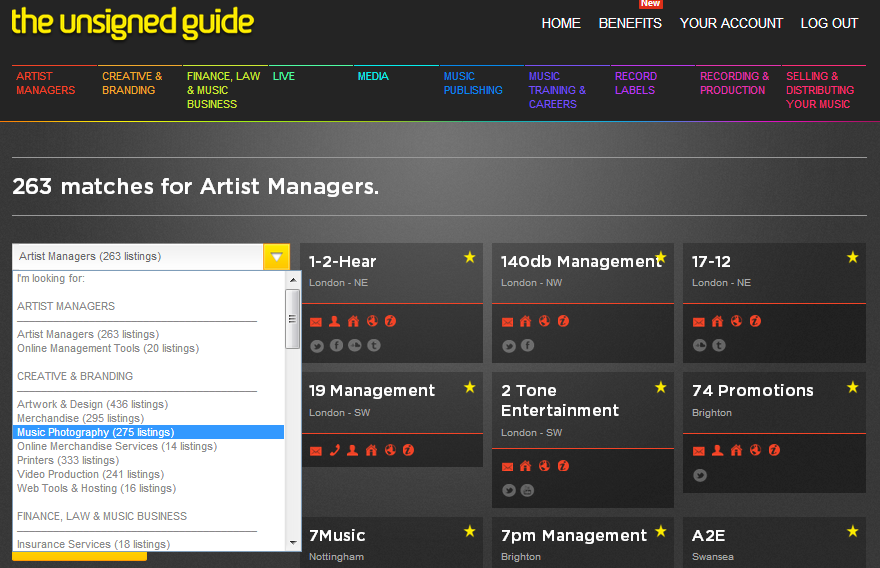 So you all know that The Unsigned Guide is a mammoth directory comprising of music industry contacts from across the board (over 8,750 listings to be precise, across 50 areas of the music business). But did you know just how useful a tool it can be and just how much information is included to help you pinpoint exactly what you need? Well, to ensure you're making the most of it, we thought it might be a good idea to let you in on how the directory is compiled and the work that goes into making it the one-stop-shop for unsigned musicians that it is! As Research Manager, I'll be blogging regularly bringing you updates on the areas of the directory we're working on and going into detail about how they might help you. With such a wealth of information included, you may not realise just how much useful stuff may be right under your nose!
Keeping The Unsigned Guide up to date
Updating the listings in our music industry directory is an ongoing process that happens each and every day. As Research Manager it's my job to ensure that all the listings included are as accurate as they can be and that new & fresh listings are also being added regularly. The music industry is an ever-changing one and we're keen to make sure that we stay at the forefront and represent any new trends that might appear and offer as thorough coverage as possible of what is going on in music scenes across the UK.
We also cover a broad spectrum in terms of the types of music businesses we list. You will find everything from larger, more established companies as well as smaller, independent ones including people starting out in their fields as well such as music photographers, videographers, designers, producers and so on who may be willing to work cheaply and collaborate to expand their portfolios and gain their own experience in the music industry. We know that money can be tight as an emerging artist so we make sure we include something for all budgets.
Because of the sheer size of the directory it takes a whole year for us to go through everything, updating all the listings and finding new ones to add. It's a lengthy process but one that we pride ourselves on. All the music companies and professionals listed have given their permission to be listed and let us know the specific details of their services and what they can provide to musicians and bands. Most importantly, we try and pinpoint businesses who have previously worked with or are happy to be approached by unsigned and emerging musicians so you already know they will be happy to work with you.
Of course, regularly updating and amending the listings takes high precedence as we're aware how quickly information can go out of date, but it can be a challenge staying on top of everything. With a hefty
50 sections of the music industry covered
, we tend to concentrate on 3 or 4 sections at a time and thoroughly work through them, removing any companies that have gone out of business or are no longer offering music related services.
We directly contact each & every company and individual listed by telephone or email and ensure they're still happy to be included in the Guide and amend any information that may be out of date.
At the moment we're updating our
Music Photography
,
Equipment Hire
and
Music Training & Tuition
sections of the Guide. We typically spend approximately a month running through all listings, making contact with everyone and looking for fresh, new listings to add to the directory. Incorporating new content is highly important to us. We have a
Get Listed form
on our website where companies & individuals can submit their details to be included in The Unsigned Guide. If you'd like a listing for your music business, just fill it out & we'll be in touch, listings are entirely free! We also actively look for new companies ourselves and regularly encourage people to get in touch via
Twitter
and
Facebook
with any recommendations so again, if you want to recommend a decent company you've worked with, please get in touch.
So let's take a more in-depth look into the sections we're currently working on, including some sample listings so you can see the level and quality of information included.
Finding a music photographer
Having a good set of promo pictures is a no-brainer and capturing your live performances will also provide great content for your website & social media pages. Although you might know someone with a top notch digital camera, getting a professional will really pay off. Included in our Music Photography section are a whole heap of photographers who specialise in capturing your best side and have experience of working with musicians. Whatever you need, The Unsigned Guide will be able to help you find someone suitable for the job. We list everything from highly qualified and experienced photographers who contribute images for the likes of NME, The Guardian and other major publications & websites to music photographers starting out with a passion and who are willing to lend their expertise to build up their portfolio.
Above is a screenshot of one of our Music Photography listings to show you the level of detail we gather for the directory. As well as contact information, including email, websites & social media pages (all of which are click-through links), we also establish whether they offer digital or film photography and if they are able to provide any editing or digital manipulation services. If the photographer specialises in particular shoots such as live, location, documentary style or studio shoots, we'll include this info. It can also be helpful to know who they have worked with in the past so we also include a brief outline of their previous music clients.
As we've already stated, we're more than aware of the financial constraints of emerging musicians so we also ask music photographers if they offer any special rates or discounts. Don't forget, The Unsigned Guide also has a dedicated area called Survival Guide, which is full of various music businesses who offer
exclusive money saving deals & discounts
for Unsigned Guide members.
Getting the right gear
Equipment hire might not be the most glamorous aspects of a musician's life but it's definitely an important one. Our Equipment Hire listings cover everything you may need to get your hands on including PAs, lighting, backline, instruments, staging, audio-visual gear and DJ equipment. Use our handy search filter to browse the type of equipment you want across 130 UK towns & cities and you need never be stuck whilst on tour again!
Check out our example listing below. As well as the essential contact information and what gear is available we'll also tell you whether the company in question can provide an engineer or dry hire, plus details of any drop off/collection service. Where possible, our listings always include a contact name for you to direct your enquiries to.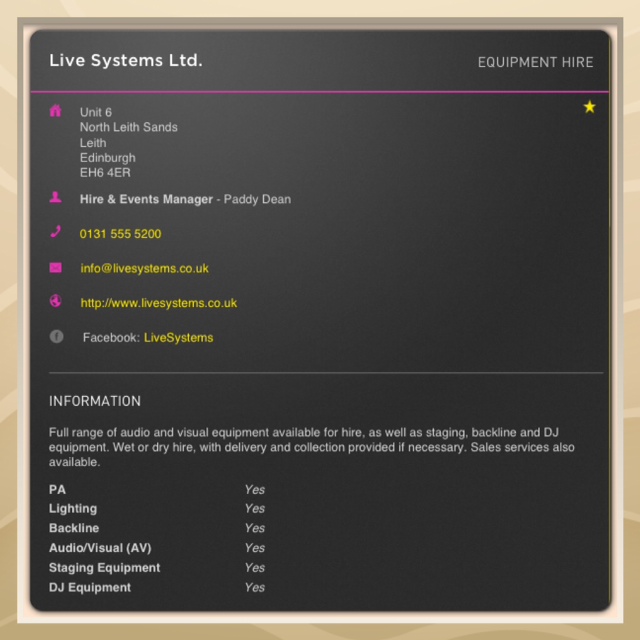 Skills & qualifications for your music career
Whether you're looking to brush up your skills, get to grips with a new instrument or take a music industry course or workshop, you'll find all manner of helpful contacts in our Music Training & Tuition section. Instruments, recording gear, music theory, music business workshops, performance & songwriting courses or music technology & production are all covered. All listings can be easily filtered to find the instrument or type of course you're interested in.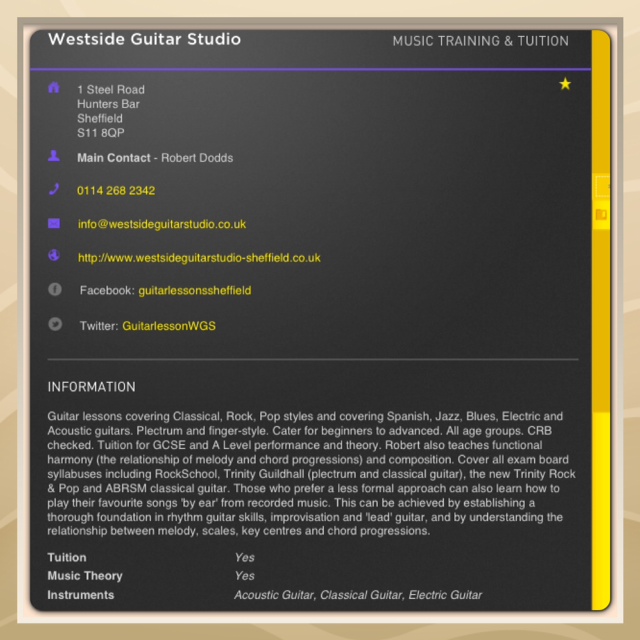 As our sample listing here shows, we will also include details of any specific musical styles a tutor may specialise in, the levels they cater for, and any exam syllabuses they might work to. Whether you're looking for professional qualifications or just learning for fun, we'll point you in the right direction.
Hopefully this insight into our directory listings will help you understand a little more about how everything comes together here at The Unsigned Guide. We work hard to try & take the hassle out of trawling the internet for information so bands & artists can have more time to focus on their music. Don't forget, we'd love to hear from you if you have music services you'd like to be listed in the directory, just fill out our
Get Listed form
and we'll be in touch for more details.
---
Tags
the unsigned guide, unsigned bands, unsigned artists, independent artists, emerging talent, music industry directory, music contacts, music business