What to do before you go into the studio
Blog by School of Sound Recording under Recording & Production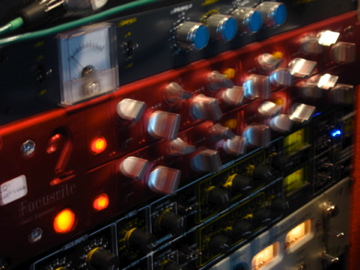 If you're planning to head into the studio, then this blog post by Alex Miller, a studio assistant with SSR in Manchester, will be more than handy. Alex has some helpful tips and pointers that bands and artists should look out for when they're planning to go into a recording studio and work with engineers/producers.
1.

Make sure your songs are finished
It might sound surprising but I've lost count of the amount of sessions I've worked on where the band were in the studio and the vocalist was writing lyrics during a take, or the drummer was trying to find the perfect fill for the middle 8, or the band weren't sure how to move into the last chorus. A certain amount of improvisation in the studio is great and keeps things sounding energetic, but be wary of taking it too far. You'll only end up wasting time and money finishing songs in the studio.
You should be able to play your tracks with your eyes closed by the time you get to the studio. Everyone should know where all the changes are and should know their part so well they can play it the same way consistently. This is especially important for rhythm parts if you're double tracking, it has to be tight. If the genre suits it (hard rock/metal/pop etc.) practise to a click, and if you're able to make tempo maps and record scratch tracks at home/a friends project studio then that's all time saved on the day.
3.

Decide what your aims are
What do you want out of your studio session? How many tracks do you want, to what standard do you want them. Once you've figured this out, you need to decide what your budget is. As an engineer/producer I often present 'the triangle' to bands (see below). There are three sides to it, and you can only pick two…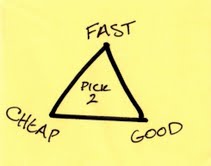 So if you want good recordings done fast, it won't be cheap. If you want to record fast and cheap, it won't be good…and if you want your recordings cheap and good, it won't be fast.
Though it seems like a given, make sure that the whole band agrees on that you want the finished product to sound like. If you start by telling your engineer/producer that you want a really raw, old-school metal recording then halfway through the mix decide you actually wanted it to sound like Trivium, there's going to be a bit of a problem.
4.

Make sure your instruments are properly maintained
Get your guitars professionally set-up and re-strung. Getting guitars set-up means you won't have any intonation problems which can grind a session to a halt. Get new skins on the drums and make sure they're stretched in and tuned. Make sure you're using the right hardware, so research what skins drummers in your genre use and why they use them. It's amazing the difference you get using different kinds of skins. Same with strings, make sure they are the right strings for your tuning. Make sure your vocalist doesn't go out and get hammered the night before and ruin their voice.
5.

Try to get the right equipment for the sound that you want
There's no getting away from it, good gear is generally expensive. If you can afford that Dual Rectifier/SVT/Gretsch then great, we're onto a winner. If not, there are 3 options; does the studio have one? Yes – great. If not can you rent one from a PA hire company – the prices tend to be very reasonable and it's so much cheaper than buying one.
Failing that beg or borrow it from a friend that has one. Not having the best gear isn't the end of the world, it just means that everyone will have to work a bit harder to make it sound the best it can, so it's worth spending some time with your gear before the sessions to try to get the best sound possible.
And finally, when you get to the studio, remember that although everyone is there to do a job, it's not all serious. Enjoy it! A chilled out, relaxed atmosphere will generally yield better results than a tense one. Trying to ensure you follow as many of the above points as possible should help to ensure you have a smooth session.
About the author: Alex Miller
Alex graduated from SSR's Audio Engineering Techniques & Technology course in 2011. He is now one of SSR's trusted Studio Assistants and also provides teaching support on a number of SSR courses alongside his own freelance studio and production work.


Alex has a wealth of experience recording, mixing, and mastering music for bands, especially within the rock, metal, punk and pop genres. He has also worked as a live sound engineer and touring musician, so has experience on 'both sides of the glass'.
Over the past six years, Alex has worked for, and alongside, many bands and organisations both live and in the studio, including BBC3, Bisonhammer, Bloc Party, Cannibal Corpse, Children Of Bodom, Daniel Johnston, Exit State, Falling Red, Hawkwind, Hildamay, Indonesian Idol, Inego, Jamelia, King Kartel, Maximo Park, Mr Scruff, Pegasus Bridge, Professor Green, P-Diddy, Real XS, Rocksound TV, Tenzer, The Courteeners and The Wildhearts.

---
Tags
studio recording, working with a producer, recording studio, music producer, studio engineer, record producer, demo recording