And the Spotlight 1 year award goes to...
Blog by Michelle Lloyd under Artist Managers, Creative & Branding, Finance, Law & Music Business, Live, Media, Music Publishing, Music Training & Careers, Record Labels, Recording & Production, Selling & Distributing Your Music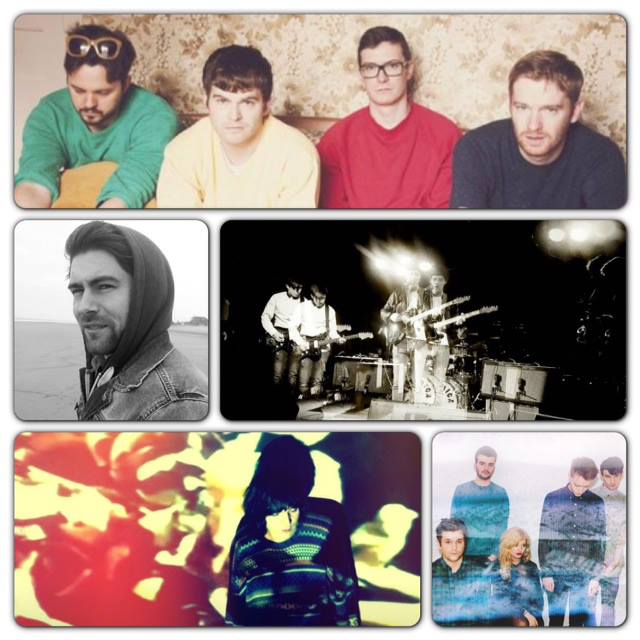 This week our monthly Spotlight blog which champions the best up and coming tracks from our members has turned a whole year old! To celebrate we decided to create a shortlist of our favourite 10 tracks from across the year and then we recruited a team of music industry judges to pick out the songs they feel really nailed it.
The judges range from all walks of the music industry including Domino Records, Amazing Radio, This Is Fake DIY, Decca Records, Tri-Tone Publishing, Music Ally, Division PR, plus regional BBC Introducing shows, so there was no doubt that they know a killer track when they hear one! After much deliberation and scratching of heads our judges have whittled the shortlist down to their favourite 3 songs and offered up some words of praise to boot.
AND THE RESULTS ARE IN!!! Drum roll please…
Andrew Marston – BBC Introducing
Lumi – Live For Me
"What an epic track. If 2012 was the year of dubstep, 2013 is certainly the year of deep house and I feel that these guys have firmly hit that nail on the head. So often with this genre, it can just be pumping jungle drums, but they've taken a few pages out of the Guetta/Romero/Porter Robinson handbook of chartable music - and that's to have a strong chorus with an equally hard hitting production. Some songs sound like you could throw them together in a matter of minutes - or live using Ableton - but this must have taken them weeks. And the effort has paid off by becoming a great track and has therefore earned one of my top spots."
The Dancers – For Something In Your Eyes
"What an unexpected little treat! I really loved the interesting choice of instruments at the start, before it turned into what seemed like a very familiar song, and just as I was beginning to think "this is very now", in came the female voice that took it to the next level. Such a catchy chorus and rather than the main line being a vocal - it's an instrument, for a change! They've almost done what every musician sets out to do and that is create their own genre. In another world, played with different instruments, this could almost be an Irish ragtime number - it's just fun, fun, fun!"
Ed Zealous - Diamonds For Eyes
"Mashing up the styles and melting the boundaries between dance music and indie, Ed Zealous achieves a very artsy sound best suited to a public sound system. They've achieved the perfect track for a cafe or restaurant, but equally for a festival stage, and that's a very hard thing to do. It's got the fun of the '80s and '90s kids who were into the Pet Shop Boys, Erasure then Adamski but played with the energy of Foals and Bloc Party. It's a great catchy song, everything's beautifully played and produced - and the final mix is just stunning."
Simon Duffy – Tri-Tone
Simon works at
Tri-Tone
who provide services including publishing and sync, recordings and management and have worked with Justice, Badly Drawn Boy and Metronomy, amongst others.
BLESSA – Open Fields
"I really love the effortless cool and ambience of this song straight away. It reminds me of a lot of early 4AD releases and touches on classic bands like the Cocteau Twins and The Cranberries. I feel the arrangements of sounds and ideas leaves a lot of space for the lovely melody. The production is great for a demo and is even good enough for an 'Indie' release but I do feel the vocal could be recorded better and stronger and I'm not sure about the double track vocal in the chorus, feel it would be better complimented by harmonies to create an even bigger and more lush sound. The band look great and have taken time to think about their visual imagery but I think similar to the sound production could take the quality up a little bit further. Overall the band really balance a very cool and quirky sound with real commercial potential and I think if they maintain that balance while pushing the ambition of production and visuals they could really connect."
Masters In France – Flexin'
"I have to admit I have already taken an interest in this band as I was introduced to them via another Welsh band called 'We Are Animal'. I was really surprised how great the production, ideas and songs were and the real freshness and international sound they were achieving. Overall I love the fact you have this really creative group of people in North Wales collaborating and making really ambitious and different music and sticking to their ideas whilst working hard to promote themselves. The music reminds me of bands like Wave Machines but with the ambition of Phoenix and if they keep writing the way they are, I'm sure will write a big hit that will connect. If not they'll get more syncs which will help spread their music to a wider audience."
Shy Nature – Deadly Sin
"Straight away I loved the freshness and energy of this song. Even though it's a little retro and fits in with bands like Vaccines, Temples and Two Wounded Birds it shows the band have a stronger identity to rise above the references and deliver a really strong, summery hit song. The playing is really tight and the vocals are great. I do feel they need to develop some extra signature production sounds to really further define their sound but as a debut release it really works. Checking out their websites I feel with their image they could put more effort in as it's quite low-fi, black and white and doesn't really reflect the vibrancy of their sound and songs and might pigeon-hole them commercially in a more narrow 'indie' scene when the songs have a wider appeal."
Tom Cotton – Amazing Radio
Tom's head of music at
Amazing Radio
, the only radio station dedicated to playing new and emerging music from independent artists.
Shy Nature – Deadly Sin
"Packed with hooks, energy and joy like all great indie pop tracks should be. Love how they get straight into the song too, no messing about. Can't wait to hear more."
BLESSA – Open Fields
"Blessa's beauty is in their simplicity. For such a new band they seem to understand that being sparse and ethereal can pack as big a punch as throwing the kitchen sink at a track."
Harry David – Lies & Truth (Won't Back Down)
"Lies and Truth. It would be easy to be sniffy about Harry David, but the truth is the songwriting is so good, snobbery would be churlish. The music is timeless and will appeal to such a broad audience range."


Natasha Parker – Domino Records
Natasha works as a publicist for
Domino Records
and is currently working on, amongst others, the new online campaign for the Arctic Monkeys.
Sea Pinks - Lake Superior
"This style of loose, '60s-styled guitar riff always gets me. It's the simple nature of it, you can't really go wrong. 'Lake Superior' was the first one on the playlist that made me sit up and pay attention. It doesn't take itself too seriously and wears its influences -from The Beach Boys to 13th Floor Elevators - on its sleeve. That's not to say this is a novelty track, but it's comforting and sometimes familiarity isn't a bad thing."
Lumi - Live For Me
"Pulsating basslines are great for two things: pleasing crowds and creating a mood either so dark or so euphoric that it's virtually impossible to ignore. That, combined with the sultry vocals and distorted synths, may not be breaking the mould but the repetitive, deep house-tinged rhythm is so addictive that I think it's hard to not be moved along with it."
BLESSA - Open Fields
"I love the brooding introduction to this, I just wish it felt that dark continuously throughout. I've heard 'Pale' by Blessa before and do prefer it to this, but there are aspects of both tracks that tap into the genres I like, so although I like it, I'm more intrigued by what will come next."



Karim Fanous – Music Ally
Karim is head of research at
Music Ally
, a leading digital music business information and strategy company that has been providing publications, consulting, research, events and training to the music and technology industries since 2001.
Harry David – Lies & Truth (Won't Back Down)
"Ahhh, that bridge to the chorus. Magic. I'm a singer-songwriter at heart and that bridge is a standout. Catches me every time. Beauty."
Masters In France – Flexin'
"Infectious, quirky, retro electronic French house-influenced pop with a Welsh twist? Whatever it is, it gets under my skin and gets my head bobbing like a dancing robot from the off. Doesn't let me stop until it's over either…and then there's the wind down period."
The Dancers – For Something In Your Eyes
"That thing where you start smiling as soon as a song begins. Lovely African-tinged melodies and syncopated rhythms. Have I said lovely yet? Grabs me gently and doesn't let go. Lovely."

Joe Parry – Division PR
Joe is a press officer at
Division PR
covering print and online PR for a range of clients, including At The Drive-In, Minus The Bear, Lemuria, Shields, Ane Brun, The Black Angels, Beaty Heart and more.
Spectral Park – Colours
"Sounding like the soundtrack to a cosmic fairground ride, 'Colours' by Spectral Park takes a psychedelic template but moves it away from the stomping rock of fellow nostalgists Tame Impala and Temples. What sets the track apart from other bands currently creating similarly hazy space-rock is the sheer conviction that comes through in the excellent production."
BLESSA – Open Fields
"A lesson in powerful restraint, 'Open Fields' by BLESSA holds back almost as much as it gives, keeping you on tenterhooks throughout. With an almost songbird-like quality to the vocal arrangement and some Foals-esque guitar picking throughout, the track is imposing without being overwhelming."
We're No Heroes – Distort The Air
"Dancey-math pop built around chanted vocal refrains, 'Distort The Air' sounds like it could have been written in anytime over the past ten years – or anytime ten years in the future. It's a track that's begging to be heard live. Come to London now, please."
Gareth Ware – This Is Fake DIY
Devoting all his spare time to musing about music, Gareth has recently been taken on as a staff writer at
This Is Fake DIY
.
Shy Nature - Deadly Sin
"It's got a great sense of urgency about it, along with a instant chorus hook that suggests a deep-rooted pop nous and a sense of ambition. It comes across like a great, lost Pete & The Pirates track, or if White Lies had suddenly decided to lose all the seriousness and embark on a synth-driven surf-pop direction. Neither of which - if we're being totally truthful - are a bad thing."
Spectral Park - Colours
"There's this immediate realisation, even on first listen, of how busy and perpetually sunny this track is. It's not always easy to pull off the whole aura of 'kids being let loose in the music box after a lunch of sherbet powder' without it being a cluttered mess but with shades of the likes of Super Furry Animals, Jim Noir and The Go! Team, 'Colours' pulls it off."
The Dancers - For Something In Your Eyes
"As if sounding like it might break into the Airwolf theme at any given moment wasn't brilliant enough (and it truly, truly is), The Dancers have created an assured track with a decidedly instant and infectious set of melody lines backed up with lilting-yet-confident percussion to produce a dynamic and vibrant listen. Good work all round."

Danny Roberts – Decca Records
Danny works as an A&R scout at
Decca Records
who are part of the Universal Music Group.
Masters In France – Flexin'
"A fantastic track, instantly memorable. I have in fact heard this song once before on an episode of 'Made In Chelsea' (I always watch it for the new music). The singer has a great voice. It strangely reminds me of a cross between Simon Neil at his softest and Hot Chip. Lovely vocal tone which sits perfectly. This songs stands out as it is just so distinctive. It has an obvious radio-friendly structure and is by far the most refreshing track of the lot. It gives you something to grab hold of. Melodically, very clever too."
Ed Zealous – Diamonds For Eyes
"Very immediate. Big chorus. Lyrically strong. Nice little pop song."
Sea Pinks – Lake Superior
"That riff is familiar and I can't get it out of my head. This can only be a good thing. What sets the song apart is the brilliant surf pop vocals. I've always been a sucker for it. Great summer feel to this song. I think of the beach and ice cream. Would be interested to see how this song translates in the live arena."
So there we have it! Granted we're no Carol Vorderman but it looks like we have an outright winner….
BLESSA
! Congratulations guys!
We'll be catching up with the band for a bit of a chat later this week so stay tuned!
Read our June 2013 Spotlight blog here.
How do I get featured on the Spotlight blog?
Our Spotlight blog is compiled every month from fresh new music submitted to us by our members. We want to hear from you! We select 5 of the best tracks from our members, so if you want to be in the running you'll need to sign up to The Unsigned Guide then follow the instructions in your Welcome email to submit a track for Spotlight consideration to us. If you're already a member and still not sure about how to submit your music for Spotlight, just give us a shout via our Contact page & we'll help you out!
As well as being featured in our new music blog, your track will also be forwarded onto these music industry professionals including folks from Amazing Radio, Big Life Management, Club Fandango, Domino Records, The Fly, Memphis Industries, Rocksound, Skint Publishing, Sony Music, Spotify, Fake DIY, Transgressive Records and The Great Escape.
View the full list of who listens to our Spotlight tracks here.
---
Tags
the unsigned guide spotlight, new music blog, blessa, masters in france, shy nature, lumi, we're no heroes, the dancers, ed zealous, harry david, sea pinks, spectral park