Meet our Official Partners: The Fly
Blog by Louise Dodgson under Media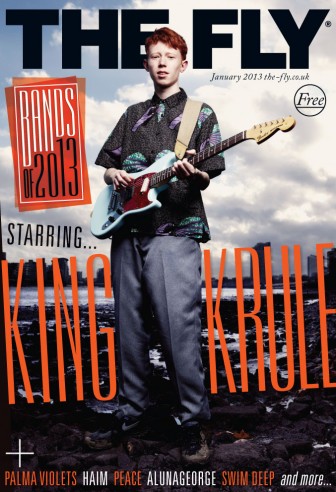 Towards the end of last year we started telling you about some of the music organisations & companies that The Unsigned Guide has recently teamed up with as official partners. You will see their logos emblazoned across our site which looks very nice…but there is very good reason why they are there which we're here to explain now. So let's get the ball rolling in 2013 and give you the lowdown on another of our partners,
The Fly
.
Now, if you're anything like us, you're probably always keen to pick up a copy of The Fly's latest magazine from gig venues and record shops and immerse yourself in new music from across the UK. We're extremely pleased to announce that we will be sponsoring The Fly's 'First On' section which focuses on the freshest of that new music and will hopefully bring you some tasty sounds from bands & artists that are bubbling under the radar and about to cut loose into the music stratosphere. And that's not all! During January we are also running a
competition with The Fly
giving away membership to the Guide so if you're not already signed up, make sure you enter before the end of January.
We recently caught up with The Fly's Editor to ask about the publication, its history and what First On is all about…
How long has the Fly been around for?
The Fly began as a listings leaflet in Camden in 1997. I have an issue here from that time that has Imogen Heap on the cover. It looks like it was designed by somebody on drugs. And not good drugs, either. Bad ones. Better times were ahead as The Fly went national in 1999, by which time the design was better but it had the Stereophonics on the cover. Since then the quality of the writing, layout, design and quality of artists on the cover has steadily been improving. We now reach an ABC audited audience of 108,827 every month.

When did the First On section start?
First On is the page at the end of the OnesToWatch section where we show off how many new bands we can list. They're bands that are too new to write about properly because they've probably only written one song. Basically, First On is the written-down version of the game of one-upmanship that A&R men play when they bump into one another in the pub, naming newer-and-newer bands to show off how much they know until they're naming a band that doesn't even exist yet.

Have any success stories arisen from First On?
Most bands who have gone on to be significant artists in recent years have been mentioned in First On and in OnesToWatch in general. This is partly because of the volume, and partly because, on the whole, we tend to be there or thereabouts with our predictions. However, the most famous moment is actually to do with an omission: in 2004 the then OTW editor was told to chop 2 words from his copy... but who to lose? Agent Blue or Arctic Monkeys? Put it this way: he chose poorly. A pity, really, as it would have been the first time anyone had mentioned Alex Turner and co in print.

How can artists look to get their music in that section?
The majority of content comes from sifting through submissions by PRs and managers. Bands without PRs send us their promos too. We nearly always mention bands in First On because they have a release out that month. Self-releases are fine too, if we feel there's enough interest around the band or if they're part of a discernable group of artists or scene.
---
Tags
the fly, music magazine, music publication, first on, new music, unsigned bands, unsigned artists