Meet the £1 million function band!
Blog by Alive Network under Artist Managers, Live, Music Training & Careers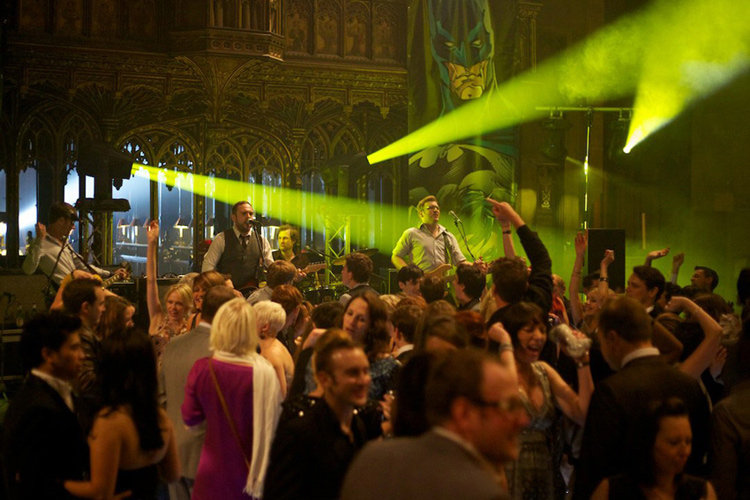 We all dream of earning a living playing music. That's why we're in the 'music business' after all! But for one lucky
function band, Hipster
, that dream has become a reality. This band have proved that even in todays business climate, live music still sells!
For the last 12 years, Hipster have been carving out a niche as the go-to party band for a number of high profile corporate clients including Wella, Oxford University Press, NSPCC, BBC, Channel 5, CH4, Marks and Spencers, Carphone Warehouse, Interflora, Hewlett Packard, Barclays and NatWest, to name but a few.
The band have recently racked up over £1million worth of bookings from their agents Alive Network - making them one of the UK's most successful function bands.
"Hipster are Alive Network's flagship party band. We have the utmost trust in them to deliver a premium quality show wherever we book them It's great to have helped a band to earn a decent living from playing music - and we're all really proud of what they've achieved." - says Dave Bevan - MD at Alive Network.

Each individual band member has their own original music projects which are funded in part by their earnings performing in Hipster... but perhaps more importantly, their job in one of the UK's busiest
professional function bands
affords them the time to focus on their original music careers. Functions and private events, more often than not, take place at the weekend so the guys in Hipster spend the rest of the week writing and rehearsing with their original bands - a luxury not that is not often within reach for most struggling musicians!
Hipster have been performing together at up to 100 weddings, corporate events and private parties every year since 2000. They travel the length and breadth of the UK, as well as internationally in places as far flung as Dubai, Switzerland, Portugal and Singapore - taking their unique brand of classic rock and pop covers to parties and events. Audiences can expect to hear dancefloor classics from the likes of The Killers, Kings of Leon, The Black Keys, Rolling Stones, The Beatles and many more.
"It's been great for us to build up a business that allows us to 1) get paid to do something we love - performing live music and 2) spend most of our weekdays working on our own music projects without having to worry about where the next paycheck is coming from! Through working closely with our agency 'Alive Network' on developing the band, we've been able to firmly establish a business that means we no longer have to have part-time jobs or supplement our income when we could be doing music. We're really lucky to be in the position we're in." - Jody Jennings, lead singer in Hipster
The band have built an enviable reputation as a professional function band having worked hard to develop an extremely high quality live show. Hipster are highly prized by corporate event planners, winning bookings for events and companies including The National Business Awards, Wella Trend Vision Awards, Oxford University Press, NSPCC Annual Flagship Cinderella Ball, BBC, Channel 5, CH4, Marks and Spencers, Carphone Warehouse, Interflora, Hewlett Packard, Barclays, NatWest and many private celebrity events.
"You guys were amazing. Absolutely awesome." - HRH Prince Harry
The bands
entertainment agency Alive Network
have given them the support and guidance they've needed to develop their band from a small scale local operation to a nationwide professional business. Not only does Alive Network provide the band with all of their bookings, but they also offer state of the art recording studio facilities, photography, web design, video production, marketing and business support. It's a 360 degree development service which Alive is rolling out to more bands across the UK.
"Our artist development service aims to help educate musicians about how to run their band as an effective business. We provide all the resources and advice necessary to do so - though a lot of hard work is still required on the bands part and it's certainly not a free ride. The guys in Hipster have always understood the importance of taking a no compromise approach to quality - and so it's been relatively easy for us to work together in building a really successful band." - says Rich Hearn, Artist Development Manager at Alive Network.
Looking forwards into 2013 - Hipster's diary is already close to capacity with virtually no availability left during the peak party season from May through October. With this level of work already in Hipster's diary, members of the band are already planning original music releases under the names
Thomas Twemlow
and
Bison & Wolf
, amongst other music projects.
The bands agency, Alive Network, is enjoying it's best ever years trading - closing over £5million worth of entertainment bookings in 2012. The company is on the look out for the next Hipster - so if you're an unsigned musician, or if you know any local function bands who need help getting gigs to help fund their original music careers - why not give Alive a call or visit.
You never know - 2013 could be the year your music career really takes off!
---
Tags
alive network, covers bands, function bands, tribute bands, hipster, unsigned bands, unsigned artists