Streams of revenue?
Blog by LIVE UK under Live, Selling & Distributing Your Music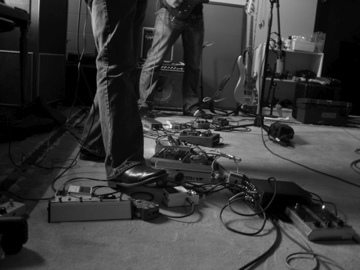 Live Internet streaming has never been so accessible to artistes or of interest to music consumers.
The expense of mustering the right equipment, combined with a consistency of broadcast quality that was significantly lacking in recent years, meant that the majority of online shows were nothing more than nice ideas that never quite worked.
It's a different story altogether now, with the costs of both recording and broadcasting equipment at their lowest ever, and facilities in place offering free or considerably more affordable Internet-based services.
It's a new era for live music, and it's within reach of the emerging sector.
However, while it's become a viable opportunity, not everyone is as quick to pick up the baton as one might expect, both in terms of the acts themselves and the industry supporting them.
"When we started looking at streaming four years ago, technology wasn't quite there," says Jason Bedington, who with brother Steve co-founded Gotseen.com, a company which allows artistes to broadcast their gigs internationally for free, via an online networking site and, crucially, one that is also capable of selling music downloads.
"The key problem was the venues themselves – even the likes of Academy Music Group venues didn't have broadband, so we were having to engineer live gigs and send the audio by dongle," he relates.
"Now it's much easier, and we don't even need to be there, either – any act can stream a gig without our involvement at all. They simply need to set up a free account with us and buy some recording gear."
Bedington points out that bands from the UK have found international interest, thanks to the wide reach of online performances.
"A band playing to a room in Birmingham to, let's say, 40 people can now play to thousands of people worldwide" he says.
"It's meant that labels and management from overseas have been able to scout British talent and have gotten in touch directly, after seeing a show."
Bedington adds that emerging including The Rhymes and X-Factor entrants Duke have benefited by being able to attract attention via the streams and gone on to sell music via download.
7digital vice-president Kelaine Blades argues that while streaming is an important string to a band's bow, it's yet to make a huge impact financially for many acts.
"Our platform supports both downloads and streaming, but our consumer business is mainly downloads," she says. "Within our fanbase, we still see a lot of users that want to download the whole album and owning the music is important to them.
"That said, the key message for emerging bands is that they should try to support multiple models for music consumption, because that's what the public wants right now."
Cost and quality
Silver Bullet Digital MD Steve Wild notes that smaller festivals showcasing local and emerging acts are also exploring live streaming, although he points out that the money for this needs to come from somewhere.
"Streaming independent and smaller-scale festivals is dependent on funding – currently from media partners like YouTube etc, but I think speculatively brands if they can be enticed," he says.
"However, if that can be secured then those emerging artistes playing slots which might not necessarily be seen by a huge amount of people, still have the chance of their music being broadcast worldwide."
He adds that, if anything, the bigger artistes have more hoops to jump through than unsigned acts when it comes to streaming, because, "when you're working with line-ups of acts who are signed, you need permission from management, labels and often the festival organisers themselves."
Wild also warns of assuming that live streaming's affordability equates to a greater ease of achieving a professional quality.
"For the bigger performances you need production specialists who know the gear they're working with, and are used to working in reactive live environments."
Tom Lewis, pro audio coordinator at music retailer DV247.com says that the cost of high-quality recording equipment has never been lower.
"So much can be achieved with a laptop, a basic recording interface and a couple of microphones" he says.
"Bearing in mind that even the software to record and stream audio is available for free, anyone on a shoestring budget is capable of broadcasting their own performances."
"There are even portable field recorders that can record in HD, and in conjunction with WiFi hotspots you could in theory stream a performance in a local park, or even a busking set without much difficulty."
Lewis says that an act operating on a budget should focus on the basics of live streaming rather than attempt anything too ambitious.
"Unless you have a sound engineer who is au fait with streaming set-ups, a DIY show should stick to an uncluttered signal chain," he says.
"Mic up what you can, including the audience if you have enough microphones, and send that to a USB mixing desk. Then take that directly to broadcast – the less worries concerning software mixing, the better."



For more business news on the unsigned and emerging live sector see the NXT pages in LIVE UK.
LIVE UK is a subscription-only magazine with a 50% discount available for artistes, people managing and/or promoting unsigned acts and for operators of venues with a capacity of under 350.
PLEASE NOTE: LIVE UK does not review music or performances.
---
Tags
live uk, music streaming, gig streaming, live music, gig broadcast