The DOs and DON'Ts of Promoting Your Gigs Online
Blog by Louise Dodgson under Live, Media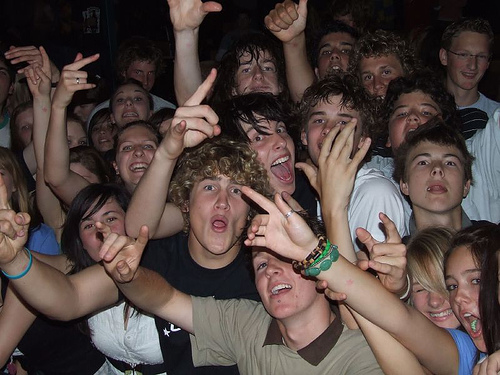 Promoting your gigs online can be an inexpensive, cost-effective way to build buzz and get people to your events, as well as great way to build an engaged and dedicated following of fans. But as with most things online, it's difficult to know what works best, and it can quickly turn into a full time job keeping everything updated. Here are a few DOs and DON'Ts that will help you maximise the impact of your efforts and make that next tour a sell out.
DO List Your Gigs In The Places That Matter
Posting your gigs on as many listing sites and social networks as possible will help maximise exposure, but for the greatest impact, focus on the places your fans hang out the most. If you have a profile on SoundCloud, a YouTube channel, or use apps like BandApp or ReverbNation, make sure your upcoming gig schedule is listed there and up-to-date. Find websites, blogs, forums and Facebook groups relevant to your audience and connect with people. The key word here is 'relevant' – you'll get little traction somewhere like Resident Advisor unless you're a Dance/Electronic music act. Just avoid the overt hard-sell as people will quickly switch off if all you do is turn up to push your wares. If you're on the road, be sure to target local live music blogs, websites and forums – every major city or region in the country has sites dedicated to live music, so get involved and see what connections you can make. Connecting with local fans, bands and musicians will help you find out the best places to post, especially if you're not local to the area. And if you can get local artists to post about your events, even better!
DON'T Ignore Your Superfans
You know the type: they turn up to all your gigs, 'Like' everything you post on your Facebook page and always leave comments. They're keen to champion your cause so reach out to them: Give them early access to news and free stuff. Encourage them to share and carry your message to their own circle of friends and they'll repay you in spades.
Songkick's recent experiment with crowdfunded gigs shows
what a big difference a small number of motivated superfans can make. So make sure you nurture those superfans!
DO Post Updates and Reminders In The Run Up to Your Event
As the date approaches, make sure you're posting regular updates on Twitter and Facebook to keep your gigs fresh in fans' minds. Remember, tweets and Facebook posts are like leaves in the wind; there for a fleeting moment before becoming lost forever. You want to maximise the chances that individual fans will see your updates (and more importantly, share them with their followers and friends), so posting regularly is key. Just make sure you keep them interesting and informative. For example, you could post changes to the line-up, such as support acts being confirmed. Or more details about the gig, e.g. set times, curfews, etc. Or perhaps a video clip from a rehearsal session to give fans a taste of what to expect. We've seen first-hand that being diligent with updates and reminders in the run up to an event has a direct and positive effect on the number of people who actually turn up on the day.
DON'T Go Quiet After The Gig
Straight after a gig is the perfect time to build on the online relationship with your fans. Post updates about how the gig went; thank people who mention the gig on Twitter/Facebook; share any photos or videos that have been taken. Anything you can do to encourage people to interact with you online will help you to build a loyal and engaged fanbase. You can use tools like Twitter search or a more advanced tool like Google alerts and Hootsuite to monitor what people are saying about you online and respond accordingly.
DON'T Forget Email
Email might have fallen out of favour in this always-connected, social media age, but it's still one of the most effective ways to engage with fans and keep them updated of your upcoming gigs. Tools like Mailchimp are great for keeping your mailing lists organised and sending professional looking emails, but can get expensive if you have a lot of subscribers. Build up your subscriber list by collecting email addresses at gigs and send concise, interesting emails regularly to keep fans informed about what you're up to.
Bonus Tip
When announcing your gigs on Twitter, make sure to "@" mention anyone else involved, i.e. the venue, promoters and other acts on the bill. This is a nice way to encourage them to retweet your tweets, increasing their reach and exposing you to potential new fans and followers.
Tekin Suleyman is the founder of crowd.fm, an event promotion dashboard that helps bands, DJs and promoters maximise online exposure for their events by providing one-click publishing across multiple social networks and listings websites.
---
Tags
crowd.fm, gig promotion, music promotion, unsigned bands, unsigned artists, unsigned gig, promote your gig,