Why your fans should always be Number 1!
Blog by Mark Knight - Right Chord Music under Artist Managers, Media, Recording & Production, Selling & Distributing Your Music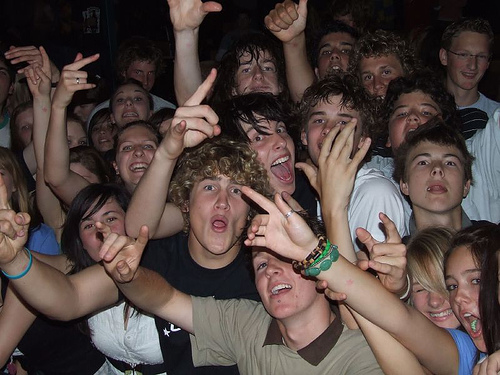 When you first start out, the path to music fame and fortune seems pretty straightforward.

Not because you necessarily know what to do, but because of what history tells you… Write some songs, play them live, and record an album. Then you get signed and fame and fortune flows. The problem with this, is the music landscape has changed, and this template is now largely outdated.

It stands to reason that getting signed is going to be tough. We're in recession and the record labels are still waging a war against music piracy, where one in four of us are still downloading illegally. Making money from music is tough. But that's not the only part of this template that is broken.

For new, unsigned or self-funded artists the idea of making an album is likely to be out of reach, it's a format that makes little sense. Producing an album takes time, money, promotion and skill. As a new artist the reality is you probably don't have any of these.

As an unsigned, or self released artist it can feel like you have all the time in the world. There is no time pressure from a label or publisher to record, the only time pressures are the ones you put on yourself, or so it seems.

However, the moment you set up a Facebook account it's the equivalent of starting to write a book in the most public of ways, with your fans as your readers. So imagine if your favourite author starting writing a book then stopped, and disappeared for 6 months, or longer. How long would it be before you lost patience, and went in search of a new author or book to read?

One of the biggest challenges facing a new artist is growing an engaged fan base and the key to achieving this is momentum driven by regular band activity. So if you are planning to take the next 6 months to a year off to write and record an album ensure you have a plan in place to continue to talk with your fans. If you just stop and expect them to still be there patiently waiting when you return from a year of writing you'll be sadly mistaken.

Recording an album costs money, so unless you have rich parents, or happen to be friends with a producer who has his own recording studio, the associated costs can soon start to spiral. If you don't have the money there are various solutions including fan funding, which could provide a solution. If you do decide to go down this route, it's essential you factor in the cost to promote the album you produce.

If you don't you can easily find yourself in this doomsday scenario….

It's 2 years since your last release, finally you have enough material and enough money to record the perfect album. You have attracted a named producer and the record is sounding great. But your fans have deserted you and have lost interest, you have no money to promote the record to radio or the music press. The release date edges ever closer, labels aren't interested in releasing it because they haven't seen any signs of life or fan engagement. The album finally comes out, but by then it's too late, the music press have moved on to the next hot new thing.

So what's the proposed alternative? Regular bursts of activity, whether that's singles, EPs, video led releases or even tours. Anything to keep your name at the forefront of peoples minds, building momentum and interest. If you are lucky enough to attract a label let them worry about making and promoting an album. Until then, keep things simple.
Mark Knight runs Right Chord Music (RCM), a music management and consultancy business that works with unsigned bands and independent artists. Alongside a new music blog, RCM offers a range of resources to help independent artists; including music distribution, production and a unique Pay As You Go management service. RCM aims to bring the discipline of brand marketing to music marketing, helping artists promote their music in a more effective way.
---
Tags
right chord music, unsigned bands, unsigned artists, record an album, emerging bands, music fans