Day In The Life: Michelle Lloyd, Research Manager at The Unsigned Guide
Blog by Michelle Lloyd under Artist Managers, Creative & Branding, Finance, Law & Music Business, Live, Media, Music Publishing, Music Training & Careers, Record Labels, Recording & Production, Selling & Distributing Your Music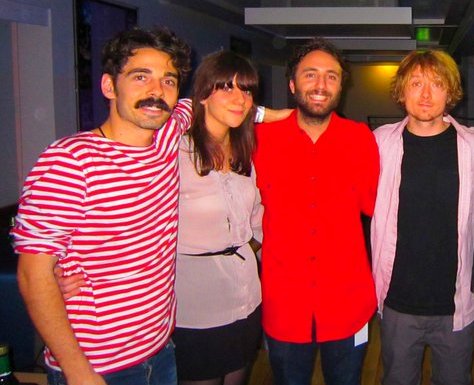 Hello there, my name's Michelle Lloyd and I currently work as Research Manager for The Unsigned Guide, an online directory of the UK music industry. I'm originally from West Wales but currently living in the bright lights of Manchester. I graduated from The University of Manchester with a degree in Media and Sociology back in 2008 and started my student years with an appalling taste in music, but thanks to the wonders of this city I soon found myself listening to the good stuff and taking an interest in all things musical. The post uni years were spend trying to get a job in the Media/Music sector but failing miserably, so my time was spent working in admin and training to be a nurse (don't ask!). All the while I was doing bits of music voluntary work here and there at the likes of In The City, Constellations Festival, Live at Leeds and also selling merch for local bands. I met some lovely people and made some great contacts and that's how I got to hear about the vacancy that came up at The Unsigned Guide. Thankfully they decided to take a punt on me and a year on I'm still here!
Here's what my average day at The Unsigned Guide HQ entails….
9:30am: I'm very lucky that my working day doesn't begin until 9.30am and I live approximately 8 minutes away from the office so I get to stay in bed until a reasonable hour. I'm usually first in so I'll pick up the post, switch the radio on (always BBC6Music) and switch the kettle on, naturally. Next up I have a little look through my emails to see what's dropped in over night.
10:00am: By now I've usually had a call from reception advising that one of my researchers has arrived and needs to be let in. I take care of the lovely people that we have on work experience or university placement who come in and help me out with the researching and updating aspect of the job - with over 8,500 individual listings in the directory it would take a bit longer on my own! I'll have a quick chat with them and see where we're up to and allocate them the sections of the directory and regions I'd like them to work on during the day.
11:00am: Usually I've taken a fair few phone calls by this point, one of my favourite parts of the job. We do get some weird and wonderful ones. They tend to range from customers wanting their Unsigned Guide login details resending to them, to bands asking for us to get them slots on the Pyramid Stage at Glastonbury (we can't help with that kind of thing, unfortunately!) and even one person wanting to be put through to Simon Cowell.
12:00pm: Now is when I usually get stuck into updating some listings myself. We pride ourselves on making sure that all the information we include on our site is as accurate as possible…and at times this is no mean feat! With 50 sections spanning the whole of the music industry from artist managers to recording studios to splitter van hire, you name it we've got it. Obviously contact details change regularly and sadly people go out of business or change the nature of their services so it's important we capture it all so our customers aren't phoning wrong numbers or having emails bouncing back.
It takes a whole year to get through updating everything from start to finish as we're such a small team. I'm currently coming to the end of the 12 month cycle, ready to start at the beginning again! I'll spend a couple of hours concentrating on a particular section such as Music Photography, and will ring round our existing listings to check the companies are still happy to be included and to make any necessary amendments to the contact details. I also get send lots of requests via our website from people that would like to be listed in the directory so I'll check them out, see whether they're suitable and get in touch with them too. We like to get as much new content in there as possible and every day I'm adding new companies. I like the fact we have some big major names in there and lots of independent smaller companies – something for everyone I like to think. Probably worth pointing out that by this point I'm usually starving so I'll be multitasking: eating my lunch and typing, one of my many talents.
2:00pm: I'll have a little catch up with the researchers after lunch and make sure they're making good progress. Because we have so many sections to get through I have a target of how many listings I'd ideally like to get updated during the course of the day. It's usually around 40-50. Sometimes we smash the target and sometimes we struggle, it all depends on which sections we're working on and how many researchers we have working on them. Sections like Record Labels, Artist Managers, Record Shops and the like are easy to get through as you can usually get hold of someone on the phone. Other sections like Tour Services and Music Photographers are a bit trickier as they can be hard to track down, especially if they're on tour and travelling the globe. It all comes together in the end, although sometimes you've got to be persistent to get hold of them.
3.00pm: Everyday at 3 o'clock, without fail, myself and Louise (The Unsigned Guide's Editor) have a hot chocolate. It's become a ritual…a ritual that we both very much look forward to, probably a bit too much. It's the perfect pick-me-up and usually solves any mid-afternoon flagging that may be occurring. We may also indulge in a couple (or ten) biscuits if there are any doing the rounds. Office favourites include M&S Golden Crunch Creams and the good old ginger biscuit, but to be honest anything will suffice. Louise and I will usually have a little catch up at this point too; discussing ideas for blogs and new content for the site.
3:30pm:
We've recently started a new feature called 'The Unsigned Guide Spotlight'; a monthly blog highlighting 5 of the best tracks that have been uploaded to our
SoundCloud dropbox
by unsigned bands and artists. July is the first month and we've had a huge amount songs uploaded, we were really overwhelmed. My job is to listen to them, pick my favourites and then get in touch with the band or artist in question for a little interview. I usually fit in a couple of hours a day listening, ploughing my way through the tracks. The standard so far has been pretty high and I'm very much looking forward to unleashing my selections for everyone to hear. Who knows I may unearth the next big thing, watch this space!!

5:30pm:
One last check of the emails, the research figures and anything outstanding on my desk and then I'm usually off home by now. However, tonight is a different story. The Unsigned Guide website has been nominated along with our web agency
Via Studios
for 'Best E-Business Project' at this year's Big Chip Awards so we're putting on our finest regalia and heading over to The Palace Hotel for a swanky night. The acceptance speech is written and our loser faces perfected. Sore heads in the morning? I think so.
The morning after: So we didn't win. We were very gracious in defeat though and honoured to have been nominated along with some very high profile nominees. And despite the hangovers in the office this morning I think we can safely say we all had fun.
---
Tags
the unsigned guide, research manager, music industry, music business, music contacts, music directory