The etiquette of music photography
Blog by Marianne Harris under Creative & Branding, Live, Music Training & Careers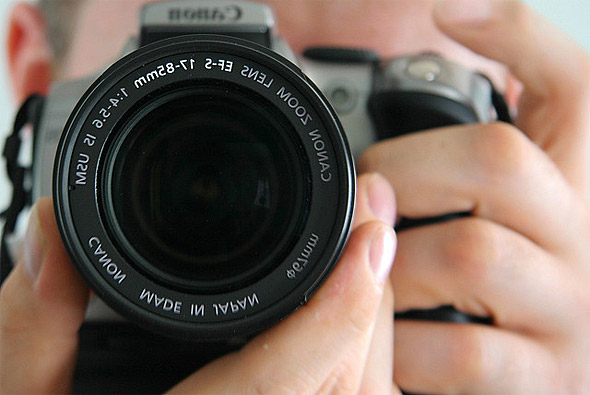 Marianne Harris is an established music photographer from Dorset. Having worked proactively in the Alternative Rock and Metal scene for the last 6 years she's taken portrait photos of hundreds of bands including The Darkness, A Day to Remember, The Blackout and The Devil Wears Prada, as well as countless up and coming bands. She's also written and shot for Metal Hammer, Kerrang, Big Cheese and Front Magazines and also regularly writes blogs full of useful hints and tips for aspiring photographers which we thought we'd share with you. Take it away Marianne...

Whilst I often feel I'm in no way an authority on anything, I have spent the last 6 years of my life taking photos of musicians. I've shot thousands upon thousands of bands in every conceivable situation. I guess that at least makes me an authority on the experiences I've had personally, and by default I do then have knowledge that could be passed on to others. I will stress though that one of the most notable things I've learned over those years is that nothing is set in stone, there are no definitive right or wrong ways to do many things. I can only pass on what I know. Someone else may well disagree and tell you differently. We all have different experiences. With that in mind take what you read here as you will. I hope it's at least helpful to some.

Someone once told me that a live show is about the bands and those who pay to go see those bands, and NOT about the photographer. Up until they said this I hadn't actually even considered it. I just turned up to a show and did whatever I could to get the shots I wanted. If that meant jumping all over a stage or shoving my camera right in people's faces I did it. Granted I was mostly shooting in small venues with no barriers/no rules, and I often knew the bands I was shooting, and knew it was cool, or sometimes assumed it was cool because I knew them, but this revelation hit home.

I started going to shows from then on looking at them a bit differently. I had been to very few shows without a camera, but I imagined being in the crowd without a camera and how I'd 'see' things. It made me far more conscious of my presence and how it affected others, not just those on the stage playing. The use of flash was the biggest shocker…I LOVE using flash, small venues aren't renowned for having great lighting and it's all too often been a necessity to use it to get the photos I wanted. Most bands have no issues with it, but when there are half a dozen or more people with cameras all using flash it can become a bit much. Even I can see that. And even if it's not annoying the musicians too much, it's surely annoying for those trying to watch them?

If you are a professional photographer or a fan at a show taking photos you will know just how damn easy it is to get totally swept away by the atmosphere and the excitement at some of them. I know that I go into a little world of my own, all that matters is capturing the action; the guitarist throwing his guitar around, the vocalist screaming in the faces of the people at the front, the jumps, the mayhem. I find it almost impossible to be at a show without my camera, and 3 song rules KILL me…because I just see awesome photos in EVERYTHING a band does on stage, and I want photos of it. When you're at a show snapping away stopping to consider anything else is hard, it's so easy to get caught up in it all and revert back to a 'do or die' philosophy. But there is much to consider.
1. No matter how well you know a band, check before the show what you can and can't do regarding access, flash etc. I ask every band, every time. Always respect what the band says. Don't assume that what one band says will apply to the others. Ask them all. Then check with their tour manager and the venue.

2. If you see another photographer up on a stage don't just assume you can do the same. I would never get on a stage without first checking with the band or their tour manager/manager etc that it's cool.

3. Respect members of the audience. Ask politely if they'd mind you standing in front of them for a minute or two rather than shove to the front (although if it's a crazy show with kids pitting and everyone constantly moving then it's less likely you'll need to think about annoying static fans at the front, and making a dash for it might be the only option).

4. Keep on the move rather than stand in one place the whole time. Standing slap bang in the middle at the front of a stage or to one side isn't going to get you much variety in photos. Try shooting each member in turn for a song, or half a song, and then concentrate on someone else.

5. If you're at a show with a band check all permissions before the show. This includes 3 songs, no flash rules. Venues often impose those restrictions as standard and don't ask bands what they allow. Trying to argue with stage/venue security half way through a set that you're with the band isn't likely to get you anywhere.
6. If there's a balcony in the venue ask the venue manager if you can have access to it to take a few photos, don't just assume you can go there. Some venues have a 'no cameras outside of photo pits' policy and I know of photographers who've been thrown out of shows for doing things in venues without permission.

7. Be mindful of other photographers at shows. Be polite and don't get in their way. If someone is hogging a spot for excessive periods of time stopping you getting the photos you need politely ask them if they'll move for a bit. Or move somewhere else then come back.

8. Think about the shots you're taking. Watch the band to see what they're doing…you'll soon figure them out: whether they move a lot, jump, interact with the crowd etc. You will get better photos if you're expecting them to do something and are ready for it rather than mindlessly firing off the shutter button in the hope of getting 'something'. In fact you're more likely to miss the interesting moments.

9. If there is photo pit and stage security pay attention to what they are doing. They're there to look after the audience and to make sure the fan currently crowd surfing isn't going to break his neck on the way over the barrier. You are an extra thing for them to worry about. You are in their space so be mindful of where they are at all times, and keep out of the way.

10. Have eyes in the back of your head. Keep an eye on other members of the band - you might be lining up a shot of the guitarist but in the meantime the singer's thrown himself into the crowd and you just missed it. Also keep an eye on the crowd. Being caught in a mad mosh pit or having someone stage dive onto your head isn't a pleasant experience.
---
Tags
music photography, music photographer, marianne harris, live music photography, gig photography, band photography