Diary of a tour hand - Part 1
Blog by School of Sound Recording under Live, Music Training & Careers, Recording & Production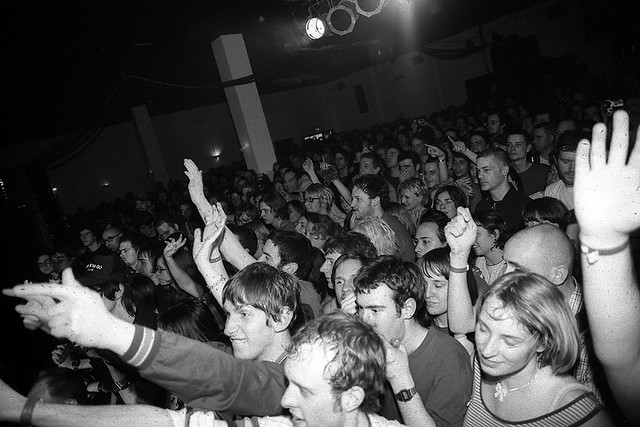 SSR Manchester provides award winning courses and training in audio engineering, music production and creative media. Now an international institution with over 30 years of history, SSR produces graduates around the world for the music, television, film, radio and games industries.
SSR will be providing regular blog entries for The Unsigned Guide focusing on working in the industry, music recording and production tips and other related topics.
------------
Peter Fergie graduated from SSR's Live Sound course and landed a job with progressive rockers Anathema on their recent European tour in support of new album "Weather Systems". In part one of this blog, Peter tells us in his own words about his experiences (and WiFi woes!) from the side of the stage travelling around Europe.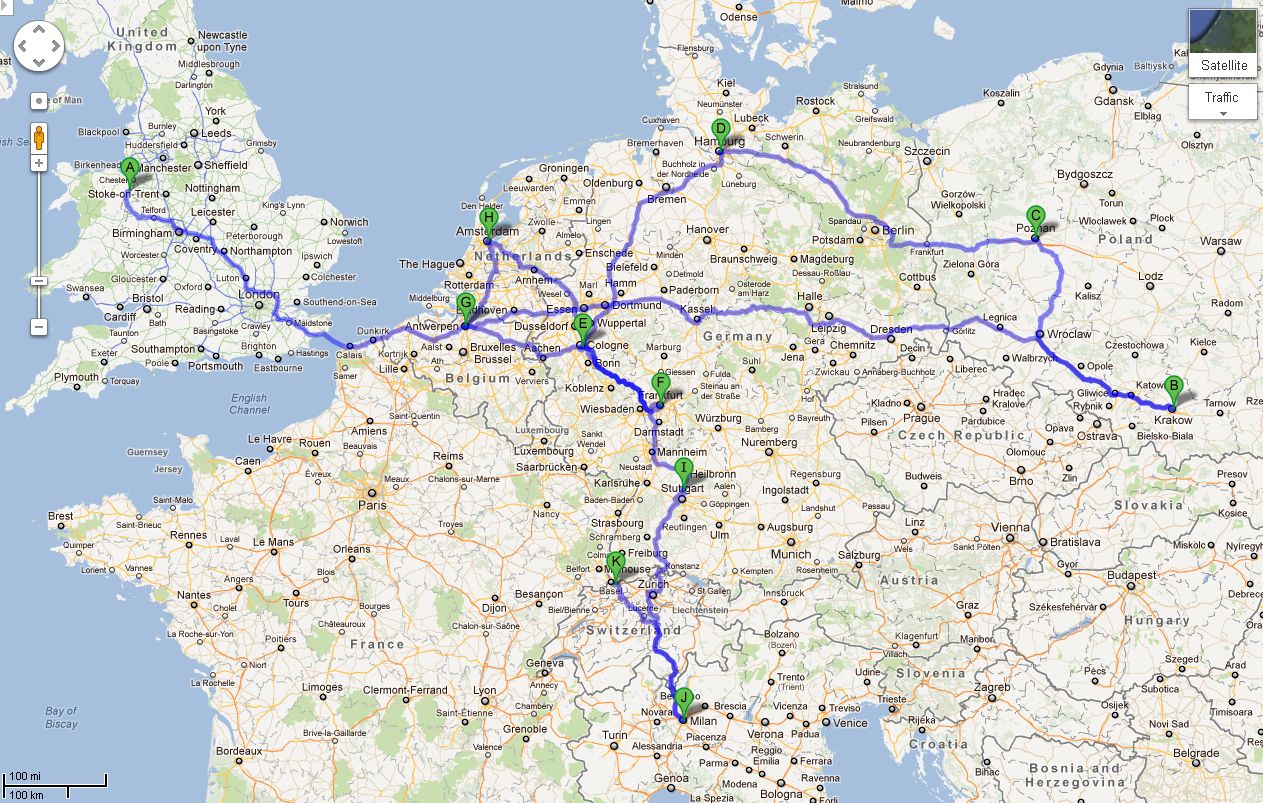 Peter's route around Europe
This tour is something I was fortunate enough to be involved in due to the links between SSR and locally based touring production company STS Touring. Between the band themselves, and the tour manager (and front of house sound engineer) Paul Collis, who co-owns STS, a decision was made to offer a chance for a less experienced sound engineer to cut their teeth on a European tour with Anathema and their support band Amplifier. The position was essentially a stage/backline/odd-job tech role; joining the crew of Paul, guitar tech Arjan, lighting engineer Mike, merch guy Brad, bus driver Adrian, and of course the band. A number of students from SSR were invited to apply for the position and I was lucky enough to land the job.
The preparation for me started just over a week before the tour (due to the whole application and interview process, you never know when you might get a phone call saying pack your bags) with a couple of days spent in the warehouse at STS in Manchester. Here I got to grips with some of the equipment that we would be using on the tour, and with the help of the warehouse staff, made sure I was up to speed on the gear I'd used enough times before. There's quite a big difference between knowing how to use something and knowing how to fix it in a couple of minutes on the road somewhere!
The next step was over in Wrexham at Aerial Studios which Anathema had booked out for the week to use for their production rehearsals. Paul and myself, along with Jamie and Vinnie from the band, set up all the equipment so they could prepare for the tour with their monitor system in place to make everything hopefully fall into place at the first gig. The band were on In Ear Monitors (IEMs) for the tour - the first tour with the whole band playing this way. This is something which not only helps to lower the volume on stage, cleaning up the mix for the audience, but also allows the band to hear each other at much lower volumes than the usual monitor wedges, therefore helping to preserve hearing.
A few days into the rehearsals, a few band members wished to move onto stereo mixes which meant I was called out early for the tour to change the set up, and after working with the band together for a couple of days I was also asked to mix their monitors at the gigs (not a bad job for a first major tour - I jumped on that one!). It seems it's never a bad idea to take any chance you can to get to know the band and crew you'll be working with. By the end of the rehearsals we had almost an entire team with Paul, Arjan, Brad, Anathema and myself ready to go.
So, leaving Wrexham, we all piled into a splitter van (basically a cross between a transit van and a tour bus) and headed down to meet Mike (flying in from Canada) and the bus with our lovely Welsh driver Adrian. This is the first time I've been on one of those fancy tour buses after seeing them driving into Manchester every night in the early hours. Even the splitter was luxurious for me compared to the usual back of a van and the floor of a gym. I thought I might as well enjoy it as I'll be back in a van this summer! So I reckon it's fair to skip out a day or two of travel with a ferry crossing, a few films, and a good first sleep (of many) in a bunk on the bus.
Gig number 1: Studio Club in Krakow, Poland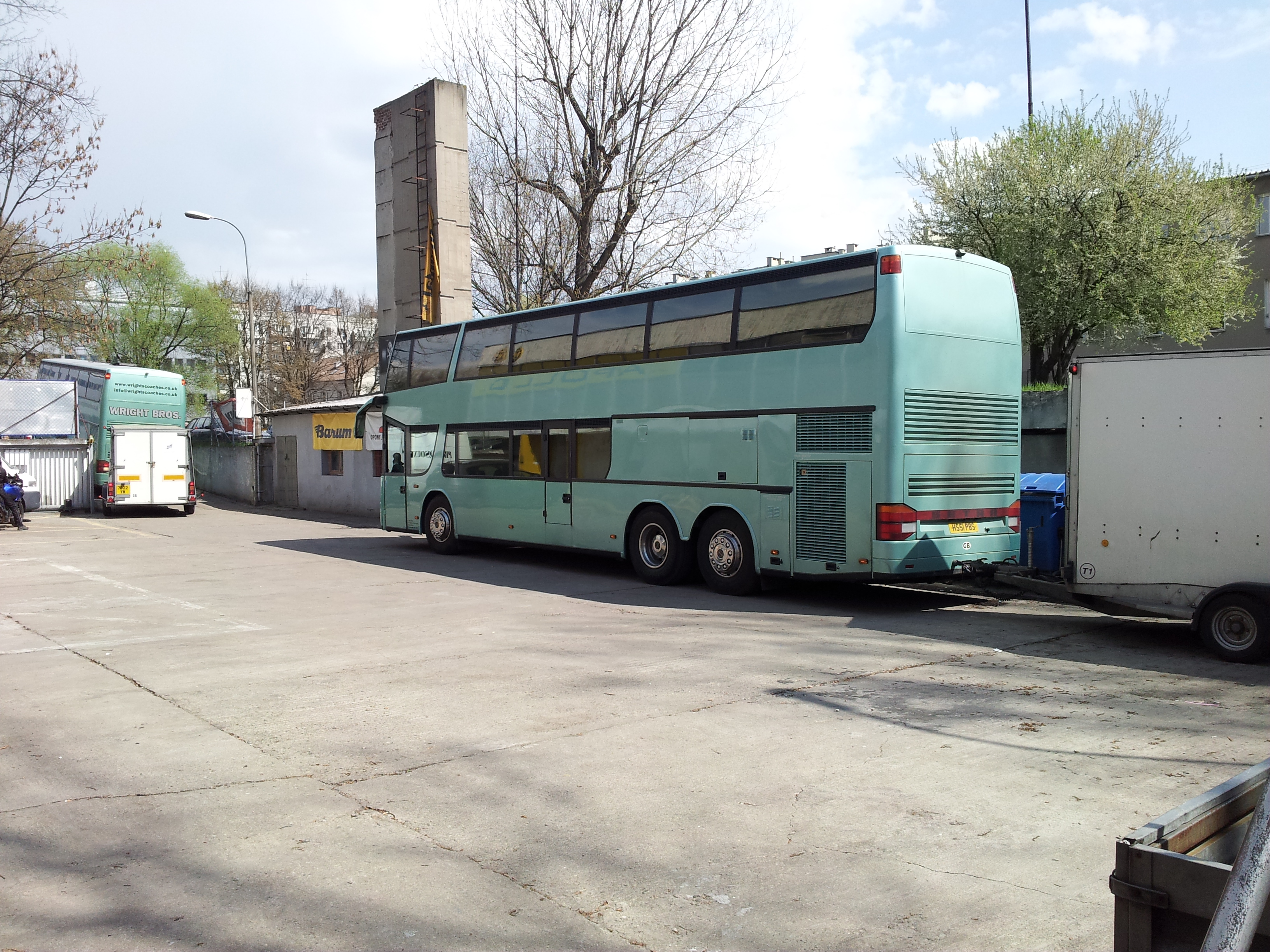 The Bus!
Pretty much the next thing that happened was I woke up at the first gig in Krakow, Poland outside the first venue of the tour, 'Studio Club', just in time for a coffee whilst waiting for tour support Amplifier's bus to park up next to ours. Our lighting engineer Mike, however, had other plans, and he started off a pattern of being first on the scene asking the locals for the WiFi passwords - so necessary for our modern day toys!
So the main aim of the game here is to get in and up and running as quickly as possible without compromising anything in your set up. Everyone else has been doing this for some time now so I have a lot to learn in a very short space of time with 1,000 Polish fans descending upon the venue in the coming hours. A couple of delays (surely to be expected for the first gig as everyone decides how best to go about the set up for the rest of the tour) but we were up and running and everyone seemed happy. The rest of the day was a bit of a blur really with it being non-stop from load-in at midday to the bus call to leave at 2am. One down, eleven to go!
Mike's WiFi rating: 4/10
Gig number 2: Eskulap in Poznan, Poland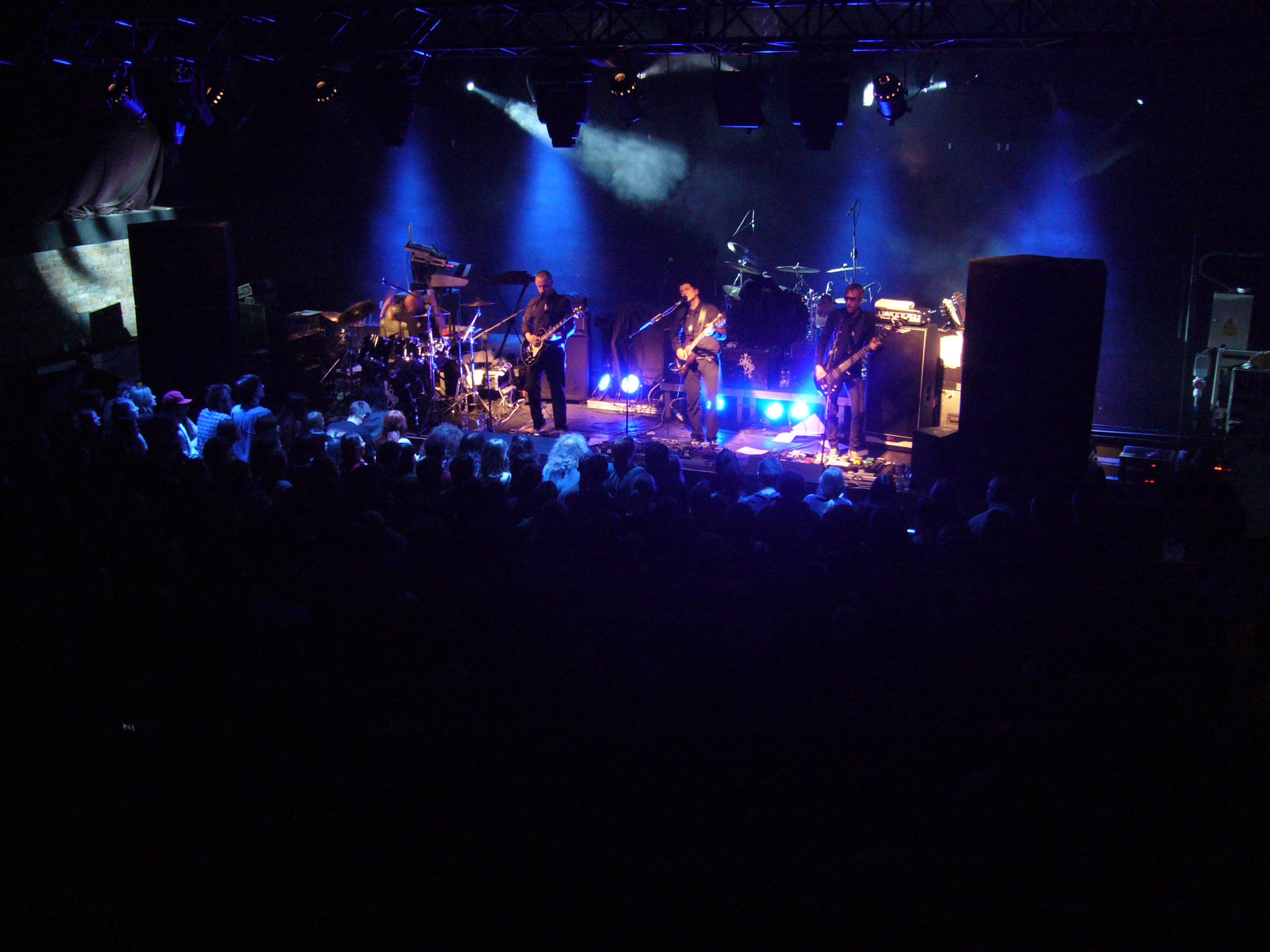 Support band Amplifier on stage in Poznan
This venue threw a problem at me from the moment I walked through the door - the monitor world location. I haven't yet explained that we are travelling with our own monitor console to help with the consistency of mixes for the band and quicker set ups. Before I was drafted in to mix them, Anathema's bassist Jamie was going to take on the role with the console at stage left with him. Instead, with me on the desk, he was able to fully concentrate on his bass playing duties, but the desk was still supposed to be over that side with him in case he wanted access to his mix. A few conversations in broken English (my Polish is pretty poor) later and we had rigged up some extra cable looms to hook up my splitter with the PA company's stagebox. Sorted! I remember the food being pretty damn good at this place, although I couldn't tell you what it was I was eating!
Final nights drive on Polish roads, possibly not the best for sleeping on to say the least, but spirits are kept high by introducing Mike to Fawlty Towers. 3 guesses as to which episode was on as we crossed the border into Germany.
Mike's WiFi rating: 0/10 no WiFi available!!
Gig number 3: Knust in Hamburg, Germany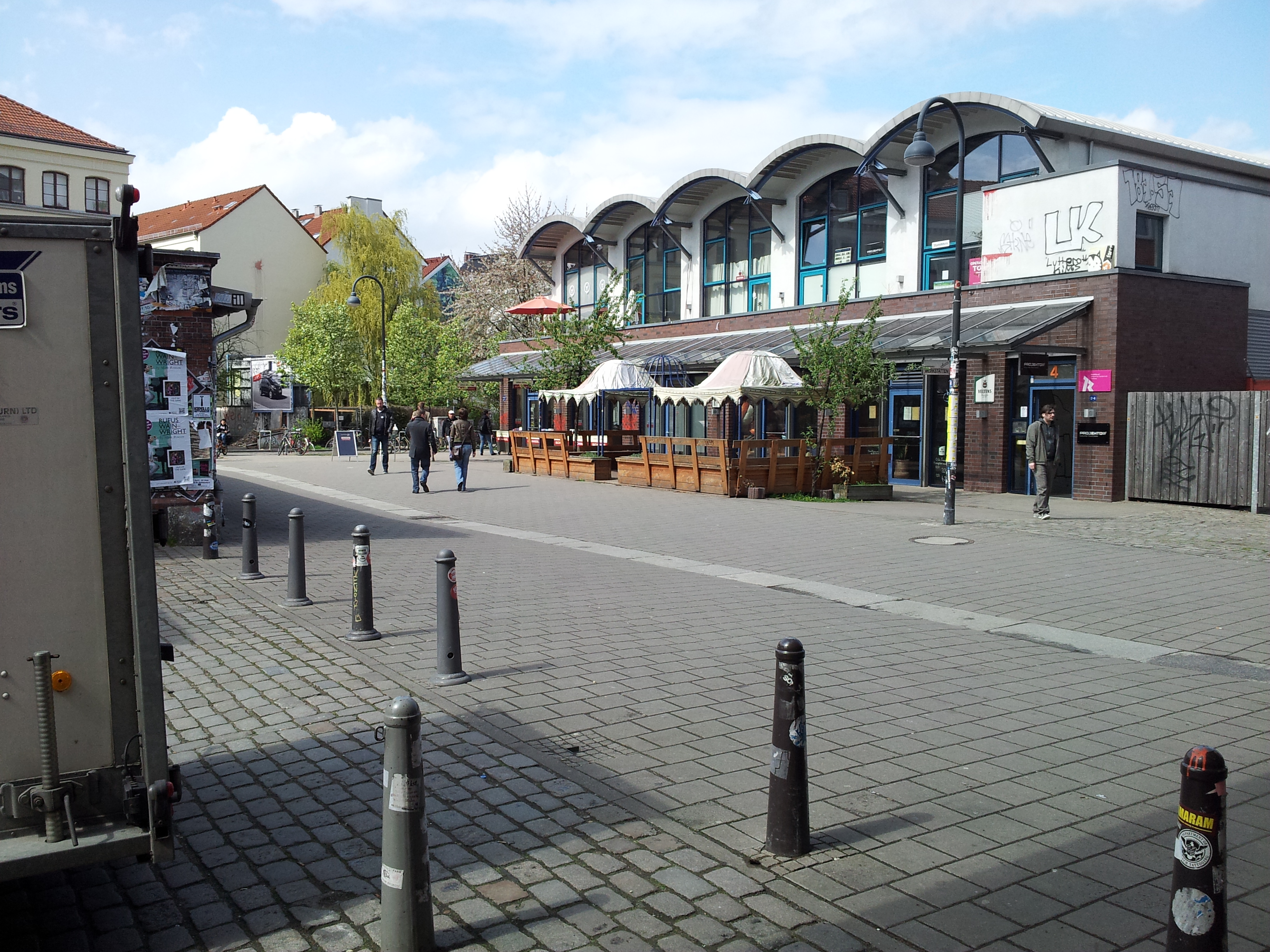 Hamburg
This place was much smaller than the other venues on the tour and the problems became apparent straight away as we looked at how we would fit our drums, keyboards and vocoder risers onto the stage. We managed it somehow, with the drum carpet hanging off the edges of the riser, and a few trips out onto the stage during the show to re-gaffer tape the cymbal stands down to what was left of the platform before they had a chance to fall.
Mike's WiFi rating: 3/10
Gig number 4: Burgerhaus Stollwerck in Köln/Cologne, Germany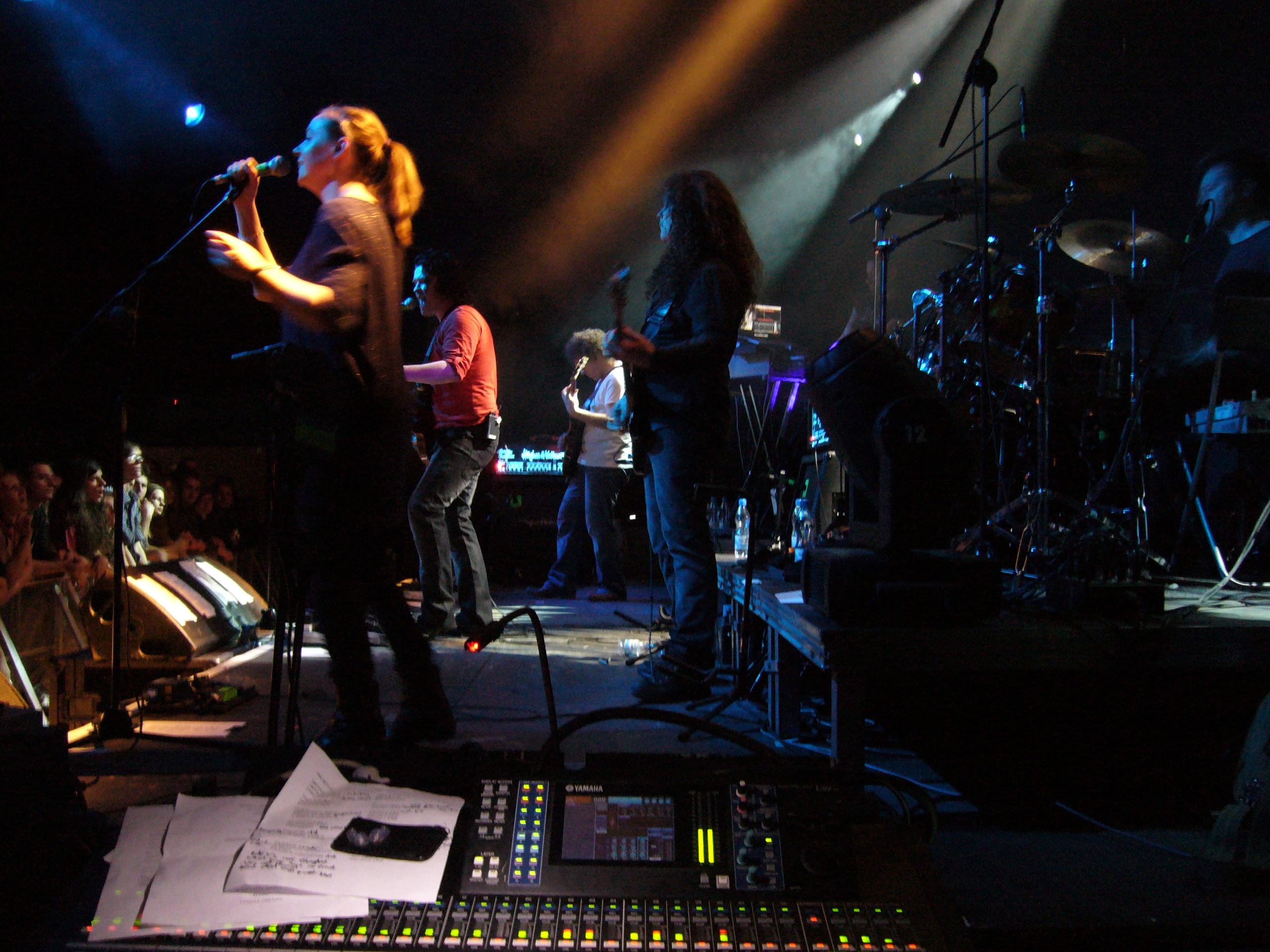 Anathema on stage in Cologne
Despite the venue's name there were no burgers to be seen here, nor yesterday in Hamburg, so all my hopes were riding on there being sausages in Frankfurt! This gig seemed to be pretty fraught with technical issues from the word go, with broken DI boxes and microphones to phantom power playing havoc with everything. There were also a few problems with the changeovers between bands for Amplifier's set up so this gig marked the last one where I would have a proper break during Amplifier's soundcheck and gig. From tomorrow I would be setting them up on our console for their guitar tech Charlie to mix. Pretty good Chinese food was the best thing today for me!
Mike's WiFi rating a respectable 5/10
Gig number 5: Batschkapp in Frankfurt, Germany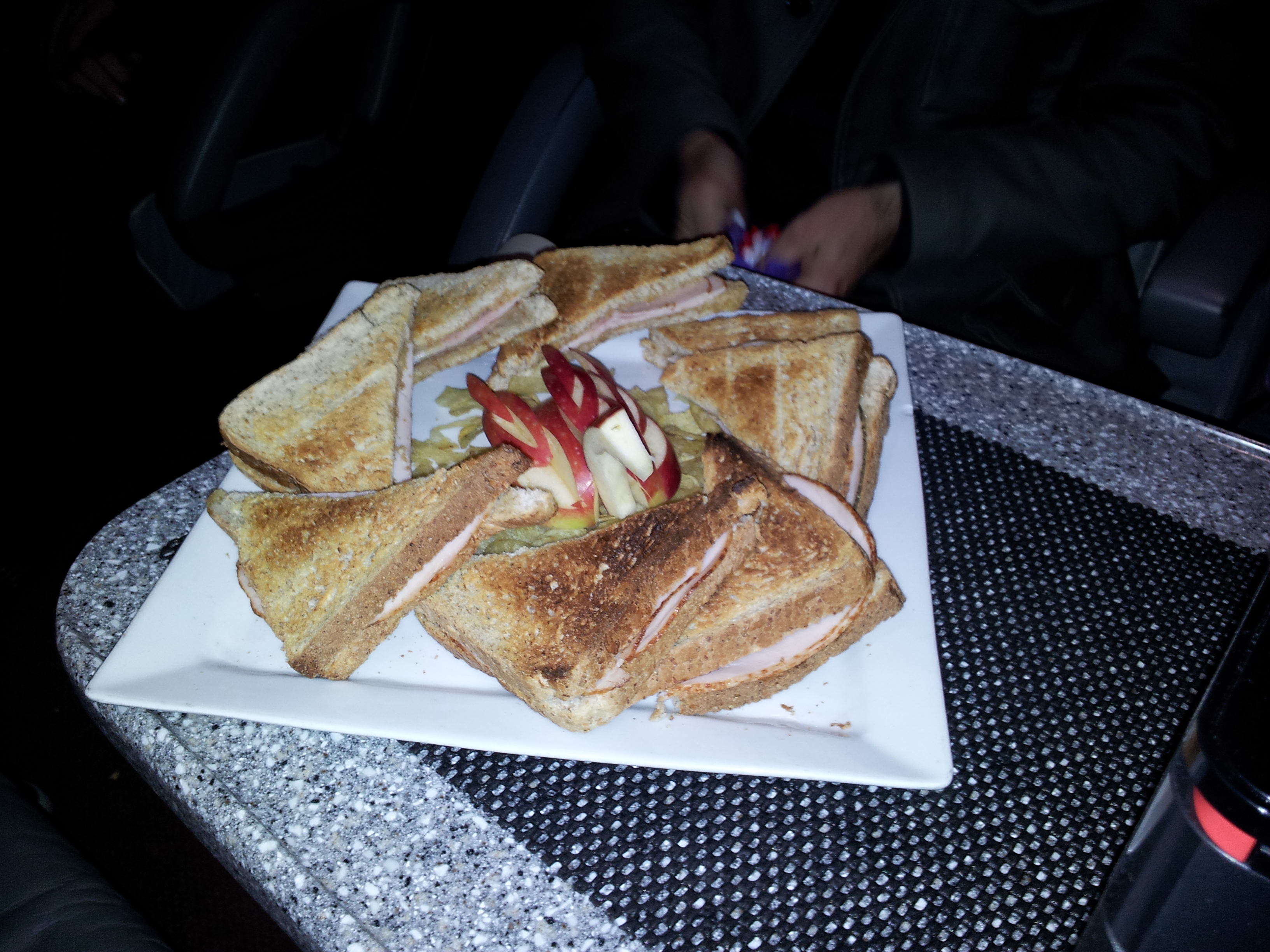 Late night tour snacks in Frankfurt
Final push here of a 5 day run, before we can relax for a day off tomorrow. Great gig here, fantastic crowd, many celebratory beers afterwards to mark the first real night to relax, especially after the extra work put in today trying to sort out the Anathema - Amplifier re-patching of microphone lines and monitor inputs with Paul and Amplifier's engineer Rui. I can't remember a great deal about the food or WiFi here - partially down to the fact I had about 15 minutes to wolf something down between the soundcheck and stage time for Amplifier, but also because I've had a drink since then! Successful day all around though, with time to reflect on how much everything has improved with regards to setting up and packing down quickly, without making any silly mistakes. Easy going from here on out? Hmmm we'll see.
DAY OFF in Antwerp, Belgium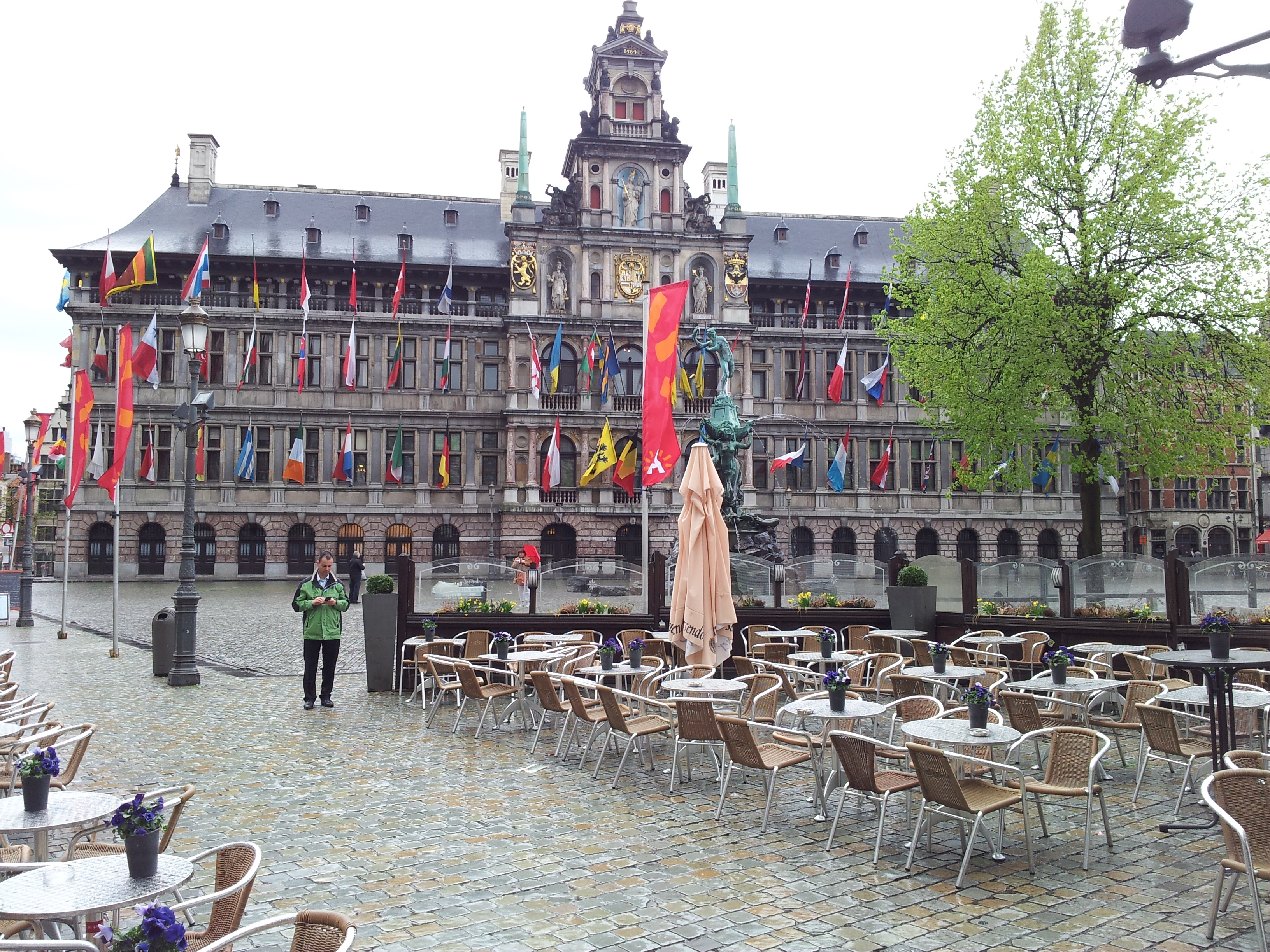 Sightseeing in Antwerp
And it's here I sit looking out into the rain and trams writing about the whole thing. I've been very lucky here to not only land this job, but more specifically with this group of people. The crew are all great and give me general pointers they've picked up on their travels with the many tours they've done in the past. And also the band are a fantastic bunch - very welcoming to me (Danny keeps saying they're going to kidnap me and take me to more shows haha), and after 20+ years doing this, they've become such a professional outfit that it's a pleasure to work with them. We've all just been into Antwerp's old town to spoil ourselves with some Belgian beers and eat some incredible steaks. Lead singer Vinnie used to live here so we found all the best places! When we got back we wandered into the venue for tomorrow's gig (we're parked up with bus power outside already) and watched a the last few songs of Canadian indie/folkster Dan Mangan's set in the little bar venue at the back of the hall we're playing tomorrow. Nice calm end to a well-earned rest day.
Stay tuned. We will bring you the second part of Peter's tour diary later this week!
---
Tags
school of sound recording, ssr, sound engineering, front of house, touring, music careers, live audio engineering