Evolution Emerging champions North East music scenes finest!
Blog by Louise Dodgson under Live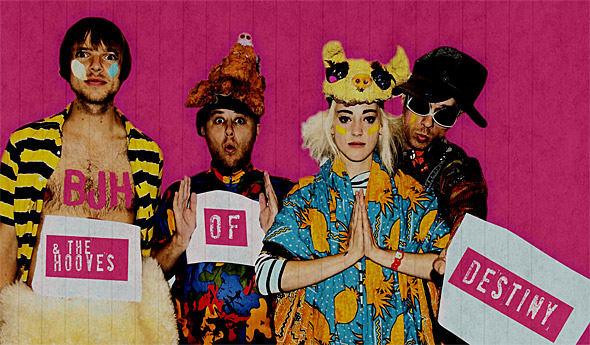 Evolution Emerging
is one of the UK's leading urban festivals which is massively dedicated to unsigned talent, and this June will see bands & artists from the region aplenty take to the stages in Newcastle. The festival is free of charge to punters so makes for an invaluable opportunity for bands to perform in front of an impressive audience and make their mark. With plans to expand the event next year, things are definitely on the up for Evolution Emerging. We caught up with Joe Frankland to get the lowdown…
When was Evolution Emerging set up?
Evolution Emerging is technically now in its 4th year, having started in 2009 with 'Evolution Unsigned'. The idea was to offer a large free event across 6 venues within close proximity in Newcastle, featuring emerging talent from the North East. The event has grown massively since the first year and is a highlight of the North East music scene live calendar.
You've received a huge amount of submissions from bands & artists since announcing the callout in February. How do you begin the selection process?
We're blown away each year with the response. For the last 3 years, we've worked with SoundCloud and invite artists to submit tracks via SoundCloud as well as a little bit of background information which always helps. The only rules are that we don't book artists who have played the previous year, and currently we book artists from the North East of England or those working with businesses here.
We had over 350 submissions this year and thankfully have an amazing group of 20+ panellists, ranging from promoters, heads of labels, journalists, broadcasters, managers - all hand-selected due to their expertise in North East music. We all pick a top 10 before meeting to 'discuss' our choices and argue the case of our favourite artists. We end up with a clear idea of the most popular artists and programme our stages accordingly.
Have you ever had a tricky deadlock situation where the panel can't reach an agreement?!
With so many panellists involved, this rarely happens but we do have a second stage meeting with less of us to make the really tough final decisions. We hope we're right!
Do you have any plans to extend submissions beyond North East acts for the future?
Definitely. With so many slots available, and with Generator expanding into national artist development, slots will available to national artists from next year onwards. But we're still for the majority of the line-up to be from our region. This is mostly because there are so many amazing artists coming through each year from Tyneside, Wearside and Teesside!
So why do you think Evolution Emerging is important?
I think it's important to offer emerging artists a nationally recognised platform as part of the Evolution Weekend. Though I'm biased because I'm so close to the event, I think it has the best vibe of any event in the region and it's one of the last free multi-venue events in the country.
Any bands that have graced the stages in the past that you're pleased to have seen go onto even bigger things?
We're really proud of a number of 'Evolution Emerging' artists who have gone on to bigger things nationally. Artists to have played previous events include Polarsets, Let's Buy Happiness, Hyde & Beast, Lanterns On The Lake, Vinyl Jacket, Ajimal, Tomahawks For Targets, Baron Von Alias, The Lake Poets and Mausi.
Many play national and international showcases for us, many have played huge festivals, toured the UK and have attracted national press and radio coverage. A number have stepped up to be selected to play our bigger brother Evolution Festival, and this year we're set to announce a special 'Evolution Emerged' gig to celebrate the success of Emerging alumni.


Evolution Emerging takes place this year on Friday 1st June, Ouseburn Valley, Newcastle. All gigs are free entry. Take a look at the
Evolution Emerging
website for full details of the line-up.
---
Tags
generator, evolution emerging, unsigned bands, unsigned artists, emerging bands, music festival, unsigned festival slot