Starting a recording studio business
Blog by Chris Hughes under Music Training & Careers, Recording & Production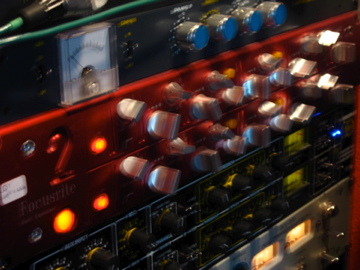 Chris Hughes from
Oscillate Studio
and
Logic Pro Courses
takes us through what's needed to set up a successful recording studio and sound engineering business. Chris set up his own recording and production studio in Manchester 18 months ago but has been a self-employed sound engineer and producer for 8 years.
What skills will I need?
Experience & Qualifications
Many people go to college or university and gain qualifications in Sound Technology, Audio Engineering or a related subject.
But getting a good grade doesn't necessarily mean you'll end up with a job at the end of it. In this business, it seems hardly anyone asks you what qualifications you have. Essentially, people are more interested in the last release you've had, your latest production/recording or who you've been working with.
In order to get this experience you'll need to get writing and get your productions finished. This will mean doing a lot of your own work for free initially, perfecting your own sound and possibly recording and engineering bands in order to develop your showreel.
Promotion & PR
Ensure you understand how to market and promote yourself and your recording studio. You can use various methods such as leaving flyers in the local area or placing adverts on Gumtree, for example.
Social media networks such as Twitter and Facebook are ideal to showcase what you're working on and to build new contacts.
You will need a website to promote your studio, and for potential customers to be able to find you on search engines. Costs vary massively for websites, but you should be able to find someone to custom-build a site for under £1,000. The next step is to get your studio noticed online with good Search Engine Optimisation and, if you have the budget, use Google Adwords to boost your Google rankings.
Diversification
To make the most out of your studio, you need to be able to offer as many services as possible. You need to develop as many skills as possible, which will help your career move forward quickly.
These can include:
-
Commercial music and voiceovers
Start-up costs & equipment
Studio Space
The main monthly outgoing for a studio is the space. This is essential unless you've got a fully soundproofed garage or a spare room, far away from the neighbours.
If the studio is small with a control desk and a vocal booth then you are probably looking at a 5 square metre place. These can cost around £150-£250 a month depending on location. Rent tends to be more expensive in the city centre, less if it's an old converted mill in the suburbs. If you are wanting to record bands you'll need more space and possibly two rooms: one control and one for the band space.
The ideal studio location must be easy to find for clients, with good parking (essential for bands with drumkits) and good transport links. I've turned down studio space in the past because it was in a bad neighbourhood so would have put off potential clients.
Equipment
There is no limit to what you can spend on a studio. The best ones can reach towards the half million mark! Fortunately, due to the influx of cheap digital gear from overseas building a studio doesn't have to cost you a minimum of £30,000 like it used to in the old analogue tape days.
Realistically the cheapest you can start up with is around £4,000. This will provide a basic, but professional suite to record vocals, mix and record to a professional standard for most clients. To record bands you need more equipment. I would say spend between £6-8,000 as a start. Most of this equipment would be secondhand with Ebay being a great place to pick up studio gear.
A basic studio would need a decent computer to run all the recording software without crashing and losing data. Ideally spend at least £700 plus on this. You would need a soundcard for converting audio into digital. The more inputs, the more expensive it will be, but you're looking at £150 upwards.
You will also need to buy recording software such as Pro Tools, Logic Pro, Cubase, Nuendo or Ableton, which can cost between £400 to £700.
Additionally, you'll need a mixing desk to monitor recordings from. Second hand is always a good start, such as the little Mackie mixer I have which cost £60 from Ebay and works a treat. To keep costs down mix using the software on your computer, but if you have more money it can cost £1,500 to get a cheap digital desk and software controller.
Lastly, you then need a good microphone. For vocals, nothing less than £250 is any good, but you can spend up to £2,500. And for drumkits you are probably looking at spending a minimum of £1,000 on mics, but you can always get your hands on good second-hand equipment.
Finally, always leave 10% of your budget for cabling and accessories such as XLR mic leads, guitar leads, headphones and mic stands.
Setting up a professional recording studio need not cost the earth. Essentially the main component of the studio is yourself, and if you have the skills and promote yourself properly you will always be in demand. Acquiring the skills and self-promotion can take years and is ongoing, but if music is your passion this process is all part of the fun!
---
Tags
setting up a recording studio, oscillate studio, studio recording, music studio