Four steps to get your foot in the music industry door
Blog by Louise Dodgson under Music Training & Careers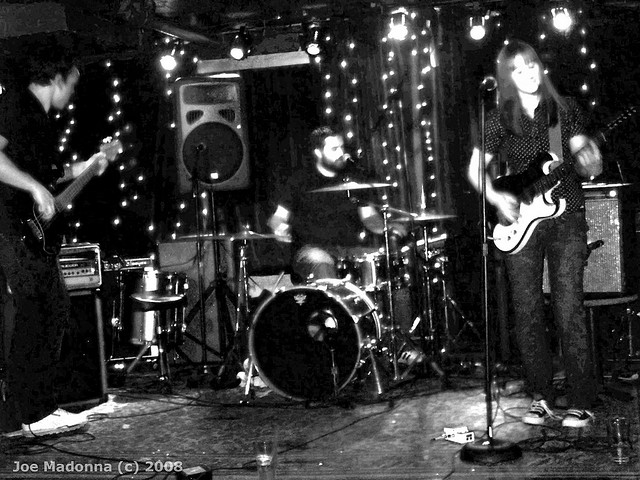 Maybe this title is a little misleading, I am not giving you a roadmap to certainty, this is only my personal experience and how things worked out (or not) for me. I thought about writing this blog post after discussing the different opportunities my students had when leaving school.

One thing I would like to truly emphasise right from the beginning is the fact that I think the music industry has never been as open to newcomers as it is now, unfortunately it doesn't make it easier to have a career in it.

First of all, just a piece about my background: nobody in my family works in the music industry, neither on the business side nor the creative side, so I literally started off with no connections in an industry renowned for its "it's not what you know but who you know" attitude.

I didn't grow up in London and actually wasn't even educated in England. I was born and studied up to 2007 in France. My university background was in Law and not even Entertainment Law, though I must say my legal background has been very useful.
The music industry is one of those industries in which pretty much any specialised background is useful and I would actually recommend studying other areas to anybody, be it Law, Marketing or Web Design.

So all I pretty much had was an enormous passion for music…

1. Study
Once in London I went back to studying, this time Music Management which gave me an understanding of the framework of this massive and complex industry. There are many different universities and business schools offering this type of course in the UK. Getting into one of these courses was like finally putting my hand on the music industry's door handle. I pestered my teachers (who are generally people actively working in the music industry) day-in day-out for more information, extra work, and in my case also volunteering to help in their music industry related day jobs. There are also many different books and websites that give you an enormous amount of information, learn that information and use it as much as possible. Keep updated on all the relevant music industry news.

2. Go out
Whilst I was studying I went out every night to cover as many London venues as possible to discover new bands and to meet promoters. And I understand…this all comes at an extra cost but there are ways to keep those down. Start off by going to free gigs, even bigger venues like Proud Camden put on free events.

First of all, use MySpace or Facebook or any other tool to get in touch with the indie bands that are playing. Most of them do have spaces on a guestlist or at least on a cheap list, or even get in touch directly with the promoter; explain that you are a music management student and what you are doing, most people will take kindly to it. If some of them need convincing, and if, for example, you have a camera you can offer to take some live pictures of them for free. Most cameras and phones also have a video option so film a couple of songs, upload them onto YouTube (I know there are copyright issues here, but just discuss with the band. Nowadays, unless signed, bands will be more than happy to have as many videos as possible circulating on the web).

Secondly, keep in touch with all these people! If they did invite you along, don't forget to thank them the next day, Tweet about them, post on Facebook about them, blog about them. Just like musicians are doing, you should be using social media in the same way for your career. As you are studying, your knowledge is becoming more and more important. Offer some of these bands some sort of management trial but only offer what you can do. Don't try to convince them by offering them work you don't have the time for or simply don't know how to do.

3. The Internship
I did mine in a very small indie label. This is really more up to what you want to do and what you want to get out of your internship. Most colleges will also offer internships from big to small companies; it doesn't mean you shouldn't go out looking for your own. I just felt that a smaller company would be more interesting, that I would learn more and that because they needed more help (generally in smaller labels, one person has to take on at least a couple of roles if not more), there's more space for you to grow your knowledge and to do more interesting work.

After my internship, I was lucky enough to be able to remain with the indie label for a couple of years, where I tried to cover as many different areas of the music industry as possible. The label also published the artists' works so I started working more on the publishing side. I also booked a small European tour for a band, saw it right through and acted as their tour manager during that time.

4. Be proactive
As much as you possibly can, work on as many music-related projects that you can. After quitting the label, I had then to decided where to go. One of my first steps (I know I have already done this in a previous post, and I don't want you to think that I am just blatantly plugging!) but I bought myself a copy of The Unsigned Guide as I was thinking of managing a couple of bands.

That's when I realised they were also looking for regional bloggers at the time, something I would recommend very highly. There are many industry or music review blogs in the UK, or if you speak an extra language, you could write about the UK scene for a foreign country blog. Contact them and perhaps suggest starting off as a guest blogger; always do so with ideas of what you can write about, about 3 different ideas is a good start.

I would recommend writing for an already existing blog, of course you can set up your own if you want to do so, but collaborating means you are only writing. Building your own blog means that you also have to take care of it and get it "out there", so the established readership is an advantage when contributing to another blog.

Another "tip", again this is just what worked for me, don't just write blog posts at home about what you think. Get out, contact people and do interviews. That way you will also be networking! You will meet different people in the industry and let's face it, most people are happy to talk about themselves and their projects so just adjust your posts to your career interests. As I am on the subject of networking, having some business cards being made is a good investment. Don't worry about not having a company name on it, as long as it has your details. And most importantly for you is that generally by handing out a business card, it encourages an exchange of cards and you are slowly but surely building your contacts.

From there on, I've worked on independent short film projects as a Music Supervisor, created new video projects, started teaching Music Management and got offered a partnership in a record label project, which of course I accepted!

Now, I must say that unfortunately most of your work in the first few years, though very much appreciated, will quite probably be non-remunerated. Personally, I am just beginning to make a living in the music industry and I began, if you include my studies, in January 2008. Your working hours will definitely not be the normal 9am to 5pm, your social life will revolve around music and music only, but for the moment all I can say is that it was definitely worth it!

P.S. Try your best to attend music industry seminars or networking events. I know some of them can be expensive but if you look around there are a lot of free events too. Just as I mentioned about getting on guestlists for free, don't hesitate to call up paying events, explain that you are a student or just starting out, and maybe you'll be offered a cheaper price or even get in for free.

---
Tags
music industry jobs, music business, music career, music business courses, music industry training