Getting started on the Leeds gigging circuit
Blog by Louise Dodgson under Live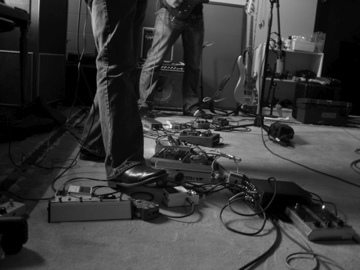 When bands are just starting out it can be a bit of a double-edged sword when it comes to trying to book gigs. Some promoters want you to sell a certain amount of tickets and you want to be playing to new people, not just your mates. Here is a list of some of the best venues in Leeds to get gigs when your band is still trying to make a name for themselves.

The Well
Chorley Lane, Leeds, LS3 1AB
www.thewellleeds.com
A venue with probably the best musical heritage of Leeds bands gracing the stage at the start of their careers. It seems that every successful Northern band has played at this venue at some time or another. Known for hosting successful Rock, Metal and Punk nights and has a great sound system. Will put unsigned bands on without making them sell a certain amount of tickets.

The Northern Monkey
115 The Headrow, Leeds, LS1 5JW
www.northernmonkey-leeds.co.uk
Only a small venue, but set right in the heart of town. What it lacks in acoustics, it makes up for in atmosphere. Decent promoter who publicises the gigs and is willing to put on bands of various genres who are just starting out. No ticket charge and the line-ups are normally well thought out and compliment each other.

The Verve
16 Merrion Street, Leeds, LS1 6PQ
www.verveleeds.co.uk
One of the smallest of the Leeds venues, The Verve has an extremely intimate and relaxed ambience. The music played comes mostly in the form of acoustic acts, as the stage is simply not big enough to hold a full band. The bands that do perform, however are hand-picked and their events always manages to pull a crowd.

The New Roscoe
Bristol Street, Sheepscar, Leeds, LS7 1DH
www.newroscoe.co.uk
With strong connections to Irish music, The New Roscoe also hosts bands from a wide variety of genres. Folk, Rock, Stoner, Ska, New Wave, Punk, Psychedelic, as well as tribute bands covering the 60s, 70s and 80s all set in an honest pub environment. Has a strong reputation meaning it is busy most nights.

The Wardrobe
6 St. Peter's Square, Leeds, LS9 8AH
www.thewardrobe.co.uk
This is two venues in one really, the bar upstairs has the capacity for 380 and the basement bar can host 460. Both are well equipped and being opposite the music college it has a regular stream of musos passing through its doors.

---
Tags
leeds gigs, leeds venues, live music, gig venues, unsigned bands, unsigned artists