In The City - Day 2
Blog by Louise Dodgson under Artist Managers, Media, Music Training & Careers, Record Labels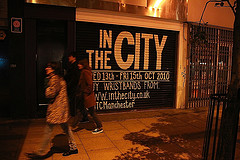 After an evening of bands, I was surprisingly bright-eyed and bushy tailed on Thursday morning…although it was only Day 2 of In The City. Not quite half way, so there's still time for the endless running around to take its toll.

Show Me The Money

My first stop was to a seminar entitled Making Money From Music in 2010. As part of the In The City Hive educational side of the conference, it was largely aimed at those starting out in the music industry. And very busy it was indeed, with a broad range of ages in attendance, not just the younger music students I was expecting. Perhaps the words 'making' and 'money' in the title had a little something to do with it…

Following the revolution which the music industry has undergone in the past decade, and is still continuing to experience, there is no one solid route through which to make money anymore. Traditionally it was the record label that would invest in new artists and shower them with advances, and lavish extravagances. But with the record labels making a lot less money in 2010, they have much less cash to fritter away and they no longer take chances on new talent. These days they need to be assured that the risk that they are taking on when signing an artist is minimal so you must prove you're a worthwhile investment.

Enter the 360 deal which we have already seen some major artists opt for, and it is likely this will become more prominent in future years. The label can no longer rely on record sales alone to make their money back, so they'll be looking to take a cut of live revenues, merchandise and any sponsorship deals you may get. Be ready to acknowledge your band as a brand, as these days a record label will probably need to see beyond your music to part with their cash.

There are alternative options you can take allowing you to sidestep the record label route, if you so wish. More recently we've seen many recognised artists link up with brands, for instance, Faithless and Fiat, Groove Armada and Bacardi. You could even go one further and consider city investment. Corporations such as Poweramp and Ingenious have all invested money musically. For the most part these options are only available to more established acts as, like record labels, they just won't take the risk unless they are certain it will pay off.

Fan-funding can be a good source of building revenue as a new band, and the likes of Pledge Music and Slicethepie can provide a great platform for this model. Another recent development has been bands entering into joint venture deals where absolutely everything is split 50/50. An example of this is Biffy Clyro who set up a joint venture agreement with their label, so that all revenue generated, be it from record sales, tours, merchandise and anything else, is split equally. This kind of deal can exist between an artist and pretty much anyone else, perhaps the artist manager. In some cases the joint venture is split between many different parties, but the key factor is that you are thinking of your band and all monetary aspects related to it as a company. This makes your manager, label or whoever you choose to set up the joint venture with, effectively a partner in your company.

Whatever path leads you to money in music, as we look to the future it seems that the solution will be to tap into various revenue streams. Seeking out that one big source of investment will be become a rarity as the music industry continues it's transformation.

Analyse This
The next panel I scurried along to was all about the wonderful world of fan analytics. There really are some great tools out there these days for finding out about what makes your fans tick and allowing you to analyse their feedback. The panellists included founders of Owngig, Fanshake and Music Balloon, all services which will provide you with the necessary apparatus to explore the online behaviour of your fans.


It became very clear during this discussion that understanding your fans is a major aspect of the new music business model, and relationships and interaction with your fanbase is vital.

However, it is very easy to become overwhelmed with statistics and lose your direction, so spending some time to think about what you want to achieve first, then reviewing steps and analytics along the way is the best approach to take when venturing into the world of fan analytics.

Some other words of advice from the panel included putting some thought into your band name in terms of how easy it will be to come across in a search engine. Do not spam your fans and bore them to death with unnecessary communications. And quite interestingly, get a geek on board your team. There is a whole wealth of help that a technically savvy friend can provide to a band or artist in today's music industry.

There was even talk of how analytics data could be used to assist A&R. An example given was that a label could invest smaller amounts in several different artists, and then measure the response using the data. It is indeed true that the days of labels being able to sign a few artists, with the more successful signings being able to financially carry the less profitable acts, are well and truly over. By using fan statistics effectively A&R could gauge where best to make their investment. Certainly worth thinking about!

Some other useful sites in this vein which were name-checked during the panel and are worth checking out are SoundOut, Bandcamp and Buzzmetrics.

Radio Clash

So, onwards to my final panel of the day, Radio Ladio - a look at the perils of trying to achieve radio airplay for new music. Although, there are far more radio shows willing to play undiscovered music than there was 5 years ago, it can still be very tricky to get exposure for new artists on air.

The panel consisted of an interesting mix of folk. On one side of the bench were representatives from large commercial stations, Global Radio and Absolute Radio. On the other were individuals from online audio services Mflow and Last.fm. And slap bang in the middle was the Director of Licensing for PPL, the organisation responsible for licensing recorded music to TV, radio and online streaming services. However, there is a slight anomaly in the 'online streaming services' part of that sentence as their licensing does not yet stretch to the likes of Spotify or Mflow, so there's still quite a bit of work to be done behind the scenes there.

Radio play can be pivotal in breaking a new band. Whilst some exposure can be gained through online music discovery platforms, they tend to be so chock-full of emerging artists that any results can be diluted. Unfortunately, the commercial stations cannot afford to be niche in their musical tastes. By having to satisfy the demands of their advertisers, as well as official bodies such as RAJAR, they inevitably have to appeal to the masses, hence playlists consisting of JLS and Lady Gaga. Finding a place for unsigned music on commercial radio is pretty much an impossible feat.

If you are lucky enough to get some good promotion via the online radio and audio channels, the hurdle there can be then getting people to buy your track. Although there are facilities available on many of these platforms to instantly purchase the music you are hearing, these services still have some way to go to be as trusted as the likes of iTunes. This means that listeners tend to switch to their favoured digital music store to see the transaction through, and may just get side-tracked along the way. Last.fm and Mflow were more than aware of this and their teams are already working hard to iron this out issue.

So, when questioned about how the heck you do breakthrough to radio without the help of a plugger, the general consensus of the panellists was to start off small. Create a buzz on local and community radio stations, get some airplay through the likes of Amazing Radio, and gradually you will build your way up to attaining national airplay. You heard it here first!

Image Credits:
David Galpin - Chris Cooke 'Making Money from Music in 2010'
Haydn Rydings - Analyse This

Read In The City - Day 1 summary
Read In The City - Day 2 summary
---
Tags
in the city, music industry convention, music conference, music business, music industry panels, in the city hive