Fringe benefits
Blog by Louise Dodgson under Live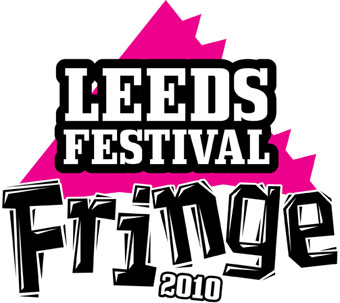 You'd have to be on another planet not to know that Leeds Festival will be upon us imminently! Whether your tickets are purchased and you're looking to get warmed up for the big event, or you're not going this year and want a cheaper alternative, then you will be pleased to hear about Leeds Fringe Festival.

In its first year, Leeds Fringe Festival is a week's worth of live music held at venues across the city. The line-ups are packed with unsigned and undiscovered bands and artists playing a range of genres to suit the most eclectic of tastes, plus the city's best promoters will be hosting special Fringe nights throughout the week. The revelry kicks off today, and runs until Thursday 25th August, just in time for you to catch your breath and take on Leeds Festival.

I had a chat with Claire Cameron, one of the folks behind LFF, to find out the team's inspiration for this event and how they got it off the ground. Not just a figure behind the scenes, Claire will also be hosting a night and playing a gig during LFF with her band, aptly named The Claire Cameron Band.

What gave you the idea for Leeds Fringe Festival?
The inspiration came from other cities hosting music weeks and Fringe events. We looked around at other music weeks that have been held for years in Manchester, Liverpool, London and Reading and decided it was about time for Leeds to step up and host our own!

It seemed like a missed opportunity for the local music scene that we weren't maximising on the chance to showcase Yorkshire talent in the lead up to the Leeds Festival, and we were lagging behind the others. 'Leeds is some five years behind Reading in terms of a fringe event, so I decided that in 2010 things were going to change' says Mickey, the man with the plan and a key figure in both the local music scene and now LFF.

Leeds Festival already has an excellent reputation for launching unsigned talent with the BBC Introducing stage and the idea is to give bands the opportunity to play in the best live music venues in the city, as well as at the Festival itself. It means that we can share more of the talent that Yorkshire has to offer as well, with the Fringe festival running for 7 nights.

This is the first event...how did you get it off the ground and get all these venues involved?
Pure enthusiasm and hard work really! Mickey Thompson, local promoter and manager of The Red Pills joined forces with The Yorkshire Music Collective, Yorkshire Underground Bands Show on Phoenix 96.7FM, and a core group of local promoters and bands who wanted to get behind the idea and we went from there.

Having The Yorkshire Music Collective on board meant not only access to a huge amount of unsigned talent, but also to our very own web designer, Michelle Dalgety, who designed and built the website from scratch! So along with her input, Mickey's management and Nick and Shaun's DJ-ing talents on the YUBS show on Phoenix 96.7 FM, it was off to a good start in terms of getting the word out there. I came on board and carried on the PR push with online marketing and soon there were over 300 applications from bands wanting to play the event!

We had a huge response to the initial idea, and it is a pleasure to be involved in a festival that is offering a unique opportunity to bands; LFF encourages the bands involved not just to come and play the event but to really get behind the other acts, as well as giving bands and promoters alike the chance to host their own nights as part of the event all through the week. This is evident in the fact that so many different bands and promoters have jumped at the chance to get on board.

The bill is packed with unsigned artists, how do you select them? Do you focus on local acts?
With so many excellent unsigned bands to choose from it was difficult to decide! We asked bands to email us if they were interested in getting involved, and from there to send a demo to YUBS where it was listened to by the LFF team. We have focused on local acts, as it is an event geared to sharing Leeds' unsigned talent with those who are visiting the area prior to the Leeds Festival, however we do have Liverpool bands taking over one night, and were by no means closed to looking at great unsigned acts from elsewhere.

Each promoter/band/collective hosting a Fringe night chose the bands to perform for their own event. I think the fact that each night and each host has been able to select their own acts, and put the effort into their own promotion is the key to why venues and promoters have leapt at the chance to be involved. I am lucky enough to be one of them, and I'm delighted to be hosting Wednesday 25th August at The Well, with sets from The Moves, The Melodicas New Reed, Gaia, Black Water and I'll be taking to the stage myself with Claire Cameron Band.

Any words of advice for others wanting to organise an event or festival in their hometown?
Get involved with the local music scene first, build up your network of contacts and bring everyone together to push the event forward as a community team. This means that you will grow the idea into a reality much faster because you have a core group of real music lovers and locals who want to make it work.

Then it is all about working hard, practising hard if you're performing and being willing to support other events and festivals in the area, even if it just means attending them, to show your support of their event...then they will show support for yours.

Saying this, I think the most important thing for organising events is making friends, and being friends with those you work with! It makes working hard to make it all come together that much more enjoyable, and fun!

Where do you see the festival in 5 years time?
In 5 years time I see Leeds Festival Fringe being a firm fixture on the musical calendar; established as the place to be for talent scouts, music lovers and Leeds Festival goers.

With such a firm backing from the local music scene, bands and promoters alike, and a core group of dedicated volunteers at the centre I think Leeds Festival Fringe has the staying power it needs to be a real success.

www.facebook.com/event.php?eid=123247354355541
www.leedsfestivalfringe.org

Leeds Festival Fringe is raising funds for the extremely worthy Martin House Children's Hospice.
Just Giving - Leeds Festival Fringe Donation Page: www.justgiving.com/Lff2010
Any amount is greatly appreciated and all donations go directly to Martin House's account.

You may also want to check out our blog 'Liverpool, Leeds Fringe Festival Take Over' focusing on the Liverpool bands who will be heading over to LFF to show Yorkshire how they do it!

---
Tags
leeds festival, leeds festival fringe, claire cameron band, unsigned bands, unsigned artists, leeds bands, leeds music, music festival