5 nuggets of music career advice for unsigned bands
Blog by Louise Dodgson under Artist Managers, Music Training & Careers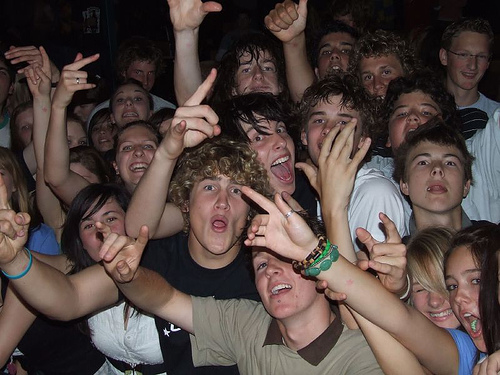 DIY. Yes, those three letters do crop up on a regular basis when we talk about music these days! And quite rightly so. As the music industry (as we know it!) is turned on its head, unsigned bands and artists have never been in a better position to forge their way into the limelight and a great deal of the work can be achieved under your own steam. Whatever the next step is for your musical career, be it recording a demo, booking a tour or approaching record labels, music publishers or PR companies, these 5 nuggets of advice should help you tackle it with success!

Research & Organisation is the key!
Whatever the next item is on your band's To Do List you will always benefit from being prepared and organised. Maybe you want to book some festival slots around the country? Perhaps you want to organise a small tour? Or maybe you want to contact A&R at record labels with your demo? Firstly, carry out some research! There is little point contacting record labels, festivals or venues and promoters who don't deal with your style of music. Or blanket-mailing your demo on CD to numerous companies who prefer to receive MP3s or web links. It may seem obvious but you'd be surprised the amount of bands who don't even attempt to research this far and it's hard to be taken seriously if you do not come across as professional. Not to mention, it is a waste of your time, resources and potentially money if you are mailing out CDs unnecessarily.

When you have narrowed down your list of potential contacts, draw up a spreadsheet…it won't take long! You can record specific contact names and email addresses, and more importantly your progress with them – when did you send them your music, have you logged a follow up call, what was their feedback. If you are tackling several things at once you can easily lose track of what stage you are at, so having a basic log of this kind will help you stay on top of tasks to do, plus save you the embarrassment of following up a demo submission twice in one week with the same company.

Build that fanbase!
One thing that will always make music press, labels, promoters and artist managers sit up and take note is an unsigned band with a good following. Of course, the music you make is of vast importance too, but let's face it…how many bands do you hear on the radio who are, in your opinion, no more talented than you or producing songs any better than yours? I'm sure the answer is plenty, but at the end of the day if a band or artist has a strong fanbase and people pick up on it then that is often enough to get the music industry cogs whirring.

In today's world of social networking it is easy to keep in touch with your fans and keep them up to date with gigs, releases and general band news. Make the most of these social networking tools to build relationships and bring new fans your way. To those dedicated followers you could offer cheaper CDs or gig tickets, free stickers and badges, the list is endless…but it all spreads the word and keeps the interest flowing steadily in your direction. Gather a mailing list at every gig so you can contact all those out-of-town fans as well the next time you have a gig in their area. It shouldn't be long before you see your fanbase expand!

Don't be afraid to ask for help
Somewhere down the DIY road you are bound to come up against some music matter that you are unsure of; be it digital distribution or music law agreements. Whatever it is that's got you stumped there is always someone out there with the expertise or who has been through it before. Organisations such as Musicians' Union can offer a great deal of useful advice on a wide range of topics. And depending what your query is there are many more organisations dedicated to the recording industry, music production, music publishing, who
should be able to offer a helping hand. Have in mind specific questions you need answers to, or subjects you want some further info about, and above all try not to be too vague.

Another good form of music industry guidance is to get a mentor. Not only is it someone with previous music industry experience that you can bounce your ideas off, but you can also tune into their music knowledge and contacts. A mentor could be a well-known local promoter or venue manager, or even someone who's been in a successful band.

Use your imagination
If you want to create a buzz about your band then doing something a little bit different can help you stand out from the crowd. Not only will it give you some eye-catching items for your band biog, but it will also provide local music press with an interesting angle to provide some coverage. Your ideas could take any form…why not book your band into slots at some one-off events or festivals that are a little more innovative or original. You could try some unusual methods of distribution for your music, perhaps combining releases with quirky band merchandise items. Or if you decide to embark on a band photoshoot or record some live gig footage, again have a think about how you can inject some fresh and unique ideas. Spend a few moments to put in a little bit of thought and it may go a long way.

Check out The Unsigned Guide
Taking all the above points on board, you then can't go far wrong than to pick up a copy of The Unsigned Guide. It has all the music industry contacts you will ever need to help you put your plans into action, plus information and advice covering all aspects of the music business. If you are acting as your own band manager then The Unsigned Guide is the ultimate tool to give you a grasp on the music industry and propel yourselves in the right direction.

The current edition of The Unsigned Guide (2009) contains a jaw-dropping 864 full-colour pages of music industry contacts, industry reports, practical advice and hints & tips on all aspects of music from live performance (including venues & promoters), record companies, music publishers, UK festivals, producers, recording, management companies and much more, with 33 sections in all.

As well as the directory, you can also check our website for a DIY music industry news service, as well as an exclusive initiative called The Survival Guide – most neatly described as voucher codes, allowing emerging bands and musicians to save money on all music-related requirements. Current offers include discounted recording sessions, cut price band photography, discounted t-shirt printing and cheap CD duplication rates. New offers are added every week and the service is free of charge to everyone.

---
Tags
unsigned bands, music career, unsigned artists, book a tour, contact record labels, band managers